CHARLOTTE – Gerald McCoy saw the hoard of media members making their way to his locker and took a deep breath.
The defensive lineman knew what was coming with Thursday Night Football against his former team on the horizon.
Safety Tre Boston starting egging him on as the first questions came. Then McCoy rolled his eyes and tried to temper the "revenge week" talk.
"Oh my gosh. My family, my friends, you guys, everybody is making this game a big deal and I'm not," McCoy insisted. "Everybody thinks I'm going to make it a big deal and I'm not going to."
But there has to be at least a little added excitement for this game against Tampa Bay, no?
"I'm not going to lie and say I'm not excited," said McCoy, who wishes the Panthers were playing at Raymond James Stadium this year so he could hear the boos (Carolina's road game against Tampa Bay is in London). "But I'm not sitting at home like, 'Oh my gosh if I don't play well this game…' What about the other 14? It's a long season. It's just one game. Everybody just chill.
"(My teammates) are like, 'Oh, we know you gonna be on 10 for this game.' I'm going to play the game and have fun like I always do. I'm not going to do any fighting or any of that stuff. I'm not into that. I just play ball and move on. All the chitchat during the game won't be going on. I ain't with all that."
McCoy said his dad, who has been to all but six of Gerald's games throughout his NFL career, has been a good sounding board this week.
"Play football, son. Don't worry about what everybody else is saying," McCoy said. "Stuff like, 'Oh, he's going to destroy the Bucs because they cut him!' Who cares? So what? It's one game. I could play well this week and then play horrible next week, and then it's like, 'Well, did he only play because he played his old team?' No, they brought me here to play well every week, you know?
"I've been on teams with the Bucs where teammates there played their former team and the night before they are losing their minds, day of the game they're losing their minds. It's like, 'Bro, relax. Just go play the game.' A lot of them don't play well because they are so overhyped."
Got to give McCoy credit, he's doing a pretty good job selling this whole "not a big deal" approach to the game.
But is everybody buying it?
"I think Gerald is going to turn up, and he should," defensive end Mario Addison said.
"It's a lot more personal," said cornerback Javien Elliott, also a former Buc. "He was there, what, nine years? I think all that is just going to make him play even better."
"I don't think it's a big deal," Boston said in an extremely sarcastic tone. "I think it's another game for him. I don't think he knows who we're playing."
If we're being honest, this isn't just another run-of-the-mill example of a guy facing his former team.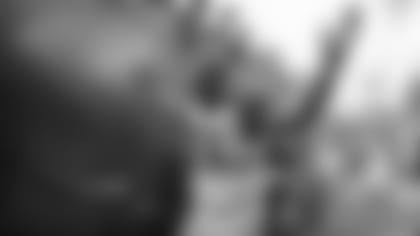 Before the Bucs released McCoy, a team captain and face of the franchise, new head coach Bruce Arians said he's "not as disruptive" as he used to be. McCoy wasn't exactly thrilled with that assessment.
Then Tampa Bay replaced him with free agent Ndamukong Suh, who quickly took McCoy's jersey number, 93.
"At first, it bothered me, I can admit that," McCoy said.
When McCoy made those feelings public earlier this summer, Buccaneers legend Warren Sapp fired back, essentially saying McCoy didn't have a right to be upset after failing to take the Bucs to the playoffs during his nine seasons with the club.
When asked about his legacy in the Bucs organization, McCoy said this: "I don't know, ask Warren Sapp."
"I considered him my family," McCoy said of Sapp. "He was my mentor at first and then he became my family."
So yeah, there's some stuff.
But McCoy is focused on the task at hand. He made that clear. He's sharing everything he knows about quarterback Jameis Winston and the Buccaneers' offensive line to help his new team gain an edge.
"I don't want to go 0-2, I know that," McCoy said. "Done that too many times in my career."