Rapid Reactions from Carolina's 10-3 loss to New England at Gillette Stadium in the third week of the preseason.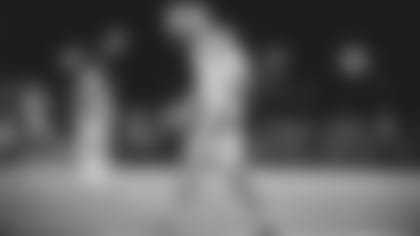 Quarterback Cam Newton left the game in the first quarter with a foot injury and did not return.
He played three series in his preseason debut before limping off the field in pain following a sack on third down.
Everyone is anxiously waiting for word on Newton. Also of note, rookie tackle Greg Little took a cart ride into the locker room late in the fourth quarter as the team announced he was being evaluated for a concussion. We'll see what head coach Ron Rivera says at his postgame press conference.
The other preseason debuts
Running back Christian McCaffrey, tight end Greg Olsen and linebacker Luke Kuechly got their first, and only, taste of preseason action against New England.
McCaffrey rushed three times for 16 yards and caught one pass for 10 yards.
Olsen caught one pass for four yards.
Kuechly finished with one tackle.
First-round pick Brian Burns created a takeaway by strip-sacking Patriots quarterback Jarrett Stidham in the third quarter. Stidham tried to escape the pocket but Burns chased him down and smartly ripped the ball out. Defensive tackle Woodrow Hamilton was there for the recovery.
Late in the third quarter, Burns made his way to Stidham on third-and-goal from the 17 for his second sack of the night.
Your friendly neighborhood edge rusher (that's a Spider-Man joke FYI) now has four sacks on the preseason. Not bad, rookie. Not bad at all.
Carolina's first-team defense did a solid job against Tom Brady and the Patriots' starters, although Brady did lead a 15-play touchdown drive before calling it a night.
The Panthers offense struggled to sustain drives. It took until early in the fourth quarter before Joey Slye got Carolina on the board with a 41-yard field goal.
After Newton exited the game, quarterback Kyle Allen completed 3-of-6 passes for 16 yards before turning it over to rookie Will Grier who finished 4-of-8 for 44 yards passing.
View in-game photos from Carolina's preseason game at New England.