CHARLOTTE — A month into his rookie season, the No. 1 overall pick in the draft was still waiting for his first win and feeling the pressure. And who walked in but the No. 2 overall pick that year, who was having a much easier time of it from the start.
It was almost enough to make people wonder if the order should have been flipped, if someone had made a terrible mistake. It was almost enough to make the quarterback wonder.
But it didn't shake the people who picked him first for a reason, and they reminded him of that.
"I remember to this day, one of the newspapers had a headline: 'They picked the wrong guy.'
"We didn't, and we knew we didn't."
That quote wasn't spoken by general manager Scott Fitterer or head coach Frank Reich or anyone involved with the Panthers and quarterback Bryce Young, before or after he got his first win over CJ Stroud and the Texans three weeks ago.
It was Hall of Fame general manager Bill Polian, reflecting on Peyton Manning's Week 5 win over Ryan Leaf and the Chargers 25 years ago, and how it applies to what's happening now.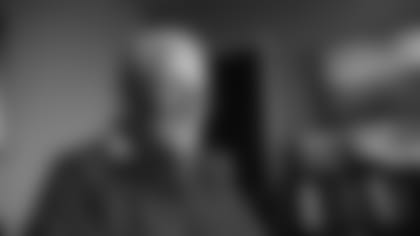 When Polian (the Colts GM who drafted Manning first overall in 1998) and those who were close to the rookie that season think back on it, they remember the painful lessons they learned, and also what they led to.
"Yeah, it wasn't easy," then-quarterbacks coach Bruce Arians said. "But it was fun."
Arians, now comfortably home in Georgia after what he referred to as "two failed attempts at retirement," acknowledged that the fun part clearly came with the benefit of hindsight. He can sit back with a cocktail now and laugh about the interceptions as a temporary inconvenience. At the time they were living them, not so much.
Not when Manning led the league in interceptions as a rookie with 28. Not when he led them to a 3-13 record, for sure.
"Eventually, that 3-13 turned into 13-3, though," Arians said. "But it took a minute."
And as those NFL legends think back on those lessons and how they might apply to Young this year, the parallels are easy for them to see.
To begin with, and to be clear, none of this means Young is going to turn into Manning and eventually become a first-ballot Hall of Famer, a two-time Super Bowl champion, a five-time league MVP, or a 10-time All-Pro.
It doesn't even mean Young will eventually be good.
What it means is that what's happening to him now, with the Panthers in a 1-8 funk, with other quarterbacks from his draft class surpassing his body of work, with new questions arising every day, is not determinative either.
After his first eight starts in the NFL, Young is 1-7, with a 62.8 completion percentage, eight touchdowns, seven interceptions, and a 75.9 passer rating.
After his first eight starts in the NFL, Manning was 1-7, with a 55.2 completion percentage, 11 touchdowns, 16 interceptions, and a 64.5 passer rating.
"It's just growing pains, man," Arians said. "Peyton had them, Troy (Aikman) had them, most of them have them. I mean, CJ Stroud doesn't seem to have them right now, but everyone else has them."
Stroud's presence and his early success have brought immediate attention and unfavorable comparisons to Young's struggles. But those with the benefit of time and perspective know that what happens this year will not determine Young's NFL trajectory because they've seen this play out before. 
In 1998, as in 2023, the conventional wisdom entering the draft was clear. Manning, like Young, was widely considered the better prospect by most. There were some contrarians out there, but they were largely people looking for attention by indicating they preferred Leaf, like Stroud, who was bigger and sturdier but lacked the resume of the top guy in his class.
And in 1998, Leaf got a couple of wins early with the Chargers, and posted better numbers. The media landscape might not have been as reductive, as binary, as this-or-that as it is now, but there was still noise during that first month of the 1998 season.
"Well, number one, patience," Polian replied when asked the single key ingredient to surviving a rookie quarterback and helping him eventually thrive. "But back then, in '98, the world was very different than it is today. There was no instant media, no proliferation of media. There was very little shoulder programming on television, so there were far fewer under-informed voices to make instant judgments, right? So this is a very different world.
"Having said that, what Paul Brown called the eternal verities of the game don't change. It's still very difficult even for the most mature quarterback to come in the league and learn all the things there are to learn about being a pro quarterback and still function at a heightened level."
That Polian invokes Paul Brown (who only founded two entire teams and gave birth to many of the still-practiced concepts of the modern NFL) shows the kind of historical perspective he takes on topics like this one. He also has his own career to think back on, from building the Buffalo teams that went to four straight Super Bowls to being the inaugural GM of the Panthers, with pride in accomplishments and regrets about what went wrong at each stop.
But in 1998, he was certain Manning was his guy and never wavered.
"In Peyton's case, one of the things that led us to say he can play right away, or we wanted him to play right away, was because he played four years of college football and was from a football family," Polian said. "He grew up with the game was mature beyond his years anyway, as a personality, and even he struggled.
"In his case, it truly was a four-year process. I still think that's true. No quarterback, no matter how talented he is, is never really at the peak of his game until about mid-Year 3."
That meant it was going to take time, no matter the talent around him. Manning didn't walk into a bare cupboard. He had veteran running back Marshall Faulk behind him and a third-year receiver named Marvin Harrison alongside. The Colts defense, to put it kindly, was not a strength (29th in the league that year).
So as good as Manning and Harrison would become (each ending up in the Pro Football Hall of Fame), it was not immediate.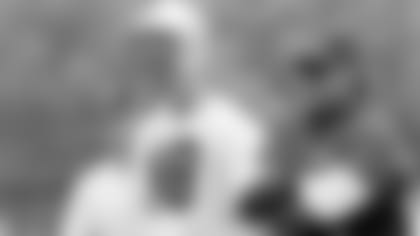 "It was one of those things where we knew we were getting better every day, and the record wasn't showing up," Arians recalled. "You could see it in practice and improvement every day, and you just keep building, you know.
"You don't let him get down. Same thing up there. You just have to go through it. That's the thing."
Arians had a vivid memory of the second game of that 1998 season, against a decent-not-great Patriots team on the road. It was a 29-6 loss, and it might not have been that close, as Manning threw two interceptions in the first 16 minutes of the game and three before they ever scored. It was over early.
But what happened that day was also instructive in the way they handled it. Individual results became less important than teaching opportunities.
"We just kept showing him all the good things, the bright side of what was happening," Arians said. "That game up in New England, Peyton, I think threw three or four picks and, you know, we just said, look, let's just go two-minute the rest of the way and see what happens. And he went to learn something the rest of this game and he took us down for a touchdown.
"And you just keep growing, and you keep growing each and every day. And, like I said, all the interceptions eventually kind of disappeared."
When it came to individual games that rookie year, a later one against the Ravens came to mind for Polian. It wasn't one of Baltimore's better teams, but Marvin Lewis still had a good defense.
Manning threw for four touchdowns that day and had the ball with a chance to throw the fifth and tie it late.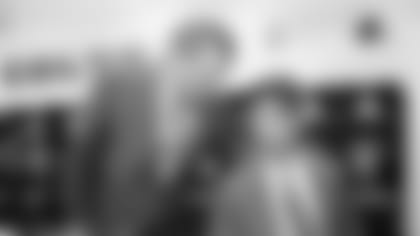 "We were just getting our feet under us," Polian said. "We were just beginning to get there. And against that defense, you're only going to get a couple of chances to make a play, right? They are not going to give you a lot of chances. When they do, they are big; you can hit them. And so we had Marvin wide open in the end zone, and one of the two of them made a mistake; they missed the route, so we don't win the game.
"So when coach (Jim) Mora was finished talking with the team. I took him and Marvin aside to the corner of the locker room. I said I don't want you to ruminate on this. I don't want you to worry about it. Put it aside. It will never happen again because after one offseason together, knowing what I know about you guys, how they work, this will never happen again."
That relationship with Harrison was obviously key to Manning's success, as was the addition of another excellent receiver in Reggie Wayne in 2001 (Manning's fourth year) and Hall of Fame running back Edgerrin James (and some improvements on defense). But Polian and Arians said the Manning-Harrison pairing, in particular, was key.
The supporting cast was clearly a big reason Manning got his feet underneath him, but the way they worked together obviously played a part as well.
"No one worked harder than Peyton; I mean, the poor receivers," Arians said. "He'd wear them out because he was used to having every snap at Tennessee. And he didn't like to sit still when the defense was in there practicing. So he'd take the receivers over to the other field, and he was wearing them out. They were both workaholics. So that was never an issue."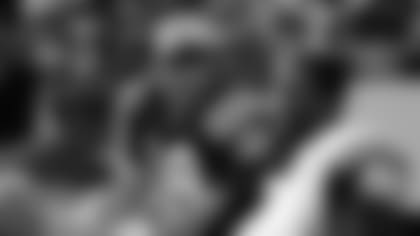 "He was married to Marvin from day one," Polian said of Manning. "The same guys, the same drive to succeed, the same attention to detail, the same desire to practice. And then Reggie was the same way.
"I don't want to put this on Bryce. Peyton's gift was he could put the ball where only those two Hall of Fame receivers could catch it. So they would do their magic getting open on a route. Peyton had to put the ball where only they could catch it and bingo, magic, just like that."
Just like that. Suffice it to say Young does not have a Harrison, or a Wayne, or a James. He has an Adam Thielen at the moment. The acquisition of talent is something that clearly cannot happen for Young in Week 11 of his rookie year, just as the process wasn't complete for Manning until several seasons later.
Arians, as you might imagine, was rather blunt when asked about Young's current status compared to what he saw from him at Alabama last year.
"He had a lot better players in Alabama around him," Arians said. "So, I think as they get top-notch guys around him, he's going to improve. Just keep believing in your process; you know, it's not easy.
"You've got to put better guys around him and just continue to show him the positive signs that he's improving. I mean, it's the same old thing. If you're the No. 1 pick, you're going to a bad team, and that team's got to get better for you to get better."
Aside from those things that can't happen today, both Polian and Arians mentioned the need for positive reinforcement. Hang onto the good and build. And catalog then discard the bad as learning experiences.
Like Manning, Young has a reputation for putting in the time to know the playbook inside out. Arians said when he met Manning at his first minicamp, that much was obvious: "Hell, he knew most of it by the time he got there."
But there was still the issue of the speed of NFL defenses (in the SEC, there are four or five guys on an opposing defense with NFL talent. In the NFL, there are 11) and what Arians called "the volume of defense." It's just more complicated at this level.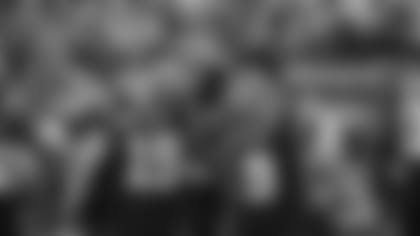 That's why Polian said Young should enjoy his biggest jump next offseason. Instead of traveling from workouts to combines to appearances to the draft, Young will be in the Panthers facility, working with what should be an improving cast around him.
"The moral of that story is this off-season, Bryce will learn more than he's ever learned in any other off-season in his career, and that will hasten his development, right?" Polian said. "As I said, it's really mid-Year 3 when you really start to see it.
"Next year, number one is physical maturity, and it will be visible by the time you get to training camp. Secondly, comfort level with the offense, ability to get in and out of the huddle, ability to spit out the nomenclature. Third, defensive recognition, and then fourth, you know, recognition and improvement in critically efficient situations."
At that point, Polian referenced a play Young made against the Texans, when he hit his one truly reliable target Thielen on a fourth down.
"That was a big-time throw in a situation where you had to be clinical. If it's a critical situation, you've got to be efficient; you've got to make a play. You'll see more of that."
Having seen Manning go through it, Polian said the other key is to make sure the quest for precision doesn't become suffocating. He laughed and recalled new coach Tony Dungy's advice to Manning in 2002, as the quarterback was going into his fifth season.
"Tony was asked, what can you do to make Peyton Manning better?" Polian recalled. "And he said: 'I can tell him it's OK to punt.'"
So the challenge for Arians and offensive coordinator Tom Moore and the rest of them was to remind Manning that even though he could make all the plays, he didn't always have to.
"There were many conversations that Tom and Bruce and to a lesser extent I had with him where we said, look, you don't have to put the whole world on your shoulders," Polian said. "You have 10 other guys out here working with you, so don't you think you've got to do everything perfect the whole time."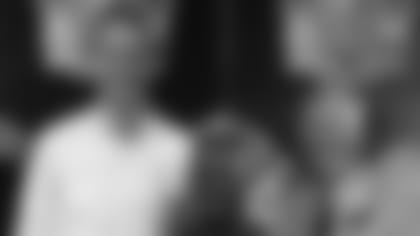 That's part of the challenge for Young and the Panthers right now. Things are clearly not perfect. Not even close.
And Reich, who was recruited by Polian to help coach Manning in 2006, has told his rookie about how long it takes. Young mentioned recently that it's sometimes hard to hear Reich reference past quarterbacks who have also struggled when you're in the middle of it, since his gaze is closer to his shoes than the horizon.
"He is very hard on himself like all they're all the best players I've ever been around," Reich said. "They're all extremely hard on themselves. I mean, extremely hard on themselves to almost to a fault. Like, you have to say, no, that wasn't your fault. But no, Bryce, the first thing he's going to say is I've got to be better and, and it's real.
"I hear him take accountability, but I see and feel the confidence in his voice that, hey, we're going to get that right."
Reich keeps emphasizing the history part. Young keeps beating himself up in the here and now. And somewhere in the middle, the hope is that the lessons are absorbed from both directions.
"I think having the historical perspective of rookie quarterbacks can be a backdrop to understand and give a little perspective, but we're primarily going to be driven by the results that we're seeing now, and we should," Reich said. "But sometimes the historical perspective and understanding the struggles of a lot of great quarterbacks over a long time can help just give me, OK, I'm not going to lose my mind. I'm not really happy right now.
"We all have to get better, but I understand that, you know, I'm not alone here. There are some pretty good people alongside me that have had some similar struggles, so that maybe gives us all just a little bit more."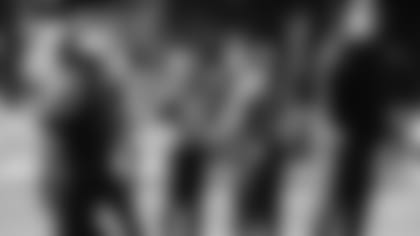 That's why the week before the Houston game this season, Polian called Reich, and they talked about that Colts-Chargers game in 1998, which was a barometer in the minds of some but just a single data point in a larger plot.
Plenty of people were willing to make the Texans game a referendum on Young vs. Stroud, one way or another. In 1998, people were doing the same thing with Manning vs. Leaf.
The Colts won that one, Manning's first win. But he wasn't great, just 12-of-23 for 137 yards, with a touchdown and an interception. It was a win and a meaningful one in the moment.
But Polian recalled sitting down with Manning before that game alongside Arians and Moore and explaining to the future Hall of Famer not to get caught up in the temporal, to take the longer view, and to focus on the systematic steps that would lead to improvement.
"I shared the story with Frank," Polian said with a grin. "We all sat down with Peyton, and we said, this is a bump in the road, win or lose. It's a bump in the road.
"There's a lot more to the story of what's going to happen."
Obviously, it may never turn out for the Panthers the way it did for Manning in 1998. He's one of the greatest quarterbacks of all time.
But in 1998, the Colts didn't know how it was going to turn out for Manning either, which is why Polian shared that story with Reich.
"I mean, he coached Peyton; he wasn't there for the first part, but he knows what the growth curve for a young quarterback looks like," Polian said. "The feeling then was as the year went on, it's getting better every week, you know, even after that game against Leaf, I think I recall saying to the media, we know what we have here, and it's going to be all right."