NEW ORLEANS – Before his 12th season began, center Ryan Kalil declared he was going to "empty the tank" in 2018.
So it's no surprise that Kalil played every single snap of Sunday's season finale against the Saints, even if other veteran players shut it down for the day with nothing on the line.
"A lot of those guys are coming back," Kalil said with a laugh. "It was the last time I was ever putting a helmet on. There wasn't a chance I was coming out of the game."
The season is ending sooner than anyone hoped, especially after Carolina got off to a 6-2 start, but Kalil was able to walk away victorious. And while that seventh win of the season was technically meaningless, it sure didn't feel that way to Kalil and his teammates.
"A lot of fun getting a win in the last one with the guys… Not everybody gets to do the Peyton Manning and go out with a Super Bowl," said Kalil, referencing Carolina's heartbreaking loss to Denver in Super Bowl 50. "That's what every guy dreams of."
That's true, it may not have been the perfect dream sendoff in that sense, but it sure was special.
Former teammates and good friends Jake Delhomme and Geoff Hangartner were in attendance. And of course Kalil's family was there to see him play one last time.
"For me today, the person I kept thinking about the most was my dad," Kalil said. "Spent a lot of time with him throughout the years working on my craft. His confidence and belief in me went a long way."
Ryan's father Frank, a former NFL lineman, has been there for each step of the journey.
He savored every second of his son's final game day in the NFL, capturing dozens of photos and videos on his phone.
"He was just happy to see his boy out there playing one last time," Kalil said.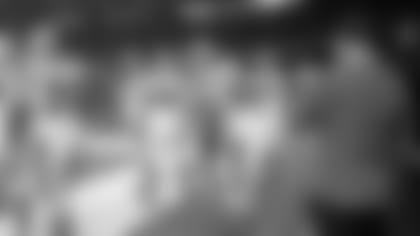 "Been a long time. Started this when he was eight," Frank said after the game, still clutching the ball Ryan gave him after pregame warmups. "Lots of ups and downs, but it's been a lot of fun. He's done a tremendous job.
"He's always had that chip on his shoulder. They always said he was too small at every level. Here he is 12 years later. It's a testament to his hard work.
"I'm proud of him. I love him."
There was a lot of love for Kalil in the Superdome.
Saints head coach Sean Payton and All-Pro center Max Unger made sure to congratulate him on a terrific career as soon as time expired.
Kalil said he kept his emotions in check until the very end of the game when the offense came off the field for the last time. That's when teammate after teammate came by to share a hug with No. 67.
"That sort of sealed the deal," Kalil said. "I thought I was going to get through it. Just very humbled by all the love I got today.
"Tell you what, if you ever want a confidence boost, retire. A lot of nice things get said about you."
Kalil, a five-time Pro Bowler, has earned all the accolades and compliments. He earned the right to go out on his terms.
So Sunday, he went out his way, out there for every snap, finishing what he started.
"I just tried to do what I've always done, just do my job," said Kalil, the last player remaining in the locker room. "It feels like it all went by in a flash."