CHARLOTTE – The Panthers' already remote playoff possibilities officially ended Sunday in the home finale, but many wondered if an era ended as well.
"It's always disappointing whenever you don't make the playoffs," Julius Peppers said. "But there's always next year."
But will there be a next year for Peppers? For Thomas Davis?
Those were questions that remained unanswered after Sunday's 24-10 loss to the Falcons. Davis didn't speak to the media, and Peppers didn't say much.
"We'll talk about what's going to happen next year and all that stuff at a later time," Peppers said with a smile.
While those questions are for another day, there was no question about Sunday being the final home game for a stalwart on the offensive side of the ball.
"I'm going to miss it a lot. I've been playing football my whole life, and there's nothing else really to graduate to," said center Ryan Kalil, who announced in the offseason that 2018 would mark his 12th and final year in the NFL. "Not everybody gets to decide when they want to go out. It's such a brutal, physical game, so I'm very fortunate to be able to finish my 12th year.
"I leave this place with a lot of great memories. I'm very blessed and just thankful to a lot of people that helped me get there."
Kalil conducted his postgame interview with his son, Cade, in his arms, having made a beeline for his family inside Bank of America Stadium moments after a heartfelt wave to the crowd following the loss.
"It's not how I wanted to remember it, but I'm just very appreciative to all the fans," Kalil said. "This community has been great to me and my family, and I leave this place with a full heart."
The Panthers used their second-round pick – No. 58 overall – to select Kalil in the 2007 NFL Draft out of Southern Cal. Kalil became a fulltime starter his second season and has been the anchor of the offensive line ever since.
"It way exceeded my expectations," Kalil said. "I was a guy who in college I had several coaches tell me that I would be too small to play at the next level.
"Twelve seasons later, I leave with the lesson that nobody defines you but you. Hopefully I paid that forward to the younger guys."
Kalil is the young guy compared to Peppers and Davis. Peppers is in his 17th season and in his second season since returning to the team that took him No. 2 overall in the 2002 NFL Draft. Peppers, who had a fumble recovery Sunday, debated last offseason whether he'd come back this past fall.
"We'll get into that when it's time. We've still got a game left to play," Peppers said.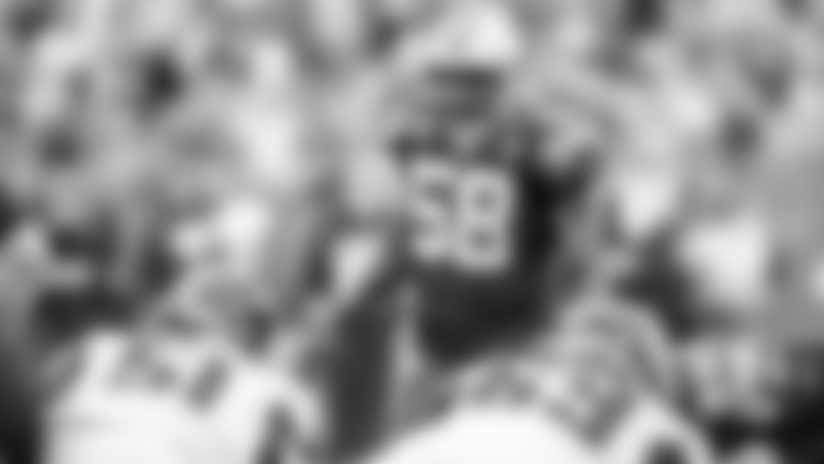 Then there's Davis, a first-round draft choice in 2005. Davis shared the team tackle lead with Luke Kuechly on Sunday with six – and those two stand as the most decorated linebackers in franchise history. Davis has said he wants to come back in 2019, but this is the final year of his contract.
"Obviously those things are decided by other people," Peppers said, sharing his belief that Davis' level of play warrants another season. "He's everything – Thomas is everything. He's been the heart and soul of this team, this defense.
"He's been our emotional leader for so long. They're definitely going to miss him; I'm going to miss him."
Will they miss each other next season because Peppers doesn't return? Because Davis doesn't return? Because neither does?
While only time will tell in their cases, the time has come for Kalil.
"One of the greatest teammates I've ever played with," Peppers said. "He's a professional guy. Very selfless. Great example for everyone to learn from.
"This organization is going to miss him. I wish him the best."
View photos of Ryan Kalil from his final game at Bank of America Stadium.