CHARLOTTE – As a special teams standout, Ben Jacobs had been a coach on the field for the Panthers in recent seasons, a role he hoped to reprise in 2019.
Then head coach Ron Rivera called the linebacker and asked him if he'd consider a career change – trading in his uniform for a headset.
"It was surprising when I got that call, and it obviously gave me and my family a lot to think about," said Jacobs, who was released from the roster Monday and named Carolina's assistant special teams coach Wednesday. "The initial thought was, 'I'm not done playing yet.' But then the more I sat on it and thought about it and talked to people around the league and to friends I have that are coaches and some old coaches that I had, it became the only decision that made sense – to take the job."
Jacobs, who tied for the team lead this past season with six special teams tackles, takes over for Heath Farwell, who left after one season with the Panthers to take over as the Bills' special teams coordinator.
Jacobs was set to become an unrestricted free agent next month. An undrafted rookie signed by the Browns out of Fresno State in 2011, he appeared in five games his first three years in the league. He then played in every game for the Panthers in 2014, '15, '17 and '18.
Looking back, the 2016 season set the stage for Jacobs' quick career transition. He was released after suffering an injury in the preseason and was out of football until the Panthers brought him back for the final month of the season.
"I thought about it back in college, that one day I might want to coach," said Jacobs, renowned among his teammates for his coach-like note taking. "Then 2016 came around, and I was released after camp and was out until the last month of the season. I missed it too much. I knew I had to be a part of it somehow."
Now Jacobs will team with another former Panthers player, crossing over to the "dark side" as special teams coordinator Chase Blackburn put it. Blackburn needed a year away from the game after his final year as a player in 2014 before joining the coaching ranks.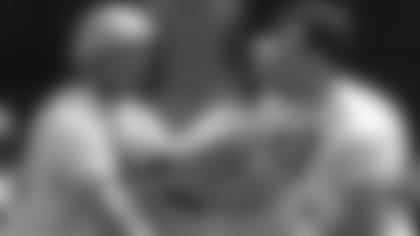 "I think it was a very good decision for Ben because these jobs don't come easily; there are only so many of them," said Blackburn, who also considers it a very good decision for the Panthers. "He's been in meetings for eight years, so he knows it. He knows our philosophies, our mindsets as far as what we expect. And he knows how to explain the 'why' to the players and how to get them to buy in and understand and build upon things.
"The guys know him, and he has instant credibility. Guys already trust and respect him as a leader."
In 2018, with Jacobs in the lineup and Blackburn in the coordinator role for the first time, the Panthers were solid on special teams.
"I thought we passed the eye test," Blackburn said. "We did some things well. We played physical, played fast. We did a lot of positive things. The biggest thing was that we gave up no major plays. There was nothing glaring – no blocks, no big returns, no touchdowns.
"Conversely, we didn't make enough splash plays. We had a touchdown versus the Giants and the big game-winning field goal against the Giants, but we didn't have enough.
"Overall I thought we played OK, but we have so much more capability."
Jacobs wholeheartedly agreed with Blackburn's assessment, and now he hopes to help the units take the next step – from his new vantage point.
"We need to impact games in a positive manner more," Jacobs said. "We have to have those game-breaking plays. We didn't really have many of those last year. If we're going to go where we want to go, we need to have that."