The Carolina Panthers have participated in 20 NFL Drafts and have drafted 156 players since 1995.
None have been as successful as the 2001 draft. You can argue against that, and some no doubt will. But in a court of law, you'd probably be declared wrong based on the evidence.
The Panthers' first three picks in 2001 were linebacker Dan Morgan from Miami (Fla.), defensive tackle Kris Jenkins from Maryland and a wide receiver/kick returner from Utah by the name of Steve Smith. The oddity of the draft was that although it produced three of the best players in team history - a trio that would be key to Carolina's Super Bowl run two years later - they all were rookies on the worst team in franchise history that went 1-15.
Fourth-round selection Chris Weinke from Florida State was the starting quarterback that season. Jarrod Cooper, a fifth-round choice, was a defensive back who became an immediate and important contributor on special teams.
Although head coach George Seifert still had the final say in all personnel matters, virtually all of the planning and execution for the 2001 draft was done by director of football operations Marty Hurney and director of player personnel Jack Bushofsky.
"It was a good draft. And actually Jack Bushofsky was in charge of that draft. I love Jack, and I can talk about it - but that really was Jack's draft," said Hurney, who now is part-owner of a radio station in Charlotte and also hosts a sports talk show on it.
To understand why it turned out to be arguably the best draft in Panthers history, let's take a closer look at the top three picks.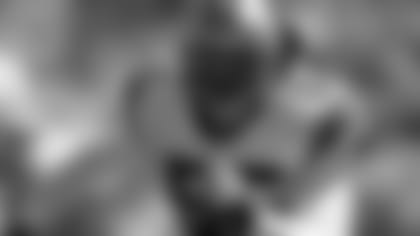 In Morgan, the Panthers landed a linebacker much in the same mold as their current defensive star, Luke Kuechly. Except Morgan frequently battled injuries that limited him to playing in just 19 games in his first two seasons and only a total of 59 in a seven-year career that was cut short.
"Yeah, he had injuries," Hurney said. "But he also had 25 tackles in a Super Bowl."
Jordan Gross, Carolina's first-round draft choice two years later, offered some unique perspective on Morgan, as well as Jenkins and Smith. He was teammates with all three and also was a college teammate with Smith at Utah.
Of Morgan, the 11th overall pick, Gross remembers being paired with the linebacker during a spring golf outing in 2003. Morgan and Gross rode together in the same golf cart that day.
"There's nothing like riding around in a golf cart with a guy for five hours, so that's when I started getting to know Dan," Gross said. "I just remember thinking what a passionate, talented guy he was. But that guy could hit. That's actually what part of his downfall was. He played with really no regard for his own safety.
"But when he was on the field, he was a smart guy and intense. Dan had a little of that 'crazy eyes' look to him. Not just on game days, but a little bit all the time. In fact, I saw him in the press box before the Atlanta game (at Bank of America Stadium last year). He's a scout now for the Seahawks, and he still kind of had that look about him."
Morgan was healthy for Super Bowl XXXVIII when the Panthers lost to the New England Patriots, 32-29.
"He was a key piece to that defense when they were so good. I think maybe (safety) Mike Minter was the vocal leader, but Dan, he set the tone," Gross said. "He was such a talented player. I think Luke (Kuechly) makes more plays than he did, but I think Dan was as talented as Luke."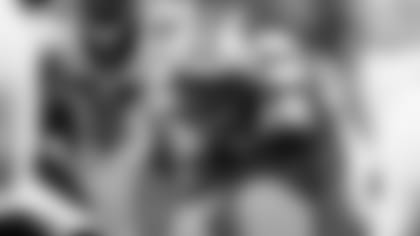 Jenkins, the 44th overall pick, did not miss a single game his first three seasons with Carolina before battling some injury and weight problems of his own. Listed at 6-foot-4, 335 pounds, he was a beast when healthy and ended up spending seven seasons of a 10-year NFL career with the Panthers.
Off the field, one of Jenkins' claims to fame was the time he ate 53 pieces of sushi in one sitting at training camp. But on the field he was a handful, according to Gross, who as an offensive tackle often had to attempt blocking Jenkins during practices.
"Kris, he was impossible to block when he wanted to be. And he could move for a guy his size," Gross said. "That D-line with Pep (Julius Peppers), (Brentson) Buckner who was just the crafty old vet, and then Jenkins and (Mike) Rucker on the other side, there was just so much talent.
"Jenkins was so powerful and so explosive. Like I said, he was impossible to block when he wanted to be. But I never dealt with anything that powerful. He and Peppers both were just in a whole other classification of human. Just so talented."
Gross said Peppers and Jenkins were so difficult to deal with when he attempted to block them that he quickly questioned his own ability to play in the NFL.
"I had to block both of them in practice. That first training camp was hard," Gross said. "I remember calling my parents and my wife with tears in my eyes, just saying, 'This is so hard. I don't know if I can do this.' I thought that was the norm. Then we started playing the games, and I realized not everyone was a 24-year-old Julius Peppers or as big and mobile and powerful as a Kris Jenkins. Some people are a little bit easier to stay in front of."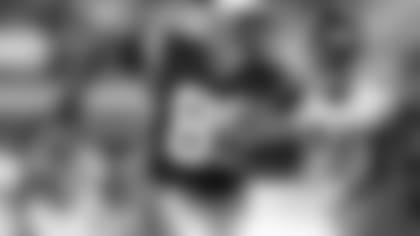 Finally, there was Smith, the 74th overall pick. Bushofsky, Hurney and others recall, was very bullish on Smith. Bushofsky even went so far as to tell Hurney and the scouting staff that although he believed the Panthers could wait until the third round to grab Smith, the speedy player had as much talent as the top wide receivers available.
"Jack Bushofsky loved Steve Smith. Loved him," Hurney said.
Yet Seifert used Smith almost exclusively as a kick returner as a rookie in 2001, which no doubt at least contributed to the team's 1-15 record and Seifert being fired after the season. Because Smith was only 5-foot-9, 185 pounds, the coaching staff that first season questioned Smith's ability to fight for balls with bigger defensive backs and also whether he could withstand the punishment wide receivers often absorb - arguments that seem silly now but were very real concerns then.
Beginning in 2002, John Fox's first season as head coach, Smith began seeing time as a wide receiver and embarked on a career that likely will end with him in the Pro Football Hall of Fame. Smith played 13 years for Carolina and ranks as the franchise's all-time leader in receptions (836), receiving yards (12,197) and receiving touchdowns (67).
Gross already knew what Smith could do, because he saw him do it all in college when they were teammates at Utah.
"Steve, he's the same now as he was then, and he's incredible," Gross said. "I always enjoyed Steve as a teammate. Steve's like family. He'll piss you off, but you let it go because you love the guy. But he was the same way in college - fiery, making crazy plays.
"Brian Urlacher (later an outstanding linebacker for the Chicago Bears) played at New Mexico. They were in our conference in college. And I remember Steve on a punt return getting tackled and his shoe came flying off. He out-juked Urlacher with one shoe and one sock on, to run a punt back for a touchdown. That kind of stuff happened again and again and again with him."
The bottom line - the 2001 draft was pivotal in helping the Panthers get to the Super Bowl in Gross' rookie season in 2003, thanks to three of the best picks the team has ever made in arguably the best overall draft it has ever had.
"You would like to get three starters out of every draft," Hurney said. "And hitting on your high picks, especially your first-rounders, is critical."