The ending of the 2008 season was not what the Panthers wanted, but the path toward the playoffs was sweet -- a series of 3-1 quarters that led to a 12-4 mark that tied with the New York Giants for the best in the NFC.
Panthers.com will take a look back at the Panthers' 14th season by reviewing the season quarter-by-quarter.  First up -- the games of September, when the team overcame a two-game suspension to Steve Smith to break out 2-0 before splitting a pair of games with eventual playoff participants Minnesota and Atlanta.
---
Dante Rosario was understandably all smiles after his game-winning touchdown reception in Week 1. (PHOTO: ANDREW MASON)*
Sometimes, two seconds can last forever.
Empirically speaking, in football, they can last as long as a play can endure as long as the ball is snapped before the clock hits triple zeroes. As long as the blockers can hold snarling pass rushers out of the passing pocket, as long as the quarterback can dart around and search for an opening, as long as it takes for some potential pass-catcher to find open space, and as long as it takes for all of those things to come together and create a crevice through which the football can fly.
Sometimes, though, the time crawls. A tsunami of noise is muted. And Panthers quarterback Jake Delhomme, in his first regular-season game in nearly 12 months, two seconds on the clock and destiny in his hands.
"I'm just standing there," he said, "and it was like it was going in slow motion, just looking, looking, looking."
Then, the controlled mayhem of 21 men moving around and in front of Delhomme drew into focus -- in the form of No. 88, tight end Dante Rosario.
"Dante and I just caught eyes."
Delhomme pumped. He threw.
"I threw it and I said to myself, 'It might have a chance,'" Delhomme said. "The next thing you know, he's holding it and mayhem broke loose."
This was a different sort of mayhem than the one that surrounded Delhomme seconds earlier -- one without control or restraint.
Somewhere amidst a mob of blue-shirted humanity at Qualcomm Stadium on a bright September Sunday, Rosario had the football, Delhomme ran around -- "like (former North Carolina State basketball coach) Jim Valvano," by his own admission -- and the Panthers had a 26-24 win over the San Diego Chargers.
The unfettered celebration was strictly spontaneous. The mayhem of the pass that preceded it, however, had something of a plan when Delhomme came back from the sideline and addressed his teammates in the huddle.
"Jake literally told everyone, 'I want five verticals (routes); everyone get into the end zone, get open; I'm throwing it up,'" Rosario said.
"It was kind of a sandlot play," added left tackle Jordan Gross. "Just two seconds left, find somebody."
Admitted Delhomme: "It's a play we haven't run much. This was five verticals going to the end zone. This happens only at the end of the game; you've got to throw it in there."
TURNING POINT: Actually, what kept the Panthers roaring throughout the game was their ability to keep potential turning points from taking place.  Carolina's offense bogged down in scoring range, being turned away at the San Diego 1-yard-line once while being limited to four field goals on its other series, but the Chargers could not turn these stops into any palpable momentum.  As a result, when San Diego did make its move in the fourth quarter, the game remained tight, setting up the last-gasp dramatics.
KEY STATISTIC: San Diego was able to move the football effectively at times, but couldn't get the big play on the ground they'd consistently found in the previous two seasons,evidenced by LaDainian Tomlinson's performance.  He touched the football 25 times, but never gained more than 14 yards.
QUOTE: "He wasn't nervous.  It was like he didn't even skip a beat from last year.  He's a leader, and you can see that in the huddle.  People want to follow him.  That's what we need on our offense." -- Rosario, on Delhomme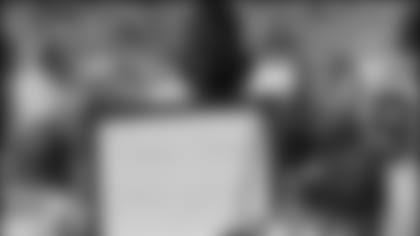 ---
Chris Harris had a message for Steve Smith after the Panthers clinched their Week 2 win. (PHOTO: MATTHEW BRINKLEY)*
In the days before the Panthers' home opener, a new T-shirt bearing a 15-word message became the most popular article of clothing in the locker room at Bank of America Stadium.
It read, "I draw my strength from the man next to me.  Can I count on you?"
With two minutes remaining, the Chicago Bears at midfield, the Panthers clinging to a three-point lead and fourth-and-1 on the down markers,the Panthers got their answer when Thomas Davis, Maake Kemoeatu and a swarm of Carolina defenders engulfed and stopped Chicago fullback Jason McKie, who one quarter earlier had scored the Bears' only offensive touchdown of the afternoon. 
The midfield brick wall capped the first of two 14-point, second-half comebacks in 2008, and gave the Panthers their second win in as many games without Smith, who wasn't at the stadium but was never far from the Panthers' minds.
That was evidenced after the game-sealing stand, when safety Chris Harris went over to the sideline, found a dry-erase board and scrawled the message to Smith pictured above.
"I'm almost certain he was watching (that) afternoon," Harris said after the game. "I've been texting Smitty the last two weeks, and everything's in the past.  He's one of us.  He's our boy, and I know it killed him not to be here ... I just wanted him to know we hadn't forgotten about him."
Numerous Panthers had kept in touch with Smith via phone and text message during the two-week suspension, which ended with the final gun of the Week 2 win.
"I just wanted to make sure he was staying in shape," Delhomme said. "I know Labor Day a few of us were at his house with the kids, just hanging out and then (head athletic trainer) Ryan Vermillion and I texted him during the week, just to make sure he was staying in shape."
They need not have fretted -- as would be proven over the 14 games that followed, when Smith played well enough to earn a Pro Bowl slot.
"That's one thing you never have to worry too much about Steve, is that he takes good care of himself," Delhomme said.
TURNING POINT: It was ironic that a play that stopped a promising Carolina drive represented a turning point.  But when Chicago defenders Lance Briggs and Brandon McGowan slammed into Delhomme as he slid down, feet first, at the Chicago 28-yard-line, they forced the Panthers to settle for a John Kasay field goal -- but also rattled a hornet's nest.
The absence of a personal-foul penalty angered the Panthers.
"It riled us up," tight end Jeff King said. "You never like to see your captain get hit, and he's our guy.  When the general takes a ding, you kind of take it personally.  It fired us up a little bit."
"A lot of guys were (ticked off) -- including myself," added fullback Brad Hoover. "Any time that you're going to attack one of us -- much less our quarterback, our leader on offense -- you're going to get a little hot and heated."
Hotter than the conditions, which saw a heat index above 100 degrees much of the afternoon.
"It turned into more than a game at that point," Harris said. "Guys were upset.  We got after it."
"For us, it was like, 'They took a shot at our quarterback, and we can't allow that,'" linebacker Jon Beason added. "So we went out and said,'We've got to go out here, get this three-and-out, and we're going to play aggressive.'  We knew we could do it.  Guys were on the same page,flying around, making plays, feeding off each other."
KEY STATISTIC: The Panthers would score 17 points after the hit on Delhomme.  The Bears wouldn't score again.
QUOTE: "I said, 'Look in my eyes, man; I'm going to do this for you.  Now you do it for me.'" -- Beason, recalling his message in the huddle before the fourth-and-one.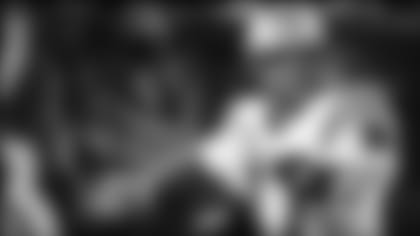 ---
Week 3 was a struggle for Delhomme and the Panthers. (PHOTO: ANDREW MASON)*
Delhomme was able to get up quickly after being hit by Minnesota's Antoine Winfield on a cornerback blitz late in the second quarter.  But the aftershocks of the hit rumbled from the moment Winfield jarred the football loose until the final gun of the Panthers' 20-10 loss to the Vikings at the Hubert H. Humphrey Metrodome.
Winfield scooped up the football and dashed 19 yards for a touchdown, wiping out what was once a 10-0 Panthers advantage just 64 seconds before halftime. After leading from their first series until the last moments of the second quarter, the Panthers would never again be in front, absorbing their first defeat of the season.
"A game can definitely change in one play," said wide receiver Muhsin Muhammad. "That definitely was a momentum-changer for those guys going into halftime."
It was a play that running back Nick Goings felt he could have prevented.
"It was just a mistake on my part," he said. "I'm supposed to come out and scan the field, come out and pick up the corner.
"They had the inside linebacker up on the line of scrimmage, and I stepped up inside and he dropped out. By that time, the corner was already (in the backfield)."
Delhomme said he didn't see Winfield. His eyes were on a potential big play downfield.
"The disappointing thing is that I'm cocking back to throw it to Steve, who's wide open," Delhomme said. "Both (Cedric Griffin) and (Charles Gordon) jumped down on D.J. Hackett, so we were going to have a big play."
Instead, the big play belonged to the Vikings and their suddenly frenzied home crowd.
TURNING POINT: When Winfield crossed the goal line, the game was still deadlocked.  But that changed on the first series of the second half, when Minnesota dashed 80 yards in five plays to a 34-yard Gus Frerotte touchdown pass to Visanthe Shiancoe.  The Vikings went ahead 17-10 on the play and would never trail again.
KEY STATISTIC: After marching 84 yards to a touchdown in the second quarter, the Panthers would not have any drives that covered more than 18 yards the rest of the game.
QUOTE: "(The Vikings) played well, but we shot ourselves in the foot quite a bit, as well." -- King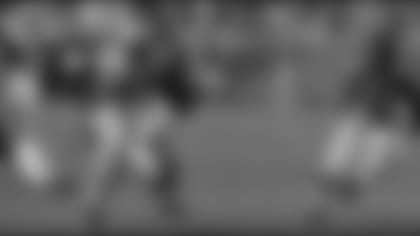 ---
One week after making his 2008 debut, Steve Smith broke loose for a 56-yard touchdown reception that helped Carolina pull away from the Falcons. (PHOTO: MATTHEW BRINKLEY)*
Like orange cones in front of a gas pump, obstacles kept blocking the Panthers' path to victory over the Atlanta Falcons.
A roughing-the-passer penalty against Julius Peppers cost the Panthers seven points.  A 12-men-on-the-field infraction nullified a missed Falcons field goal and led to a successful attempt on the rekick.  Delhomme took a knee to his quadriceps muscle on Carolina's third offensive play and spent the rest of the game laboring as he moved.   A punt snap was dropped, leading to an Atlanta field goal.  The offensive line's depth was stretched like a rubberband after Gross and right tackle Jeff Otah left with a concussion and an ankle injury, respectively.
But through all that, the Panthers' needle never dipped close to the slash next to the 'E' on the gas tank.  Carolina took a lead on its first possession and never lost it, withstanding the obstacles and ultimately filling up with a 24-9 win.
"That's what football's all about," said center Ryan Kalil. "There's going to be ups and downs.  The thing we do well as a team is we stick together through all of it.  We take the positive, we take the negative and we keep grinding."
What allowed the Panthers to overcome the injuries and miscues was an uncorked offense that erupted for 401 yards from scrimmage and 6.5 yards per play, a defense that kept the Falcons out of the end zone and allowed them to convert only two of 15 third-down attempts and a ground game that ultimately wore down Atlanta as DeAngelo Williams and Jonathan Stewart combined for 109 yards on 30 carries and a touchdown, outgaining the Atlanta duo of Michael Turner and Jerious Norwood.
Williams and Stewart's runs tenderized Atlanta's defense, and Delhomme carved it up from there, slicing up the Falcons for 20 completions in 29 attempts for 294 yards and two touchdowns -- one each to Muhammad and Smith.
"You know you've got to keep chipping away," said Williams, who rushed for 57 yards on 16 carries. "You can't take one swing with an axe and knock a redwood down.  It takes time and a lot of effort, and that's what we gave out there today."
Muhammad and Smith provided the chops that knocked the Falcons to the ground, as they roamed through Atlanta's secondary, combining for 14 receptions, 243 yards and touchdowns of 36 and 56 yards, respectively.   Eight of the catches and 147 of the yards belonged to Muhammad, who had his highest yardage total since his last season with the Panthers, when he amassed 179 yards against the Saints in 2004.
"Jake did a great job of just finding us, and that's what you get when you have some guys that have been together for a while and have made plays with each other," Muhammad said. "I'm just blessed to be able to come back and play at home again."
Smith's score -- a 56-yarder that saw him elude Atlanta defenders for 40 yards after making the reception -- provided the Panthers breathing room with 2:31 left before halftime, turning a fragile 7-6 lead into a sturdier eight-point advantage.  Muhammad's score -- an in-stride downfield grab that followed three Williams runs in the previous four plays --provided what proved to be the knockout punch, pushing the Panthers' advantage to 15 points, where it would remain for the 12 minutes and three seconds that followed until the final gun blasted.
TURNING POINT: Ninety seconds into the second quarter, Atlanta defensive end John Abraham made his biggest play of the game -- although it came on special teams, rather than the pass rush, when he blocked Jason Baker's punt attempt after a dropped snap, giving the Falcons possession at the Carolina 25-yard-line.  But the Panthers' defense stiffened, stopping Michael Turner for no gain on first down, forcing an incompletion on second down and a one-yard loss on third-and-10.  The Falcons settled for a 44-yard Jason Elam field goal and a 7-6 deficit that would continue growing for the rest of the game.
KEY STATISTIC: Carolina's defense stopped the Falcons on 13 of their 15 third downs. 
QUOTE: "I was going to congratulate him on the touchdown and he said, 'This is for you.'  He took the high road and that shows a lot about him as a person.  No one is perfect.  I'm just surprised that he did that."* -- Cornerback Ken Lucas, after Smith gave him the football with which he scored in the second quarter*