December is when a team has to be at its best in order to clinch a playoff spot -- and the Panthers were precisely that, going 3-1 with rousing home triumphs over Tampa Bay and Denver and a last-second win at the Louisiana Superdome to seal the best regular season for the franchise in 12 years and its first NFC South crown in five years.
PANTHERS 38, BUCCANEERS 23
DeAngelo Williams helped the Panthers leave the Bucs grasping.  (PHOTO: MATTHEW BRINKLEY)
With first place in the NFC South lying in uncertain balance as the Monday Night Football spotlight turned to Bank of America Stadium, the Panthers turned to the most basic of plans -- and to what they did best in 2008.
They ran against a Tampa Bay Buccaneers defense that came into December allowing just one touchdown in 12 games.  Against a defense that had permitted just 95.4 yards per game and 3.8 yards per carry.
Said fullback Brad Hoover: "We felt the best way to attack them was to run right at them."
That was something the Panthers could not do in their earlier meeting Oct. 12, when Bucs defenders filled every lane and engulfed every Panthers ballcarrier in holding them to 40 yards on 20 carries, a defensive effort that was as stifling as the Florida heat and humidity.
"That was an embarrassment," left guard Travelle Wharton. "Forty yards -- we were embarrassed.  So we wanted to come out here and perform better than we did last time."
That was the understatement of a night in which the Panthers made an emphatic statement of their own to the Bucs, the NFC South and a national television audience in the form of a 38-23 win that was decided not with aerial fireworks or tactical gadgetry, but with basic core elements of ground-based football that would have worked as well in the 1960s as they did in 2008.
Using toss pitches, draw plays, inside traps and power sweeps, the Panthers rampaged through the Bucs for a franchise-record 299 rushing yards.  DeAngelo Williams popped loose for 186 yards on 19 carries, while Jonathan Stewart chipped in with 115 yards on 15 rushes as each diced the Bucs with equal, brutal effectiveness.
Many of their yards came after contact, as was most dramatically evidenced on back-to-back plays with just under 10 minutes remaining.  At that juncture, the Panthers held a seven-point lead and had just crossed midfield, thanks to a 41-yard Williams run.
With second-and-seven at the Tampa Bay 46, Stewart took a handoff and sprinted to the outside, where Tampa Bay's Ronde Barber met him.  Stewart gained leverage, stuck out his arm and forced himself away from the diving cornerback, setting him loose for a 30-yard gain.
Williams immediately replaced Stewart and on the next play, got the call and sprinted to the left.  Just like Stewart, he was confronted by Barber in the open field.  Just like Stewart, he pulled out the stiff-arm, shaking loose from the Pro Bowler and sprinting upfield for a 16-yard touchdown that put the Panthers up 31-17 with 8:38 left to play.
That sequence encapsulated a night in which the two backs took turns with seamless precision, identical power and towering results.  By the night's end, the Bucs' imposing rushing statistics were shattered in a game that would help power the Panthers to the division crown, while beginning a four-game spiral that ended with a 9-7 ledger, no playoff bid and, by mid-January, the dismissal of head coach Jon Gruden, the only sideline boss the Bucs had known since moving to the NFC South.
TURNING POINT: It wasn't so much a particular moment, as a series of events -- specifically, the Panthers' ability to quickly respond after each Bucs score, with touchdowns on the drives immediately following Tampa Bay's field goal and three touchdowns.  The only time the Bucs had the football and weren't trailing was on their opening series, when a Tyler Brayton sack on second-and-5 helped force a three-and-out.
KEY STATISTIC: After the Bucs forced a 17-all third-quarter deadlock, Williams and Stewart combined for 173 yards and three touchdowns on just 14 carries -- a 12.4-yard average.
QUOTE: "It was a great confidence booster for us." -- Muhsin Muhammad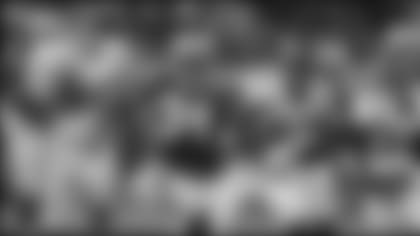 Williams' sprint past Denver's defenders put the Panthers up by three scores, where they would remain. (PHOTO: MATTHEW BRINKLEY)
With Owner/Founder Jerry Richardson looking on from his usual perch just days after learning he would be placed on the waiting list for the heart transplant he received in February, the Panthers turned in an inspired performance in routing the Broncos.
"I think the best medicine for him right now is us winning," quarterback Jake Delhomme said. "I don't think there's any doubt."
And there was no doubt about the win -- an emphatic, 30-10 romp that saw the Panthers place a headlock on the pace and tenor of the game while bursting to a two-game lead in the NFC South.
"It was awesome for him to be here -- and for us to get a win for him, in front of him," said wide receiver Muhsin Muhammad.
It was the type of triumph that Richardson could appreciate -- one that saw the Panthers make tactical adjustments on offense and use a swarming, revived defense to defuse the explosive Broncos offense, which ranked second in the league but couldn't as much as score a point in the game's final three quarters, allowing the offense to find a perfect balance and gradually pull away for the Panthers' largest margin of victory in nearly two months.
"It lets other teams know that we're not a one-dimensional team," said Williams, who had 88 yards and a 56-yard third-quarter touchdown run that turned a still tight-game into a runaway. "We can run; we can pass; we are a complete team.  You're not just going to talk about our running game.
"Now you have to talk about everybody."
Carolina defeated the Broncos by seeing what Denver's defense was designed to prevent and adjusting accordingly.  When the Broncos burst forward to stop the run, the Panthers threw over their heads and under the safety.  When they crouched back just a bit, the Panthers slammed away with Williams and Stewart.
The Broncos' defense showed Carolina more respect than an apprentice does his master.  With their offense having claimed a 7-0 lead with a game-opening touchdown march, Denver opened the game in a 4-4 alignment, crowding those eight men into the box in an attempt to flood every conceivable running lane with blue helmets.
"They didn't even have a free safety; they had a linebacker (Wesley Woodyard) at free safety," wide receiver Steve Smith said. "So we knew exactly what they were going to do."
Added Delhomme: "It's something we haven't seen on film, and we hadn't prepared for.  Fifty-nine (Woodyard), we were declaring as the strong safety. On our run game, I have to declare who's the (middle linebacker), who we need to go to, and it kind of worked out that way."
But Carolina quickly adapted, quickly shifting into aerial mode and going into a no-huddle offense that kept the Broncos from making an adjustment in response.
"To me that goes back to coaching," Delhomme said. "Don't panic. Base rules, this is where we need to go, and it worked."
Three plays into the series, Delhomme pounced on the openings that the 4-4 presented, fading 10 yards back on third-and-two from the Carolina 34-yard-line and lobbing a gentle toss that Smith leapt under and turned into a 24-yard pickup to the Denver 42.
Three plays later, Smith was in the end zone, bounding behind Muhammad block on Denver cornerback Josh Bell for a 15-yard touchdown that knotted the score at seven–apiece and provided a vigorous response to Denver's opening-series score.
"That gave us confidence, because we knew they had a high-powered offense, and we wanted to keep the pace -- to be able to go out there and play at a high level," Muhammad said. "If it came down to a shootout, then (we knew) we had to come with guns to shoot, so our guys went out there with the attitude that we weren't going to lay down."
And from there, the Panthers ran away from the Broncos, who wouldn't score another touchdown and would be shut out after the opening quarter.
"Our (defensive backs) felt challenged from last week," safety Chris Harris said. "We gave up 300-something yards passing, 200 to one receiver, so that was something we were very disappointed in, even though we did get the win.  That's unacceptable by our standards on the back end.
"We played with a chip on our shoulder, and we wanted to get back to the way we played (earlier in the season)."
The Broncos came into the game having won four of their previous six games -- including road triumphs at Atlanta and the New York Jets -- and needing just one more win to clinch the AFC West crown.  But that would never come, as the Panthers once again sent an opponent on a spiral; the Broncos fell 30-23 to Buffalo seven days later and then lost at San Diego 52-21 in the season finale.
TURNING POINT: Down 17-10 with 34 seconds remaining in the first half, the Broncos merely had to take a knee to escape from the half with a one-score deficit and a chance to regroup.  But after a pass for no gain and a subsequent timeout, Broncos running back Selvin Young lost the football after being hit by Charles Godfrey.  Brayton recovered, and the Panthers closed the half with a 44-yard John Kasay field goal.  The next time Jay Cutler and the Denver offense saw the field, they trailed by 17, as the Panthers drove to Williams' touchdown run on the opening series of the second half.
KEY STATISTIC: After allowing the Broncos 116 yards and seven first downs on their first two possessions, Carolina's defense allowed just 93 yards and five first downs on the following eight series.
QUOTE: "Sometimes, you've got to improvise." -- Williams, on his 56-yard touchdown run that saw him double back, reverse his field and scoot into open territory, a la Marcus Allen in Super Bowl XVIII
GIANTS 34, PANTHERS 28 (OT)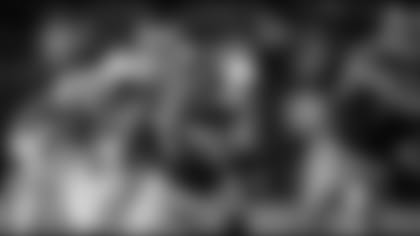 Derrick Ward ran away from the Panthers during the final quarter and overtime, clinching the No. 1 seed for the Giants. (PHOTO: KENT SMITH)
The frigid wind that blasted around Giants Stadium was painful, pricking exposed skin like a fusillade of needles.  The footballs that were put into play were hard, possessing the consistency of a cinder block when meeting hands, feet and anything else they struck.  The field itself was unforgiving, trampled by years of use, coated with an icy glaze and greeting all who crashed into it with the subtlety of concrete.
But none of those were as painful and as hard as the running game of the New York Giants, which ramped up and wore down Carolina's defense, slamming through the Panthers for 301 yards - including 153 in the fourth quarter and overtime - and dooming them to a 34-28 overtime defeat in front of an enraptured national television audience.
The Panthers were buried under an avalanche of rushing yards that was caused by the footsteps of Derrick Ward, who accumulated 215 yards on just 15 carries, including runs of 51 and 17 yards on the second series of overtime that set up Brandon Jacobs' game-winning, two-yard plunge 5:03 into sudden death.
The work of Ward and Jacobs rendered null an offensive performance that saw the Panthers blister New York's tough, weathered defense for 343 yards and four touchdowns - all by Williams, who sent his league-leading season tally soaring to 20.
All that was forgotten by the time Jacobs landed in the end zone, sending the sellout crowd of 78,653 into general hysterics and leaving the Panthers' defense to point the finger of blame at itself.
"That loss was our fault," Harris said. "We had our chances. Our offense went out there and put points up on the board and did what it had to do, and we didn't make the stops when we needed them."
Ward's runs were particularly damaging; he averaged 14.3 yards per carry with five runs of more than 15 yards.
"For some guy to get 215 yards rushing, that's just inexcusable," lamented middle linebacker Jon Beason. "It's hard to hold your head up when you do that."
In spite of the damage the Giants' ground game inflicted, the Panthers still had a chance to win the game in regulation, responding to New York's fourth-quarter march to a game-tying touchdown and two-point conversion with a drive of their own in the last 3:21, using passes of 13 and 11 yards from Delhomme to Stewart and Muhammad, respectively, to creep into field-goal range.
The prevailing winds on the blustery evening were at the Panthers' backs, and after advancing to the Giants' 32-yard-line, Kasay jogged onto the field to attempt a 50-yard field goal with nine seconds left.
But as Kasay began setting up for the kick, the winds shifted, with the gust swirling across the width of the field, into the Panthers' sideline. The right-to-left winds meant that the left-footed Kasay needed to add some hook to the kick, which would allow it to draw between the uprights.
"You try to judge it as best you can," Kasay said. "I felt pretty good about it all night. But I didn't start the ball as wide as I wanted to, so when it was flying, I knew it was going to be close."
Several Panthers on the sideline gestured as though the kick was good, and when the frozen football flew off his foot, it appeared as though it was headed between the uprights.
"I wanted to start it a little further right and I started it pretty much down the middle," Kasay said. "I knew it was going to be close from 50 yards. It just wasn't able to hold on long enough. That's what I was afraid of."
The Panthers had one more chance in overtime after the defense forced a three-and-out on the Giants' first series, giving Carolina possession at its 39-yard-line with the wind at its back. But after a pair of Stewart runs picked up seven yards, Carolina failed to convert on third-and-three when a Delhomme pass to a slanting Muhammad sailed incomplete.
"I felt very confident in that one play," Delhomme said. "We had two slants on one side and we had a slant flat on the other side. They came with pressure, and we were trying to get it to Moose. We had that on the last drive of the game (in regulation) on the left side. I thought it was a good play-call by (offensive coordinator) Jeff (Davidson). We just didn't execute it well."
Seconds later, the Panthers had one last chance at redemption when Giants punt returner R.W. McQuarters muffed the Jason Baker punt, sending the football loose inside the Giants' 20-yard-line. But McQuarters beat Carolina cornerback Richard Marshall for the football.
One play later, Ward sprinted through the middle of Carolina's defense for the 51-yard jaunt that set the Giants on to victory and the top seed in the NFC playoffs.
TURNING POINT: When defensive tackle Damione Lewis succumbed to a shoulder injury at the start of the fourth quarter, the Panthers were depleted on the inside of the defense, as he joined Maake Kemoeatu and Gary Gibson on the sidelines.  It was at that point when the Giants began to dominate on the ground; they gained more than half their rushing yards after Lewis left.
KEY STATISTIC: This was Carolina's only close loss all season.  The Panthers finished the year 5-1 in games decided by a touchdown or less.
QUOTE: "Yeah, we made the playoffs; we knew about it (the previous) night. But you play every week to win the football game, and we had chances, but we didn't win it." *-- Delhomme
*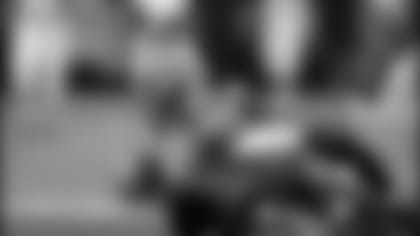 When Steve Smith came down with a lobbed Jake Delhomme pass, the Panthers were on their way to a game-winning, division-clinching field goal. (PHOTO: KENT SMITH)
Typically, teams that lose a 20-point lead in the final quarter can't marshal the fortitude necessary to reverse the tsunami of momentum that the rallying team had built - particularly when the Saints had a deafening home crowd behind them that had been awakened with a fury after Drew Brees had thrown touchdown passes on three consecutive drives while the Panthers had been forced to punt twice after not punting in the first three quarters.
But the 2008 Panthers weren't a typical team.
With a one-point deficit and one timeout remaining, a Carolina prayer - in the form of an arcing, desperate heave from Delhomme that found its way into a leaping Smith's grasp. The 39-yard pass moved the Panthers from their 18-yard-line to the New Orleans 43.
"You can say it time after time -- big players make big plays, and he definitely made another big play for us," Williams said. "It put me in the mindset of the play that he made for us to win the game a few weeks ago (at Green Bay).  That's what he does.  He's a playmaker.  He means a lot to our offense, as well as the other guys."
With Smith's catch having squelched Saints momentum, the Panthers could be workmanlike as they finished the march into field-goal range, picking up 23 yards on the next five plays - four of which were the final carries of Williams' splendid 178-yard day. That set up Kasay, who rebounded from his misses in the third quarter and a week earlier at the end of regulation with the 42-yarder that sent Carolina dancing into the postseason as division champions.
Getting there, however, was more difficult that it could have been expected -- especially after the Panthers built a 30-10 third-quarter lead by overpowering the Saints.
After a Delhomme pass to Smith was nearly intercepted by New Orleans' Josh Bullocks on the game's first play, the Panthers settled into a rhythm on the ground, with Williams picking up 20 yards on the next two plays and Stewart running for 11 yards and a first down on the three carries that followed.
By the time Kasay gave the Panthers a 3-0 lead with a 45-yard field goal, the Panthers had gobbled up six minutes and 59 seconds of the clock with a 12-play, 48-yard drive.  Carolina's next series -- a nine-play, 70-yard march to a 26-yard Kasay field goal -- inhaled 4:39 of the clock, covering 70 yards in nine plays -- five of which were runs by Stewart and Williams that picked up 58 yards.
In between the two drives was a New Orleans three-and-out, establishing the pattern of the first half.  Each of the Panthers' first four offensive possessions ended in scores -- with the fourth finally seeing them pierce the Saints' end zone, via an 8-yard Delhomme-to-Muhammad connection.
All six of Carolina's scoring drives saw the team run more often than it threw, and by game's end, the run-to-pass ratio was an even two-to-one -- 42 runs, 21 pass plays.  As a result, the Panthers amassed a 13-minute, 50-second advantage in time of possession.
But the Saints would run just one fewer play than the Panthers.  Carolina ended the game with 478 yards, but the Saints still racked up 417 -- all but 50 of those coming off Brees' right arm.
It was that arm that gave the Saints and their top-ranked offense a shot, even with a 30-10 deficit.  And when Kasay's fourth field-goal attempt sailed wide left, the Panthers' chance at a 23-
point lead late in the third quarter sailed away with it.
"We missed a field goal in the third quarter that would have made it a three-possession game, and you knew they were going to come back," Delhomme said. "You just knew.  When a quarterback's going for the all-time yardage record in a single season, he can probably throw the ball pretty well, so you knew they were going to chuck it, and they really have been playing well offensively."
In the final quarter, the Saints would drop virtually all pretense of a ground game, leaving their hopes of a comeback on Brees' wing.  He did not disappoint, connecting on 12 of 17 passes -- twice completing five in succession -- for 153 yards as the Saints passed on all but one of their fourth-quarter snaps.
Three of Brees' 17 passes were for touchdowns, capping successive drives that sandwiched a pair of Panthers punts.  With 3:11 remaining, the Saints led 31-30, the Superdome was a cauldron of noise, and the Panthers were fighting not only the league's best offense, but a roused defense that had stopped them shy of field-goal range for the first time all game, and a crowd that tasted what would have been one of the more remarkable wins in Saints history.
"You can feel it," Williams said. "The momentum definitely changed.  The stadium got loud.  We had to go on silent (counts) and use the leg (lift) because (the fans) were a factor, so we had to neutralize them."
TURNING POINT: Rarely is it as obvious as it was here -- Smith's levitating grab.
KEY STATISTIC: The game was the difference in the NFC South race, as the Panthers became the only team in the quartet to win a divisional game on the road.
QUOTE: "John Kasay, the Iceman." -- Williams