The third quarter of the season was just like the others -- a 3-1 mark that kept the Panthers atop the NFC South.
But how they got there was particularly dramatic, powered by the running of DeAngelo Williams, some big plays from Steve Smith and a pair of come-from-behind wins.
---
Jake Delhomme handed off to DeAngelo Williams 19 times and passed to him once in Week 10, and Williams gained 143 of the Panthers' 219 total yards.  (PHOTO: ANDREW MASON / PANTHERS.COM)*
The consequences of a Panthers loss at Oakland following the bye week would have been dire.  After all, with the Atlanta Falcons and Tampa Bay Buccaneers breathing down their necks, the Panthers could scarcely afford a defeat to an Oakland team that had already dismissed its head coach and was careening towards a 5-11 finish that would represent its sixth consecutive losing season.
"You want to talk about a long plane ride home," quarterback Jake Delhomme said.
Fortunately for Carolina, it didn't come to that, but it wasn't without a struggle, as it took a sterling defensive performance, a 69-yard DeAngelo Williams touchdown sprint and a 55-yard, fourth-quarter punt return by Mark Jones to give the Panthers enough propulsion to a 17-6 win at Network Associates Coliseum.
"A 'W' is a 'W,'" head coach John Fox said. "I learned a long time ago there's no such thing as an ugly win. That's why you call it a team game. We're going to lean on each other the rest of the year. We have up to this point this year. I thought our defense had a tremendous effort. We made enough plays offensively when we needed to."
"Defense and special teams -- it was very simple," Delhomme said.
Special teams set up the Panthers' first score, as Dante Wesley forced a Johnnie Lee Higgins fumble on the opening kickoff, allowing Adam Seward to recover at the Oakland 16-yard-line.  Four plays later, Delhomme hit Muhsin Muhammad for a three-yard touchdown pass, giving the Panthers all the points they would need.
But the offense began to struggle on its next series, when a Delhomme pass to Steve Smith up the left sideline was intercepted by Nnamdi Asomugha.   It was the first of four interceptions Delhomme threw, as he endured a frustrating, 7-of-27 afternoon.
"It wasn't a good day offensively," said Delhomme, who completed just seven of 27 passes for 72 yards and went zero-for-nine after halftime. "But the great thing about it is we won. The defense and special teams bailed us out."
The spirited defense stymied the Raiders on third downs, stopping them on 15 of 17 attempts, and held them to a pair of Sebastian Jankikowski field goals in the third quarter.   That ensured that the struggles of the passing game wouldn't result in a defeat.
"One thing I told a lot of defensive players (was) 'Thanks a lot.'  I apologized," he said. "I put them in some bad situations.  That's what's so great -- every single one of them said, 'Don't worry about it -- last game y'all (on the offense) bailed us out.'  That's what you have to do as a team."
TURNING POINT: Jones' punt return, which set up John Kasay for a 32-yard field goal with 1:49 remaining. The Panthers had gone three-and-out on their previous four possessions and had only one first down in the second half prior to Jones' sprint, which didn't end until Raiders punter Shane Lechler cut off his path.
"It was just me and the punter (Shane Lechler), and I thought I could get around him, and apparently I couldn't," Jones said. "I got a little tired, but now I've just got to work on finishing in practice."
It was enough, however, to push the Panthers to the Oakland 35-yard-line.   Williams would run for 27 yards on the next five plays, allowing the Panthers to overcome a holding penalty and setting up Kasay's game-sealing kick.
KEY STATISTIC: Oakland had more first downs than the Panthers (17-10) and outgained them by 40 yards (259-219), but didn't have a drive of more than 30 yards until the game's final moments, when the Raiders marched 37 yards to the Carolina 40-yard-line.  That possession proved fruitless, as Janikowski missed a field-goal attempt that would have drawn Oakland within one score.
QUOTE: "We won.  That's the bottom line.  We won on the road.  It was not a pretty win, but we'll take it.  We're not going to give it back to them."* -- Geoff Hangartner*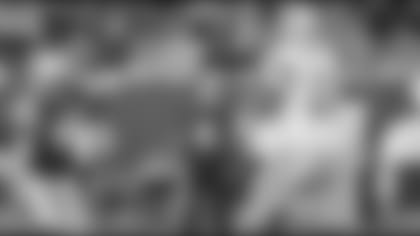 ---
Tyler Brayton provided enough of a pass rush to force an errant Daunte Culpepper throw that Charles Godfrey intercepted to set up the game-clinching touchdown. (PHOTO: MATTHEW BRINKLEY)*
With a 10-point deficit and the offense stalling against the Lions, the Panthers turned back to the ground ... and turned on the power.
Six runs for 54 yards by Williams and Jonathan Stewart and Smith on Carolina's first possession of the second quarter quickly aroused the Panthers' offense.  Those runs galvanized a unit that had only amassed two first downs in its previous three quarters; the Panthers doubled that total on an eight-play march to a Jeff King touchdown that propelled Carolina to a three-touchdown second quarter, a team rushing tally that was at the time a franchise record, and, finally, a 31-22 win.
For the backed-up Carolina attack, that drive was the spoonful of Dran-O that unclogged the pipes.  It was the first of four consecutive Panthers possessions that ended in points, heralding a 24-6 run that put the Panthers in front to stay.
But for the running game, it was something more -- the start of a historic afternoon.  That series propelled Williams and Stewart to 100-yard games -- 130 yards on 15 carries for Stewart and 120 on 14 rushes for Williams.  They became the first pair of Carolina runners to break the century mark in the same game, and helped the Panthers to a 264-yard ground tally that shattered the previous franchise standard of 242 yards, set two years earlier in a win over the St. Louis Rams.
They were not only prolific, but devastatingly efficient, with Stewart averaging 8.7 yards per carry and Williams 8.6.  The Panthers finished the game with a bulbous 8.3-yards-per-carry average -- a figure that would have been over half-a-yard higher if not for a pair of game-ending kneeldowns by Delhomme.
Williams sprinted for two touchdowns -- a 56-yarder in the second quarter the game-clinching 4-yard touchdown run with 4:44 remaining in the game -- while Stewart added a 22-yard touchdown run with 1:03 left in the second quarter.   It marked the second time this year that the two runners scored in the same game; they each scored once in the 30-7 win over the New Orleans Saints four weeks earlier.
"I think these are both very good running backs scratching the surface," Delhomme said. "DeAngelo, you can see, is kind of coming into his own.  With Stewie (Stewart), the surface hasn't been scratched yet, in my opinion."
The game began the "Great Nickname Debate," as Williams told reporters in the locker room that he and Stewart were "'Smash and Dash -- or 'Slash and Dash.'"
The only question after their performance against Detroit was which was which.
"Whether he's out there or I'm out there, you don't get a different look -- you pretty much get the same guy out there," Williams said. "(Stewart) can bash you up and if you let him break it, he can take it 60 or 70 yards.  I feel that I can be that same back, too."
Added fullback Brad Hoover: "They both run hard; they both see the holes well.  Both are able to break tackles and just get in and out of holes, and that's what they did -- and when they were asked to finish, they finished.  Any time you're doing those things, it makes for a productive day in the running game."
TURNING POINT: Carolina trailed 10-0 and had gone three-and-out on its first two series when Williams and Stewart went to work on the Panthers' third series, guiding Carolina on an eight-play, 76-yard drive that ended in a 15-yard Jeff King touchdown reception.  It was the first of four consecutive Panthers possessions that ended in scores.
KEY STATISTIC: Carolina had a plus-three turnover margin and converted two of its four takeaways into touchdowns.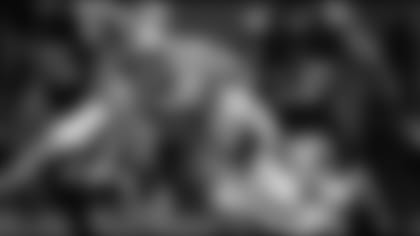 ---
Jake Delhomme's touchdown and the subsequent two-point conversion brought the Panthers within three points, but they drew no closer. (PHOTO: KENT SMITH)*
Carolina learned just how much improvement it would have to make in the Georgia Dome, when the Panthers started slowly, fell behind 17-0 and never caught up, narrowing the deficit to three points in the fourth quarter before a late Atlanta surge sealed a 17-point loss.
"You're down 17-0 before you wake up and then start playing a little bit of football," Delhomme said.
From the depths of that scoreline five plays into the second quarter, the Panthers twice whittled the Falcons' advantage to less than a touchdown, pulling to within four points at 17-13 in the third quarter and to within three points at 24-21 in the fourth after a gritty Delhomme touchdown run was followed by a successful two-point conversion carry by running back DeAngelo Williams.
But that was where the rally cats ran out of lives. Three plays later, Falcons quarterback Matt Ryan found Harry Douglas for a short completion on third-and-11, which turned into a 69-yard gain after the rookie wide receiver spun out of a Godfrey tackle and up the left sideline before safety Chris Harris finally pushed him out of bounds at the Carolina 6-yard-line.
"I thought it was the turning point of the game," head coach John Fox said.
Douglas didn't score the touchdown, but the damage was done.
"It was a good play by (Douglas)," cornerback Ken Lucas said. "We had great coverage on the play, and the ball was underthrown. (Douglas) just made the play. We had perfect coverage on it. It just so happened (the ball) was thrown behind the wide receiver, and he adjusted to the ball and made something happen. That was the backbreaker for us."
Three plays later, the Panthers stopped Ryan a yard and a half short of the goal line on a quarterback keeper. But the Falcons wasted little time opting to go for it, and after a Carolina timeout, Atlanta running back Michael Turner scampered into the end zone with his third of four touchdowns in the game.
"They felt they had the momentum, so why not go for it," Julius Peppers said. "We've just got to find a way to get stops and get off the field on third downs - and fourth downs."
Atlanta converted six of its 13 third downs - and then followed two of their seven failures with a pair of fourth-down conversions, both of which ended in Turner touchdown runs. The first put the Panthers into a permanent double-digit deficit; the second, with 54 seconds remaining, provided the final margin of defeat.
"We are not getting off (the field) on third down," defensive tackle Damione Lewis said. "I mean, we're playing good defense on first and second downs and we're not getting out on third down. You have to get out on third down in this league."
But in spite of that, the Panthers' defense went through a period of the game where it pinned the Falcons back, forcing three consecutive third-down stops in the second and third quarters. That allowed time for Carolina's offense to settle in, overcome the frustrating first quarter and score three times - once on a Williams touchdown run and twice on John Kasay field goals - to make the score 17-13.
"We fought back," Peppers said. "That's one thing I can say - we didn't quit. We fought back when we got down early. That's a positive thing we can bring out of it."
But as a somber collection of Panthers trudged away from the Georgia Dome, they left with the same lament - that they could not keep digging these holes for themselves. Sometimes, it makes victory more difficult to achieve than it should, which was the case in Week 8 against Arizona and Week 11 against Detroit.
At others, like in Atlanta, it kept a win just beyond their reach.
TURNING POINT: As Fox noted, it was Douglas' third-down reception, which squashed Carolina's cresting tide of momentum.  An incompletion there, and the Panthers take possession with a chance to claim the lead.
"As a defensive player, you pride yourself on getting that stop right there," Lewis said. "We've been getting that stop, and we had been getting that stop until today. "
KEY STATISTIC: By the time Carolina got its initial first down, Atlanta led 17-0.
QUOTE: "The sky is not falling.  It's just one game.  It's a humbling experience." -- Lucas
---
DeAngelo Williams had four of the Panthers' five touchdowns. (PHOTO: ANDREW MASON / PANTHERS.COM)*
When the snow intensified at Lambeau Field, the Panthers did the same. And when Williams followed Smith's acrobatic 54-yard reception with his fourth touchdown run of the game and when Beason followed that score with an interception at the Carolina 39-yard-line two plays later, two weeks of flailing and frustration were wiped clean, replaced by the joy of a 35-31 win that allowed them to retain a share of first place in the NFC South.
And for a time, unlikely, as the Packers had spent most of the second half storming back, marching to a field goal, two touchdowns and two-point conversion on their first three second-half possessions, while the Panthers could only muster 29 yards, two first downs and a three-and-out in response.
"We gave up 18 unanswered (points) coming out of halftime, and that's hard to swallow," Lewis said.
As the Panthers fell behind, 28-21, in the fourth quarter on a 21-yard Greg Jennings touchdown reception from Aaron Rodgers, the first scattered flurries began to fall. But as the conditions deteriorated, the Panthers awoke. Jones sounded the alarm with a 50-yard kickoff return. Following a Packers pass-interference penalty and two runs for a collective loss of a yard, the Panthers were in third-and-11.
It was their ninth third-down play of the game. The Panthers had failed on five of their previous eight, including some from short yardage earlier in the game. However on this occasion, Smith raced upfield, leapt near the goal line and snagged a 36-yard pass from Delhomme, ultimately crashing down at the one-yard line. Williams scored one play later, and the Panthers had tied the game less than three minutes after losing the lead for the first time.
Green Bay promptly marched downfield in response, converting a third-and-four and fourth-and-one along the way before moving into a goal-to-go situation as a result of a penalty on Julius Peppers for unnecessary roughness when he hit Rodgers out of bounds at the Carolina 14.
There the Panthers' defense stiffened, twice turning the Packers away from the end zone from just one yard out - including a stellar third-down play in which Lewis, Peppers and the defensive front engulfed Green Bay fullback John Kuhn.
"Our two D-tackles got a lot of push on the play," Beason said. "They really set a new line of scrimmage. I didn't make the play, but it was a gang tackle and it was a big play holding them to three (points)."
The Packers once again led, but the door was left slightly ajar with the Panthers needing only a field goal to force overtime.
Said Beason: "We knew with two minutes left that if we got (John) Kasay down there, he was going to make it."
But that wasn't necessary. Fifteen seconds later, Smith flew through the open door with his second acrobatic catch of the quarter, a contorting, off-balance grab that saw him maintain body control in mid-air, snag the pass and elude defenders until touching down at the Green Bay one-yard-line with one minute and three seconds remaining.
"Big players make big plays, and that one right there is going to be one I take with me the rest of my life," said a still-awestruck Williams.
Added Delhomme: "I told (Smith), 'Don't stop running, because if they play the coverage we think, he's going to be there."
"That's just guys deciding who wanted it more," Beason said. "It was Steve. It was the guys blocking up front, Jake throwing a great ball. Just great effort."
Williams plunged in for the touchdown on the following snap, putting the Panthers in front to stay.
TURNING POINT: The defensive stand at the Carolina 1-yard-line in the game's final moments, when the Packers were twice turned away from the end zone, forcing them to settle for a 19-yard Mason Crosby field goal that altered the dynamic of the final series.  With the Panthers only needing a field goal to tie, they were free to boldly go deep -- which resulted in the 54-yard pass to Smith.
KEY STATISTIC: Carolina scored 35 of a possible 35 points in the red zone, while Green Bay went two-of-four on its red-zone forays, scoring 21 of a potential 28 points.
QUOTE: "It's truly a team effort, but our offense and special teams bailed us out today." -- Beason