CHARLOTTE – Panthers quarterback Cam Newton's return to the game despite an ankle injury against the Saints in the season finale spoke volumes to offensive coordinator Rob Chudzinski.
It spoke to Newton's development as the leader of the offense, and it spoke to the attitude of a group that was intent on finishing the season with a fourth consecutive victory, proving how far they'd come from a 2-8 start.
"Cam going back into that Saints game was symbolic of our team and how they fought and continued to fight." Chudzinski said. "They didn't listen to all the criticism outside and stayed the course.
"What you saw out of everybody as we moved into the second half of the season was improvement, drastic improvement in some cases."
The numbers at season's end reflected that improvement.
Carolina finished 12th in total yards (360.7 per game) and 18th in scoring (22.3) despite the facts that only two teams had fewer possessions and only seven had worse average starting field position.
The Panthers ranked fifth in yards per play (5.8), sixth in third down conversion percentage (43%) and tied for eighth in red zone touchdown efficiency (58.7%).
"Early there was some adversity, but we didn't try to reinvent the offense. We continued to emphasize fundamentals," Chudzinski said. "We really got into a groove, and guys' confidence grew. You saw a swagger. We were able to finish games better. You just saw the execution improve immensely."
---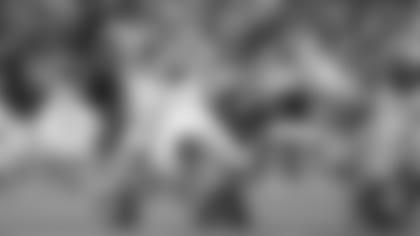 CAM'S PROGRESS: Newton, who broke Peyton Manning's record for the most passing yards in the first two seasons of a career, followed up his rookie of the year campaign with plenty more highlight-reel big plays in year two, but it's the details of his game that has Chudzinski excited about the quarterback's continued development.
"In this offense, we are going to create big plays," Chudzinski said, evidenced by Carolina's no. 1 ranking in yards per pass attempt and 75 plays of 20 yards or more. "Where Cam grew the most from just a quarterback standpoint is managing the game, being able to string some plays that gain 3, 4, 5 yards with those big plays. Not turning the ball over, making smart decisions, throwing the ball away when he needs to, checking it down, getting the ball out of his hands – he made strides with all those things.
"You know about his big play potential," Chudzinski added, "but those are the things that are going to win us games."
Newton, who talked all year about his desire to limit turnovers, threw five fewer interceptions in his second season. He also set a franchise record with 176 consecutive pass attempts without an interception.
Beyond the statistics, Chudzinski also credited Newton's perseverance through a difficult start to the season and knows the adversity will serve to strengthen Newton.
"Any young quarterback is going to go through stretches where they are inconsistent at times. The key is how they respond when they're having adversity," Chudzinski said. "One of the biggest lessons from this year – he learned to deal better with adversity. It was a tough time for him but he pulled through it.
"I told him, 'You will pull through and you'll learn more from this than anything else that's happened to you in the first two years.'"
The signs of progress were on full display midway through the finale at New Orleans.
"He throws an interception on a screen play, and we fall behind," Chudzinski said. "He never flinched, and we came back. Those are the types of lessons you can build on, and it will bode well for our future."
---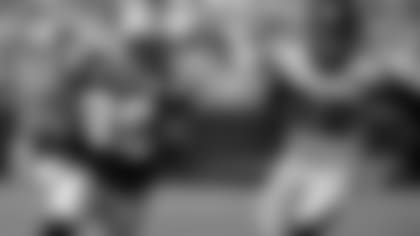 TOP TARGETS: The Panthers got what they've always gotten from wide receiver Steve Smith in 2012 -- unrelenting competitiveness and consistent production.
Smith led the team in receptions with 73 and yards with 1,174 – his seventh 1,000 yard season.
"Steve continues to be an ageless competitor," Chudzinski said. "He did a great job for us making plays, making a couple huge blocks and just doing the things he's done his whole career."
Tight end Greg Olsen produced a career-year in an expanded role. He broke Wesley Walls' team records for catches and yards by a tight end (Olsen finished with 69 and 843 respectively) and led the team with five touchdown catches.
"Greg, you saw him make steps," Chudzinski said. "This is the first year he's truly been a full-time starter in the league. He's always kind of had the tag that he's a receiving tight end, but as the year went on, you saw him do it all. His versatility was an absolute key – that he can run block, pass block and can move around and play in different positions."
---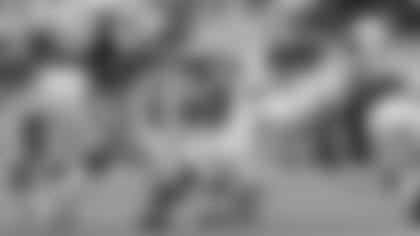 O-LINE, RBS BATTLE: In the preseason, Chudzinski called the offensive line the "heartbeat" of the offense.
It was a heartbeat that was closely monitored throughout the season.
All-Pro center Ryan Kalil was placed on injured reserve after a Week 5 loss to Seattle, forcing some re-shuffling up front. His replacement, Geoff Hangartner, missed the final three games of the season, further testing the Panthers' depth.
Additionally, 2012 second round choice Amini Silatolu was a starter at left guard from day one before missing the season finale.
"It wasn't always pretty. At times we struggled. But those guys are fighters. They found a way to get it done," Chudzinski said. "The biggest adjustments in terms of scheme were for the offensive line. That brings in guys like Greg Olsen and Mike Tolbert and DeAngelo Williams – we asked a lot more from them from a protection standpoint."
Despite the changes up front, Carolina remained dedicated to the run game, finishing ninth in rushing (130.5 yards per game). In fact, the Panthers ran the ball 17 more times than they did last year despite 11 fewer snaps. 
Williams and Tolbert punctuated the season with a dynamic outing in New Orleans. Williams set a franchise record with 210 rushing yards, and Tolbert scored three 1-yard rushing touchdowns (he recorded two 1-yard scores two weeks prior at San Diego).
Jonathan Stewart emerged as the starting running back in Week 7, but ankle injuries limited him to just nine games played.
"The roles sort of defined themselves as the year went on," Chudzinski said. "There were times where there weren't a lot of holes, and those guys had to get what they could. The offensive line's progress really made a difference."
"I'm proud of the way they finished. The finish to that season says a lot about the character of this team and the makeup of these guys. The future is bright for us."