Panthers.com typically takes its lead from NFL Network draft analyst Mike Mayock when it comes to breaking down the top prospects at each position, but today we're calling an audible.
With the demand for quarterbacks in the draft and the Panthers pretty well set with their starter, they're not expected to be eyeing any of Mayock's top five guys. If they were to look at drafting a signal caller to possibly provide depth in the future, here are the next five guys.
Davis Webb
6-5, 229, California
His one season with the Bears statistically matched 2016 top overall draft pick Jared Goff's level of production. Ranked second nationally behind Pat Mahomes – a possible first-round pick who followed Webb at Texas Tech – with 4,295 passing yards and tied Goff's school record with 43 total touchdowns despite Cal having to replace its top six receivers. Tall, athletic enough to slide away from pressure but not noted for his mobility and not experienced in pro-style offense.
Brad Kaaya
6-4, 214, Miami (Fla.)
In three years at a school with quite a history of quarterbacks, Kaaya became the school's all-time leading passer with 9,968 yards. After two years in the shotgun, played in a pro-style offense last season and excelled, throwing for more than 3,000 yards for the third consecutive season and completing 62 percent of his passes. Noted for his poise in the pocket and mobile enough to escape pressure.
Nathan Peterman
6-2, 226, Pittsburgh
Two-year starter is experienced in a pro-style offense. Solid if not spectacular in nearly every area, Peterman threw for 27 touchdowns against just seven interceptions and was sacked just 10 times last season. Known for his touch on deep balls.
Joshua Dobbs
6-3, 216, Tennessee
Undeniable athletic skills and intangibles, known for his ability to escape the pocket but also his toughness within it. A product of a spread offense but still appears capable of making a relatively smooth transition to a pro offense. Doubters question his consistency as a passer from the pocket.
Jerod Evans
6-3, 232, Virginia Tech
A physical talent with a rocket arm and power and elusiveness as a runner, but still has lots of developing to do and surprised many by declaring for the draft after just one season with the Hokies. It was a notable year, as Evans broke several season records held by No. 1 overall pick Michael Vick, but most view him as a project with promise.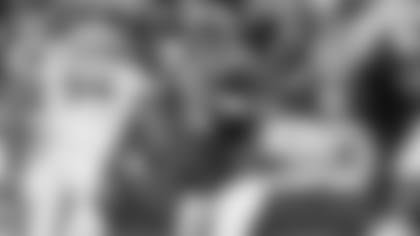 Look back: Mid-round picks backing up established starters
2016: Connor Cook, 4th round to Raiders
2015: Bretty Hundley, 5th round to Packers
2014: A.J. McCarron, 5th round to Bengals
2013: Landry Jones, 4th round to Steelers