Luke Kuechly remembers entering the Panthers' locker room for the first time as a wide-eyed rookie.
"When you first come in, you don't know what to expect. You're like, 'What's the NFL going to be?'" Kuechly said. "A lot of guys tell you what it's going to be like, but you don't get to experience it for yourself until you get there."
Fortunately, Kuechly didn't have to go at it alone during his first NFL season in 2012. He quickly discovered that he had plenty of help around him.
"I think what was very fortunate for me coming in was that I had (Jon Beason) here and Thomas (Davis), and Jordan Senn was in the locker right next to me," Kuechly said. "So I had a lot of older, veteran guys around me who were very beneficial to me developing. If I didn't have those guys early on, I don't think I would have been able to progress as fast as I did."
And, boy, did Kuechly progress quickly.
After starting the first four games of the year at weakside linebacker, Kuechly started the last 12 at middle linebacker following a season-ending injury to Beason. To say Kuechly flourished, especially after being moved to the middle, would be an understatement.
Kuechly produced 10 or more tackles in 12 games, including nine in a row and 11-of-12 after moving to the middle linebacker. He ended the season with a team-record 205 tackles and became the first rookie to lead the NFL in tackles since Patrick Willis of San Francisco in 2007. And that wasn't all. Kuechly finished first on the Panthers with three fumble recoveries and tied for first with two interceptions to go along with one sack and five passes defensed.
As a result of his efforts, he was named the NFL Defensive Rookie of the Year. But to this day, Kuechly humbly credits just about everyone else but himself for earning the award.
"I think, obviously, it's a very cool award and it shows you what can happen when you work hard," Kuechly said. "But especially in football, a lot of these individual awards are the result of your team. I think it goes back to what I said about all the guys who helped me along. I won that award because later in the season all that coaching and all the help the veteran players gave me really started to pay off."
Kuechly has long admitted that he is most comfortable at middle linebacker - his position at Boston College before the Panthers selected him in the first round of the 2012 NFL Draft with the ninth overall choice. And it showed right away when he moved to that position for the Panthers. But Kuechly still heaps praise on Beason for helping him with the subtleties of playing the position in the NFL.
"I played in Beason's spot when he got hurt, and there was no resentment at all," he said. "Right away he was like, 'All right, what can I do to help Luke?' And he sat next to me in the meetings every day and walked me through things and showed me how to do stuff and watched film with me. Then Thomas was my guy on the field.
"So all those guys were great, and a lot of my success that year had to do with them. The coaches all made sure I was prepared, too. When I was messing up my first few games, they all stuck with me, and I was able to kind of get my feet under me and go."
He really got going in a home game versus Atlanta on December 9. No matter where a play needed to be made, Kuechly seemed to be the one making it as he racked up a season-high 19 tackles, 16 of them solo., to earn NFC Defensive Player of the Week honors.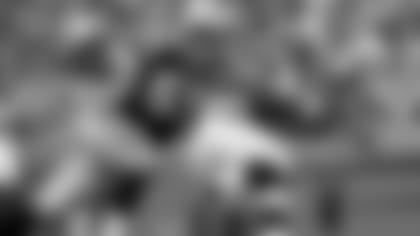 "We just had a lot of energy that game. It was a big game, a division game that meant a lot to the guys, and we played well," Kuechly said. "The coaches put a good game plan together, and I just remember that we were playing fast. If you can play fast on defense and keep it simple, that's a key. It makes it fun, and that's when things click."
Nonetheless, Kuechly downplayed his impressive tackle total against the Falcons. He frequently insists that the number of tackles a player piles up during a game can often be misleading, citing his personal preference for quality over quantity.
"You look at a stat sheet and you've got to know what to look at," Kuechly said. "For me, it's pass deflections, forced fumbles, sacks, TFLs (tackles for losses) - because those are impact plays. If you stuff a guy behind the line of scrimmage, that's a negative play (for the opposing offense). A pass deflection negates a pass, and all the other stuff speaks for itself. So tackles are great and all, but it's where you make the tackle that's most important."
Kuechly makes so many of them that New York Jets head coach Rex Ryan has called him "a tackling machine" and added "if he's not the best middle linebacker in the league, then I'm not sure who is."
Carolina defensive coordinator Sean McDermott said it was evident, even early on in Kuechly's rookie season, that No. 59 was a rare talent with a high-revving motor and keen mind for the game.
"His preparation, his instincts, his willingness to do whatever it takes to get to the football are all things that set him apart," McDermott said. "He plays with such determination and hunger."
Kuechly said playing within the team concept and playing at a high rate of speed also help.
"That's what we try to do every time we play," Kuechly said. "If you're playing fast on defense and having fun, that means you're being successful and helping the team win games. That's when football is fun, and it's a game that's supposed to be fun."
View photos from Carolina's 7-9 campaign in 2012.