1) The Kids Were "Alright"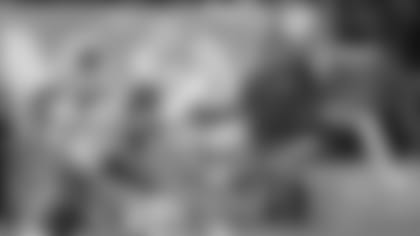 Because he scored a touchdown and flipped into the end zone on a two-point conversion, it's hard to say Cam Newton played a bad game against the Jets. But he certainly wasn't sharp. 
Newton completed only 11 of his 26 passes for 168 yards and a 59.8 passer rating. It was just his fourth career win when he's completed 11 or fewer passes and his fourth win with a passer rating under 60.0. The last time either of those happened in a Carolina victory was against San Diego last December when Newton was 10-of-27 for 160 yards with a touchdown, an interception and a rating of 54.6. That's also the day he injured his throwing shoulder chasing down a defender after an interception. 
Sunday, another injury seemed to affect Newton. 
"Obviously, the thumb might still be bothering him a little bit," head coach Ron Rivera said. 
"There's no damage. It's probably just the soreness." 
Newton, who injured his right thumb in the Week 10 Monday night win over the Dolphins, didn't wear the fingerless glove he practiced with during the week. And when asked if his thumb bothered him, Newton would only say: "It was alright." 
Which could double as a description for the offense's day. 
"It wasn't a blockbuster outing offensively for us," Newton admitted. 
"It was a little stagnate throughout the whole game, but that is just something that you have to go through. We have a lot of young players – a lot of feeling out, so it's just a process." 
He has a point about the young guys. Or at least about a group few would assume could be tied atop the NFC South 12 weeks into the season. 
Wide receiver Devin Funchess saw 43 percent of Newton's targets, finishing with seven grabs and a season-high 108 yards on 12 chances. Rookie Christian McCaffrey finished second on the team with two receptions while tight ends Greg Olsen and Ed Dickson had one apiece. Kaelin Clay and Brenton Bersin were the only other Panthers targeted. 
Meanwhile, the run game quietly totaled 145 yards. But Jonathan Stewart gained 26 yards on 15 carries for a 1.7 average. 
The final tally of 299 total yards was a far cry from the franchise record 548 racked up against the Dolphins 13 days earlier. Still, what matters most is the Panthers escaped the Meadowlands with a win. 
"Statistics-wise, you can throw that pretty much out the door. I've always said, the most important statistic that I play for is whether we win or lose," Newton said. "It's no reason for a player to kind of beat on his chest when he says he had a good game, but the team lost. 
"I feel as if we had a great team win today, and we're going to need more team wins moving forward as we get prepared for the playoffs." 
---
2.) Revenge of the Left Guard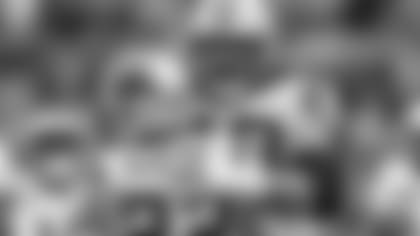 The offense's biggest play was the biggest carry of McCaffrey's young career. 
"I saw a lot of green grass," he said when asked about his 40-yard run midway through the second quarter. 
McCaffrey saw all that green thanks in large part to left guard Andrew Norwell, who opened a huge hole while blocking his defender backward for about five yards. 
"He's a heck of a player. He's got that tenacity that you want in an O-lineman," McCaffrey said of Norwell.  
"He's got great energy. He's fun to play with. Real fun to play with."
Then McCaffrey provided an analogy that will be hard to forget. 
"(Norwell's) like the dude in 'Revenge of the Nerds' – the bully, whatever his name is."
---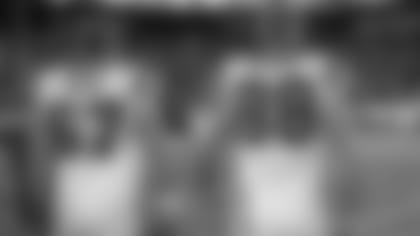 Back to those issues on offense.
"I think it will be alright. I was feeling good. I had a good week," said Olsen, who's expected to have his foot re-examined Monday. "I just kind of stung it during the game and it got a little sore, so we thought it would be best to not keep playing on it."
Center Tyler Larsen was able to play the whole way on a foot he injured against the Dolphins. That bought some more time for Ryan Kalil, who was active for the first time Week 7 but who was available only for an "absolute emergency," according to Rivera. 
Linebacker Thomas Davis exited with a strained hamstring midway through the fourth quarter after chasing down running back Elijah McGuire. Not surprisingly, Davis declared: "I'm good. I'll be all right.
"Strained it a little bit. It's just one of those situations where you try to be as tough as you can to go out and compete hard. You don't want to do something to put the team in a bad situation at the end of the game. I believe in (David) Mayo, and he did a good job when he went in."
Cornerback Daryl Worley was also banged up. He left the locker room with a walking boot on his left foot. 
---
4.) Defensive Difficulties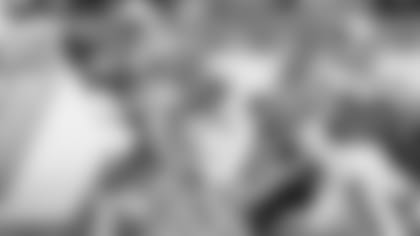 Sunday was yet another reminder of why it's so often a mistake to assume wins can come easy in the NFL. 
The Panthers came in with the league's No. 2 defense that ranked fourth against the pass. The Jets' offense was 25th in total yards with a 24th-ranked passing game. 
Naturally, New York totaled 391 yards behind 307 yards passing from journeyman Josh McCown, who joined New England's Tom Brady and Detroit's Matthew Stafford as the only quarterbacks to pass for more than 300 yards against the Panthers this season. 
"It was a rough day on the secondary," Rivera said. 
Two glaring mistakes by the secondary both resulted in touchdowns for Jets breakout wideout Robby Anderson. 
The first came late in the second quarter when cornerback James Bradberry and safety Mike Adams appeared to have Anderson covered in the back of the end zone. Somehow, though, he got both feet in bounds and maintained control despite attempts by Bradberry and Adams to knock the ball out. 
"You can always say those guys could've done more, but he made a really good catch," said safety Kurt Coleman, who had as good a view as anyone. "We want to say if we're in position we want to be able to make the play and obviously we weren't able to. But he gets paid, too."
Anderson, a 2016 undrafted free agent who's making $540,000 this season, struck again in the third quarter. This time it was against Coleman, who let Anderson slip behind him while McCown scrambled to his right. 
"When I replay it in my head, I think trying to get to him a little sooner to get him out of bounds and then he's not allowed to be the first to touch it," Coleman said when asked what he could have done better on that play. "Obviously I was trying to get there, but he was able to turn the sideline and tightrope it when I was trying to run to him. 
"And Josh McCown is an athletic quarterback, so trying to keep him in the pocket and not extend the play is something we try to focus on. The front seven and the back four are working together, and on that play, I've got to do a little bit more and we all have to do a little bit more."
And sometimes you've also got to tip your cap. 
"They made plays. Wasn't any miscommunication. No pointing fingers. It wasn't my fault; it wasn't Kurt's fault. They made some plays," Adams said. "Anderson, he's a special player. He's pretty good, so I don't want to take anything away from what they did and say we had a miscommunication or breakdown."
---
5.) Gano's Up and Down Day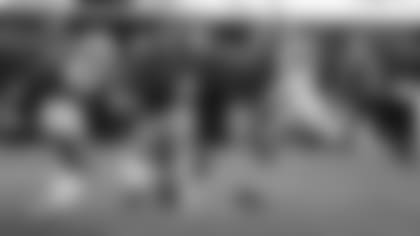 Through Sunday's games, Graham Gano was tied for the league's top field goal percentage of kickers with at least 23 attempts. 
Gano's 23-of-24 this season. So is former Panther-turned-Chief Harrison Butker. 
But while Gano made all three of his field goals against the Jets, it was impossible to ignore the extra point he missed after the Panthers' first touchdown. 
"I felt like I hit the ball well, even the one I missed I hit really well. It just didn't go straight, so that's obviously not ideal," said Gano, who's 21-of-23 on extra points this season. 
"We're perfectionists at this position, so that one will bug you a little bit. But it's part of the game and you have to move on and focus on the next kick. So it's fun to get kicks like that at the end to kind of seal the deal." 
Clinging to a five-point lead in the final minute, the Panthers sent Gano out for a 45-yarder. It wasn't a gimme, and if he missed, the Jets would've taken over with good field position for a last-ditch effort.
"It was like a flashback. Two years ago we had a 48-yarder to win the game here, same hash, same direction," said Gano, recalling the Panthers' dramatic 38-35 win over the Giants in 2015. "So déjà vu, I guess."
---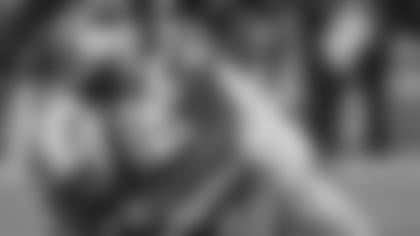 Carolina's win combined with the Saints' loss to the Rams means there should be plenty of drama next Sunday in the Superdome. The winner of that battle between 8-3 teams will take the NFC South lead into the final quarter of the season.

"We've got to do a much better job against these guys than we did the last time," said Davis, stating the obvious. 
Back in Week 3, the Panthers allowed a season-high 34 points to the Saints, who were 0-2 at the time. That win was the first of eight straight, a streak that finally ended Sunday in Los Angeles. Still, expect plenty of hype this week for Carolina's biggest divisional game since the 2014 season finale in Atlanta.
"People want to bill it up to be this big showdown – which it is. But we're going to continue to be ourselves," defensive end Julius Peppers said. "We're not going to let this game dictate anything, any type of change."
As reporters continued to, ahem, pepper him with questions about the Saints, Peppers continued to say: "We'll be ready." 
"What'll be different? I'm not one for all the predictions and saying what will or will not happen," Peppers said. "I'm just saying we will be ready."
View the top photos from Carolina's win against the Jets by team photographer Melissa Melvin-Rodriguez.