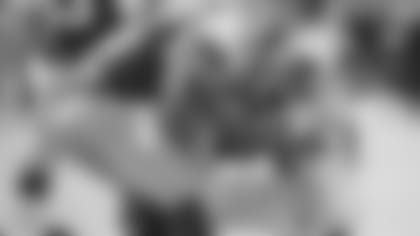 Thanks in large part to a salty front-seven that lived up to expectations, the 49ers managed just three points, the fewest ever allowed by the Panthers in a season opener.
Luke Kuechly picked off a pass and fellow linebackers Thomas Davis and Shaq Thompson each had a sack. Defensive tackles Kawann Short and Star Lotulelei provided suffocating pressure inside. Defensive ends Mario Addison and Julius Peppers both had at least one hit on Hoyer. And among all the big names, the soft-spoken Wes Horton made perhaps the biggest play of the day – a strip-sack on journeyman quarterback Brian Hoyer that led to the Panthers' opening score.
"It was huge," defensive line coach Eric Washington said of his group. "We talked about, number one, putting pressure on this quarterback. We also talked about creating negative plays."
Because of their familiarity with 49ers head coach Kyle Shanahan, the Panthers had a pretty good sense of what they'd be facing. The former Falcons offensive coordinator was a "whizkid" when he could set defenses up with play action, but after his new backs picked up 43 yards in the first quarter, they gained just eight more the rest of the way.
Unable to run while playing from behind with few dynamic weapons is a lousy way to spend a Sunday.
The Panthers finished with four sacks – all in the first half – and they dominated key situations. The 49ers went 2-for-11 on third down and converted just one of four fourth-down tries. The second of those came in the final minute of the first half when Lotulelei stuffed fullback Kyle Juszczyk. 42 seconds later, a Graham Gano field goal sent the Panthers into halftime with a 13-0 lead.
"Star made a huge play in short yardage on fourth down to tackle the back behind the line of scrimmage," Washington said. "He and KK did a nice job collapsing the pocket today. It's a good start."
As good as the ends and linebackers needed to be, the biggest pressure point of the Panthers' defensive game plan called for disruption from the interior. The stat sheet says Short and Lotulelei combined for just five tackles and a half a sack, but that's why numbers often don't tell the story of the space-eating duo.
"We knew going into the game we were going to need those guys to play big," Peppers said. "They did a pretty nice job inside, especially on those fourth downs.
"That's a morale killer. Any time you go for it on fourth down and get stopped several times, it kind of kills the spirit.
"These guys are good, man."
Wearing a Panthers uniform in the regular season for the first time in eight years, Peppers shared a sack and just missed out on another that went down as a QB hurry. It wasn't one of those devastating performances he'd pepper in during his first eight seasons, but it proved the 37-year-old can still create some chaos.
"I'm having a lot of fun. I'm back with the guys and I'm back at home and we won," Peppers said in his first comments to a group of reporters since he rejoined his original team six months ago.
"I got here in March, so you guys finally caught up to me," he said with a laugh. "But it's nice, man. It feels like home. It feels like I never left, so it's been a very nice reception."
As we learned in Peppers' first go-around, the future Hall of Famer doesn't say much. So why break the silence Sunday?
"I just wanted to have something to talk about. You know what I mean? Now we've got something to talk about," Peppers said. "I didn't want to talk about, 'How's it feel to be back? Why did you leave?' This, that and the third. Now we can talk about football."
Which of course led to a reporter asking, "So, why did you leave?"
"We'll get to that later," a smiling Peppers responded. "Another time."
Peppers not wanting to talk much isn't anything new, and to be honest, neither is this next nugget.
Yes, Kuechly watches a ton of film, an obsession that helps augment his rare instincts and innate ability to read plays. But it's worth having him explain how he diagnosed a Hoyer pass on the second play of the second half.
"I've seen that play a million times," Kuechly said. "I've played against a Kyle Shanahan offense in '12, in '14 against Cleveland and then in Atlanta the past two years. It's the same idea - hard play action, eight behind you. That's a big route for them and I was able to get a good read."
"Don't drop it," Kuechly said when asked what it's like when he sees a ball coming his way. "That's what goes through your head is you better not miss it."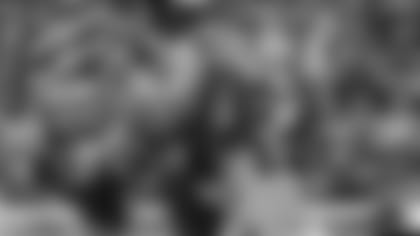 Some time this season, the offense will likely need to outscore a team that picks apart the defense. On Sunday, it was the offense that needed an assist.
In its first six drives, Carolina combined for just 103 yards on 27 plays. 40 yards came on a Newton touchdown pass to Russell Shepard, so the 26 other plays in that stretch totaled only 53 yards.
"We were spotty at times," tight end Greg Olsen said, "but our defense put us in good field position all day that we were able to score enough."
They sure did. Take a look at how the defense set the table for the Panthers' five scoring plays:
First touchdown – drive began at the 49ers' 42 after Horton's strip-sack
First field goal – drive began at the 49ers' 48 after a fourth-down stop
Second field goal – drive began at the Panthers' 45 after a fourth-down stop
Second touchdown – drive began at the 49ers' 28 after Kuechly's interception
Third field goal – drive began at the Panthers' 32 after a 49ers' punt
The good news for the Panthers is Newton finished his day with nine straight completions. But that hot streak followed a 5-of-16 start that included an interception.
"He's working his way through it," head coach Ron Rivera said. "We just have to continue to work in practice. We have to understand that when we're practicing, we have to do it at top speed just so he's getting his timing back."
The offense also spent a lot of time not just getting Christian McCaffrey's feet wet but completely soaking him with touches in his debut. The first-round pick had a team-high nine touches in the first half while guys like Olsen and wideout Kelvin Benjamin had one each. Even though, to be fair, those two saw a total of eight targets in the half.
"It goes in cycles. Who gets the looks, who gets open," said Olsen, who finished with two receptions for 18 yards. "It kind of goes full circle. Next week could be an entirely different game.
"The sign of a good offense is when you can be productive with multiple guys contributing."
5. Rookie Off and Running
"The run game still goes through Stew," Olsen said. "Especially at the end of the game, he's a hard dude to tackle.
"But I think the different styles that they bring can keep a defense on their heels."
McCaffrey's final line: 13 carries, 47 yards; five receptions, 38 yards; three punt returns, seven yards.
"The speed was definitely faster," admitted McCaffrey, who was noticeably down on himself. That's mostly because of his fumble early in the fourth quarter, his first lost fumble since Sept. 2015.
"It happens, but it can't happen," McCaffrey said.
"I didn't play as well as I would've liked to, but any time you get a win you're happy."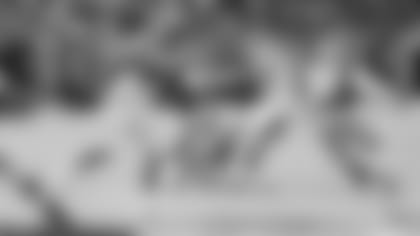 Graham Gano needed a day like that.
Carolina's kicker was perfect, nailing three field goal attempts and two extra points. He also boomed all five of his kickoffs out of the end zone.
"I've been feeling good. I hit the post those two times in the preseason, but overall I had a great camp," Gano said.
The Panthers stuck with their unusual plan of keeping two kickers on the roster the entire week, but now they'll likely have to make a decision. And unless a team comes calling with a valuable draft pick, that decision will probably end with the Panthers attempting to put seventh-round pick Harrison Butler on the practice squad.
"With Harrison here, I feel like iron sharpens iron," Gano said. "It's been a good competition with him and I feel like he's made me a better kicker and he told me I've done the same with him. It's been good having him here and I feel like I'm in a good spot right now."
View the top photos from Panthers vs. 49ers by team photographer Melissa Melvin-Rodriguez.