Devin Funchess once hung on to this pass: 
"It's probably the hardest catch I ever made in my career playing football, from high school on," Funchess said after the Panthers' 27-24 win over the Lions. 
Funchess' now-favorite grab came with 55 seconds left in the first half and gave the Panthers a lead they'd never relinquish.
Using all of his 6-foot-5 frame, Funchess reached to grab a dart from Cam Newton as one Lion tried to pry the ball loose with his arm while another attempted to jar it free with his shoulder. Plus Funchess "had to figure out where the end line was." 
And that was just the back end of a play that didn't go the way it was drawn up.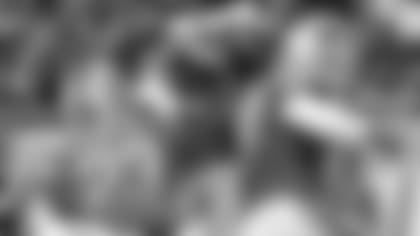 "To be honest, it was a broken play from the huddle," Newton admitted. "I didn't call the wrong play; it just came out wrong."
Newton's original read was running back Christian McCaffrey, who was covered in the right flat. That's when Funchess ad-libbed on the other side of the field. 
"I saw him scrambling. He looked at me and I just told him I was going to go to the left," Funchess said. 
The touchdown was the biggest highlight of a day that continued what's becoming a breakout season for the third-year wideout.
For the second straight week, Funchess led the Panthers with seven receptions, and his 24 catches through five games are already more than the 23 he had in 2016. That the Michigan native continued his hot streak in front of dozens of family and friends made it that much sweeter. 
"It meant the world to me that I got to do it in front of the home crowd," Funchess said. "I had to get a lot of tickets, but I still knew tons more people up there in the stands, and I heard them and saw them throughout the game. It just felt good to be back home."
---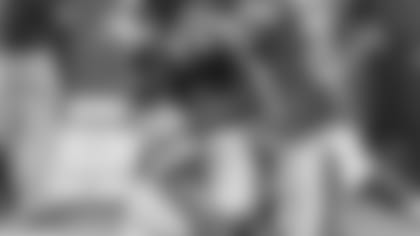 Funchess may have made the toughest catch, but Kelvin Benjamin's was the most important. 
With their once commanding 27-10 lead whittled to three, the Panthers were on the verge of giving the ball back to the NFL's best fourth-quarter quarterback with more than two minutes left. But on third-and-9 from their own 24-yard line, Newton dropped back and fired a 17-yard bullet to Benjamin. 
"We gave an option in terms of where (Newton) could go with the ball," head coach Ron Rivera said. "He saw what he was looking for, and Kelvin was the target." 
Six-foot cornerback Darius Slay spent most of the day trying to track Benjamin, and when Newton noticed Slay wasn't getting as much safety help late in the game, it opened a path for a Benjamin skinny post that turned into a relatively simple pitch and catch.  
"I felt as if it was a great one-on-one matchup, and that's what Benji is," Newton said. "He's been a big-time target for us.
"That's the reason why you call big-time players big-time players – for those type of moments."
Benjamin, who declined postgame interview requests, finished with four catches for 58 yards and a 31-yard touchdown. Over his past four games, he's caught 16 of his 20 targets. 
---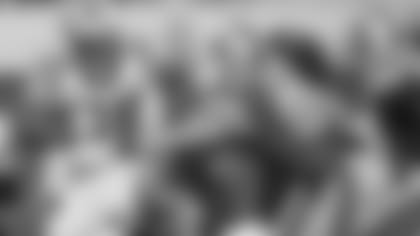 Rivera admitted "disappointment" that the defense gave up two fourth-quarter touchdowns, but Carolina's inability to run the ball let the Lions back in the game. Sure, the Panthers were predictable, but one of the key abilities of a good team is successfully picking up yards on the ground even when the defense knows what's coming. 
After a first half in which they gained just 15 yards on 11 carries, the Panthers' ground game was even less effective in the second half, rushing 17 times for only 13 yards. 
"They are a fast football team. If you don't get a crease right now, you're not going downhill; they're going to pursue to the ball," Rivera said. "If you can block them and get the crease and get into it, you're going to turn in a couple of big plays. If not, they're going to make big plays because they run very well to the ball."
The Panthers' 28 rushing yards were their seventh-fewest in franchise history and their fewest in a win since they gained only 11 against the Chargers 17 years ago. But while the Lions were selling out to stop the run, that left a lot of holes in their secondary. Newton's play-action passes to Ed Dickson, whose 175 yards were the second-most by a tight end in franchise history, were especially effective. 
"The big one he had on third down-and-one," Lions coach Jim Caldwell said, "and the other one down the middle for the big gain were two that hurt us. And leaving one in the seam. So three of them really gave us some issues." 
---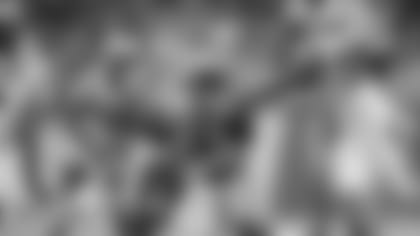 The Lions are no longer a vertical passing team capable of lighting up the Ford Field scoreboard. But even if they're more balanced than many assume, slowing down Matthew Stafford, the league's highest-paid quarterback, was a priority. 
"We stressed that we needed to have a game where we drew a lot of pressure from the D-line," defensive end Charles Johnson said. "Today was one of those games where we did a decent job."
"Decent" is an undersell. Led by a salty defensive line, the Panthers held the Lions to 10 points and 120 yards on their first 10 drives, a stretch that included four three-and-outs and five of Carolina's six sacks. 
"I thought we rushed pretty well. We had good pressure on them, got them out of the pocket, we were fundamentally sound on most of the runs," defensive end Julius Peppers said. "We let a couple of them get out just because somebody wasn't in that gap. We can easily pinpoint that, so we've just got to clean those things up. But overall I thought it was a nice job stopping the run and rushing the passer."
For Peppers, the reigning NFC Defensive Player of the Week, it was another day when he turned back time. He made a key stop on fourth-and-1 and picked up a sack to raise his total to 5.5 this season, which, as of Sunday night, ranked him fourth in the league. 
"Pep's playing good, but I feel like our whole D-line is playing good," Johnson said. "He's making plays, but I think the other three guys out there with him are making plays."
OK, but the guy looks nothing like 37. 
"Not at all," Johnson said with a laugh. "But when does he ever look old?"
---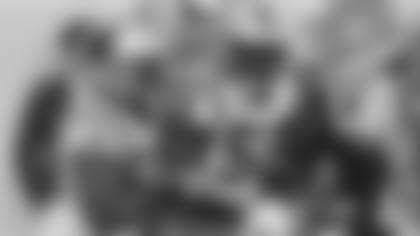 Again, the defense allowing an opponent to come back in the fourth quarter for the second straight week is concerning, but so is the lack of takeaways. At least they got one Sunday, even if they could have had three. 
Linebacker Shaq Thompson watched a ball go through his hands on the Lions' opening drive, and late in the first half, cornerback Captain Munnerlyn pounced on a fumble forced by defensive end Mario Addison. 
"I had the ball. I felt like I had the ball the whole entire time," he said. "But this guy – he was a big offensive lineman – he jumped on my arms. I was trying to rake the ball in and put all his weight on my arms. I was like, 'Oh my God!" but I still had the ball. I think they should have given it to me."
But they didn't, which extended the Panthers' takeaway slump. The last time they had forced a turnover was an interception of 49ers quarterback Brian Hoyer on the second play of the third quarter in the season opener. That streak finally ended on the Lions' first play of the third quarter Sunday when defensive tackle Kawann Short forced a fumble recovered by linebacker Thomas Davis. 
"It was really by any means necessary, getting that ball back," Davis said. "We had a situation earlier in the game where Cap actually had the ball and didn't come away with it. I wasn't going to let that happen to us again."
---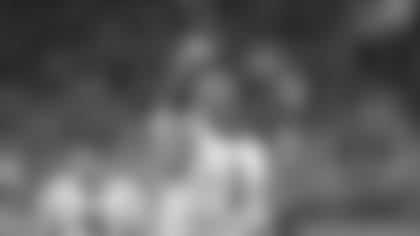 Think back two Mondays ago. The Panthers had just lost at home to the winless Saints, and Carolina's offense looked anything but evolved. 
Two road trips, 806 yards, 60 points and a pair of wins now have folks feeling a lot better.
"It was a great team win for us," Newton said before leaving Detroit. "Come in to play in a hostile environment and a much-needed win. Good for our morale as a whole."
Five games into the season, the Panthers are just one game behind the unbeaten Chiefs for the league's best record. Only three teams – Carolina, Philadelphia, Green Bay – are 4-1, and in three days, the Panthers play host to the Eagles on national TV. But that doesn't guarantee nationwide love is on the way anytime soon.  
"We're just going to keep playing our ball. Just like (in 2015), they didn't really care about us," Funchess said. "I don't care about none of the attention." 
Apparently, neither does Johnson. 
"Attention? I don't care if they give us attention or not," he said. "We still gotta get to work, do our thing and come out every week and play. Got this Thursday night game coming, so it's going to be big."
View the top photos from Panthers vs. Lions by team photographer Melissa Melvin-Rodriguez.