What many miss when they look at Christian McCaffrey's stats are all the things he does for the Panthers offense as a whole. Sure, the first-round pick had the first multi-score game of his career Monday night, but he also played a big part in at least two more touchdowns.
Exhibit A came late in the first half when, on third-and-goal from the Miami 7-yard line, McCaffrey drew two defenders as he ran a route into the flat. That included safety Reshad Jones, whose vacated space was the room Cam Newton needed to needle a touchdown pass to tight end Ed Dickson:
Exhibit B came eight plays into the second half when McCaffrey helped block two Dolphins with a sprawling effort that sprung Devin Funchess for his first of two touchdowns:
"We had worked that at practice a little bit. It was a great call knowing they were blitzing like that," McCaffrey said. "Funch is always blocking for me downfield, so I had to return the favor.
"Football is the ultimate team game. It takes a lot to score, and sometimes you've got to block. It's not always you with the ball in your hands, but you've got to try to make plays for your teammates, too."
---
What kind of music do you think would be playing in an NFL locker room after a blowout win on national television? 
If I gave you 10 guesses – or 20 – you probably wouldn't guess right. 
"My music selection is pretty aggressive with the softness," Newton said when asked why he was blaring Adele from a large speaker near his locker. 
"Just for us going through the rigors of having all that testosterone built up, it's OK to throw in 'Irreplaceable' by Beyoncé and 'Someone Like You' by Adele," he continued. "That's all I'm trying to do, tone it down a second so we can clear our minds and put a heavenly voice in our hearts and minds."
If that sounds deep, it's pretty much par for the course for Newton after a night like Monday. He admittedly gets too low when things are bad, but when things are good – say, during a three-game win streak – he can open up, flash a million-dollar smile and turn on his unique charisma. 
Like how he responded when asked about getting caught from behind on his 69-yard rush in the third quarter. 
"It's extremely embarrassing, but I'm going to say this, one of my best friends, Deshaun Lawrence, jinxed and has been jinxing me for years," Newton explained. "He said that I don't have in my repertoire of my skillset to break a 50-yard plus touchdown. All I kept thinking while I was running, I was hoping that one of the Dolphins players, preferably the DB who tackled me, would slip up, trip or something.
"The first thing I did when I got back to my locker is see a text message from Deshaun that said, 'I told you so.' There weren't enough explicit emojis in my options to send him because he was right. … I got a lot of ridicule after that. I heard a couple guys come over and say, '(Derek Anderson) could've scored on that one.'" 
And what was with Newton's shimmy-on-the-turf celebration after getting tackled? 
"When you don't have any gas left and your check engine light is on and it's blinking to get gas in the next stop or so," he said, "you just have to celebrate when you can celebrate, brother.  
"I was just hoping that Coach wouldn't come back with another run play for me." 
---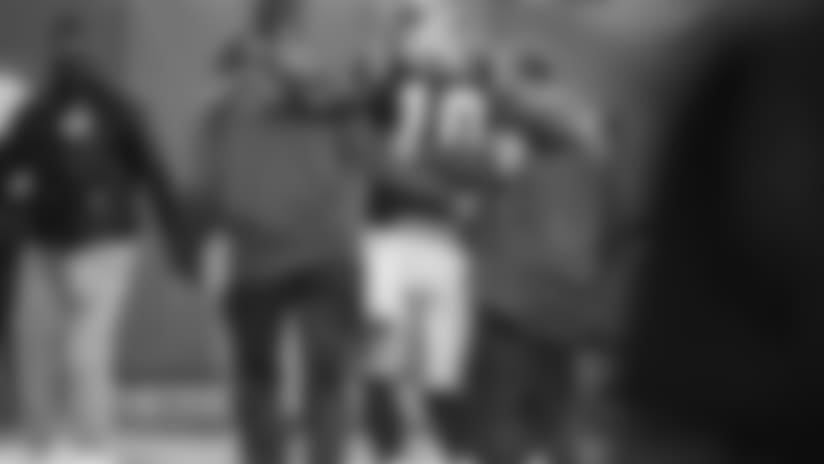 After leading the Panthers with five catches for 45 yards in the first half, the rookie watched what should have been his first career touchdown bounce off his chest in the end zone. 
"I should've come down with the ball," Samuel admitted.
To add injury to insult, as the ball fell to the ground, Jones fell on Samuel's left ankle. He was helped off the field and immediately went in to take X-rays, which he said were negative. But Samuel left Bank of America Stadium on crutches and was scheduled for an MRI. 
"Putting weight on it, it's a little sore," he said. "But I'm not in excruciating pain right now. It just hurts a little bit."
At the very least, Samuel likely suffered a high ankle sprain. That's a bummer for a guy who's had a slow recovery from a high ankle sprain in his right ankle. And it's especially disappointing considering he appeared, as Newton termed, "on the cusp" before the injury.
"For him to step up and make crucial catches for us and to get the momentum going is big," Newton said. "But I'm staying optimistic about this whole thing, that everything will work out and we'll still see him sometime this year."
Obviously, losing Samuel for any period of time would be a blow to an offense that hoped to do a better job stretching the field in the wake of the Kelvin Benjamin trade.
The Panthers could get some help off injured reserve, though. Speedy wideout Damiere Byrd, who broke his arm against the Patriots, could be put back on the active for the Week 13 game in New Orleans.
---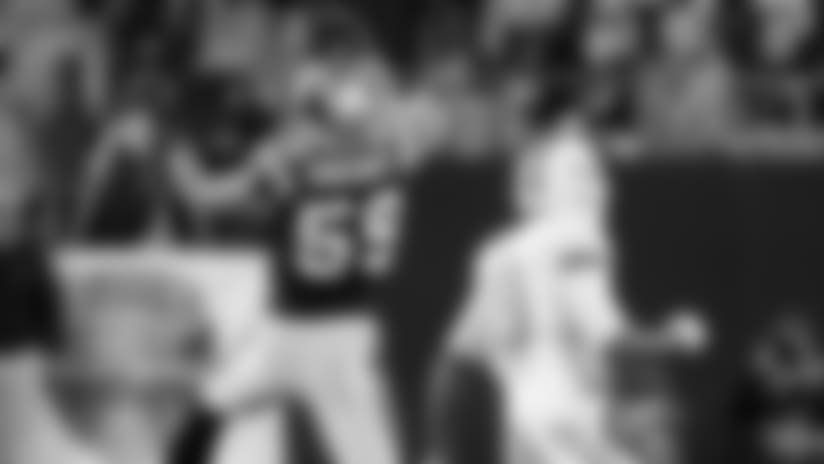 Another game, another opposing head coach left shaking his head after a play made by Luke Kuechly. 
"We thought we had the right play," Dolphins coach Adam Gase said when asked about Jay Cutler's pass late in the first half that ended up in Kuechly's hands. "A little surprised that Kuechly got over there."
So Gase learned what many others have previously – Kuechly's always watching and almost always ready. 
"Without me even knowing or seeing that," Newton said, "I'm pretty sure Luke knew it was coming." 
"I had an idea out of that condensed formation," Kuechly said. "Thomas (Davis) was able to push out there and give me a little bit of time to get out there and make a play on the ball. 
"(Linebackers coach) Al Holcomb had talked about that route all week. It was a good team play. It was great for the offense to go down there and score a touchdown before half."
Kuechly's interception, combined with an unsportsmanlike call on tight end Julius Thomas, set the Panthers up at Miami's 20 with 41 seconds left in the half. Four plays later, Newton hit Dickson in the end zone and a close game turned into a 17-7 lead at the break.
That obvious turning point was Kuechly's 15th career interception, the most by any front-seven player in the past six years. To put that in perspective, that's five more than the next closet players - Davis and Tampa Bay linebacker Lavonte David. It also put Kuechly in fourth place all-time on the Panthers' all-time interception list behind defensive backs Chris Gamble (27), Eric Davis (25) and Mike Minter (17).
Still, Kuechly remains steadfast about needing to improve in pass coverage. 
"I messed some stuff up today," he said. "They ran a bubble play in the third quarter and they caught it right behind me. That's my guy, and I've got to guard him. 
"Small things like that, I've just got to do my job. That guy caught that ball right behind me where I should have been, and stuff like that can't happen moving forward." 
---
Monday night, those niceties were nowhere to be found.
The two began yapping at each other early in an under-6-foot grudge match that bubbled over late in the first half when cornerback Daryl Worley was flagged for unnecessary roughness after joining in to shove Landry.   
"I watched a lot of film on him, and he does some stuff that's very chippy," Munnerlyn said. "I knew that I had to set the tone with him, let him know I'm not going for it. He bullies people around sometimes, and some DBs let him get away with it. I wasn't going for it. I wanted to let him know I was going to be there all night."
Munnerlyn again shared slot duties with linebacker Shaq Thompson, but Carolina's fiery nickel back did a fine job on his 32 snaps, most of which saw him matched up against Landry. The Dolphins' top receiver had just one catch for 19 yards in the first half and finished with 42 yards on five receptions, including a garbage-time touchdown. 
"I said, 'You finally met your match, huh?' By the end of the game he was all quiet," Munnerlyn said. 
"But it was fun competing. I think we both competed. I feel like I won the match, even though he got a late touchdown. At the same time, I definitely feel like I still won the match."
---
When Tyler Larsen exited in the third quarter with a foot injury, Van Roten entered. Not only was he a third-stringer, the 27-year old had never before played the position in an NFL regular season game. 
"I was just excited to be able to get in there and play a little bit," Van Roten said. "It's been a long time since I've gotten regular season snaps as an offensive lineman." 
To be specific, the last time he did it was with Toronto in the CFL the past two years. Before Monday, Van Roten's only NFL experience was some special teams work with the Panthers and a few plays as a tight end and fullback with the Packers from 2012-13. 
But suddenly, there he was snapping to Newton and lined up across from five-time Pro Bowl defensive tackle Ndamukong Suh. 
"I wasn't really thinking about who I was blocking," Van Roten said. "I was just excited to be in there and run the play that was called."
But, c'mon, you had to have had a sense of who you were blocking? 
"I'm aware that Ndamukong Suh is across from me. Yeah, I'm not ignorant of that," Van Roten said with a laugh. "I know he's there. I know he's an All-Pro. It's a good matchup to see how you stack up against one of the best. I think I held my own."  
Before Larsen returned for the final play of the third quarter, Van Roten finished two drives. Each ended up in the end zone, including Cameron Artis-Payne's 12-yard run that came right through Van Roten's gap.
"It's what you dream of when you're little," he said. "I finally got to do it tonight, so it was an awesome moment."