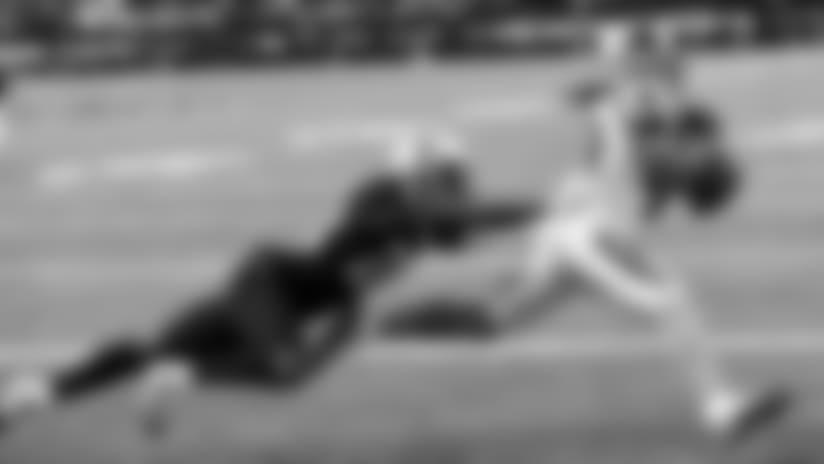 Everything was going according to plan. 
The Saints had gone three-and-out on their first two possessions, and the Panthers were 13 plays into a drive that had eaten up half of the first quarter's clock.
Then the plan began to unravel. 
On play No. 14, a third-and-2 from the New Orleans 7-yard line, Cam Newton zipped a perfect pass to wide receiver Kaelin Clay near the edge of the end zone. Saints cornerback Ken Crowley was a step behind Clay, who slid to keep himself in-bounds. But that didn't matter because the ball went through his hands. 
"I've got to make those contested catches," Clay admitted. "That's what the playoffs consist of – contested plays. You've got to make those plays in this type of game, this type of environment."
Clay, who had played just 11 games as a pro before splitting nine appearances between the Bills and Panthers this season, later made a toe-tapping 21-yard catch inside New Orleans territory that could have helped erase his first quarter mistake. But six plays later, Carolina's final drive fizzled, and Clay was left on the hook. 
"I look at that play in the end zone as probably the game-changer. We lose by five, could've won by two," he said with a big sigh.
"It hurts. It'll definitely eat at me for a while. The whole offseason, most likely – and beyond. You take it from what it is, you learn from it. But you've got to make those plays."
---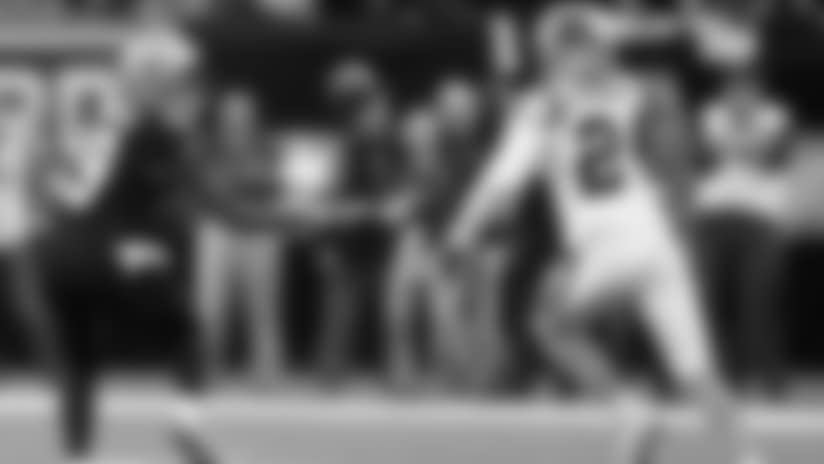 Instead of a 7-0 lead, the Panthers were forced to settle for a field goal. But they didn't even go ahead 3-0 because Graham Gano hit his 25-yard attempt wide right. 
Nine seconds later, the Saints were suddenly up 7-0 in a stunning turn of events. 
So what happened on the 80-yard touchdown pass from Drew Brees to former Panther Ted Ginn Jr. that gave New Orleans a lead it would never give up? Here's a brief oral history.
Ginn: "It was to myself or Michael Thomas. On their defense, I saw the curtain come down, and I knew I had a chance." 
Panthers head coach Ron Rivera: "He was their number two (option). It is a play we call 'Dagger.' He runs right through the middle of the defense, trying to pull everybody out. Really, the deep dig's the primary target."  
Saints head coach Sean Payton: "It was a great read by Drew (Brees). It was kind of an inside go with a deep in-cut and coverage kind of collapsed on Mike (Thomas). You watch that closely on film, Drew kind of shuffled quickly to his right and found Ginn behind the coverage."
Rivera: "If we'd been able to get the safety over a little bit, that would have made a difference. Ted got inside of the safety and split him to the corner."
Panthers safety Kurt Coleman: "It's my fault. It's my fault. It was my fault. It was miscommunication and it was my fault."
Panthers cornerback James Bradberry: "It was no one's fault. I went for the ball and missed, so at the end of the day it's my fault."
Ginn: "I just had to get to my spot. I rushed to the end zone. I'm really the clear-out guy there, but I ended up scoring."
Brees: "That was huge. They stopped us on the first two drives and then for us to come up with that big play, I think it blew the whole thing wide open. I think it broke the seal for us offensively and, obviously, got the crowd rolling."
---
3) "He is still Drew Brees"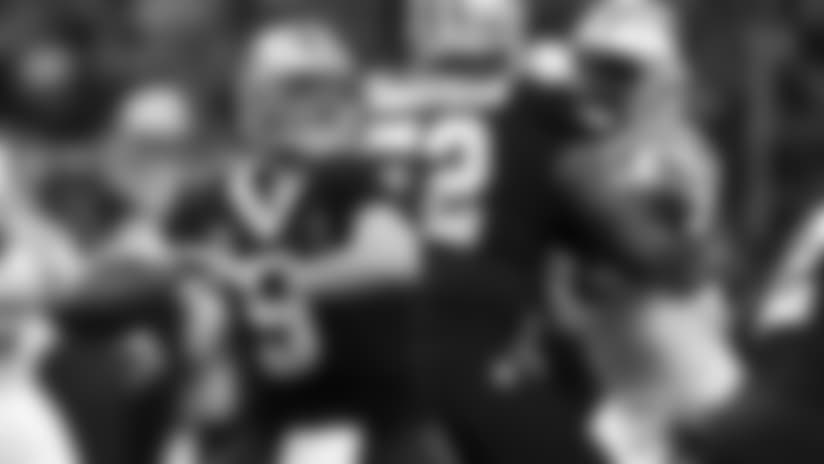 After surrendering their two highest rushing totals to the Saints in the regular season, the Panthers weren't about to let Mark Ingram and Alvin Kamara run all over the place again. That part of the defense's strategy went swimmingly.
The duo rushed 19 times for only 46 yards, their lowest combined total since Adrian Peterson was still around in Week 1. 
But by selling out to stop the run, the Panthers left themselves vulnerable to a Hall of Fame quarterback who piled up 376 yards, his most in regulation since last season. 
"If you are going to stack the box, try to stop the run and take us out of the game, then he is going to hurt you," Ingram said. "We have been telling you that he is the best quarterback in the league. He is still Drew Brees."
After starting out 1-for-4, Brees caught fire. He completed 12 of his next 14 passes for 224 yards and two scores to put the Saints in front, 21-9 at halftime. 
"He's a Hall of Fame quarterback, so you've got to try to make this guy step up in the pocket, roll out, make hard throws and we didn't do that in the beginning," cornerback Captain Munnerlyn said. "We gave him some easy targets leaving guys wide open."
The Panthers did a somewhat better job on Brees in the second half, limiting him to 146 yards. But Carolina allowed him to complete 10 of his 15 attempts in the final two quarters and finished with just one sack. 
"When he has time, he's going to find players downfield. Unfortunately, that's what he did," Rivera said. "He got a little bit too much time a couple of times and was able to advance the ball downfield. That is really what got us, too. Their chunk yardage was tremendous. They did a great job with that stuff."
---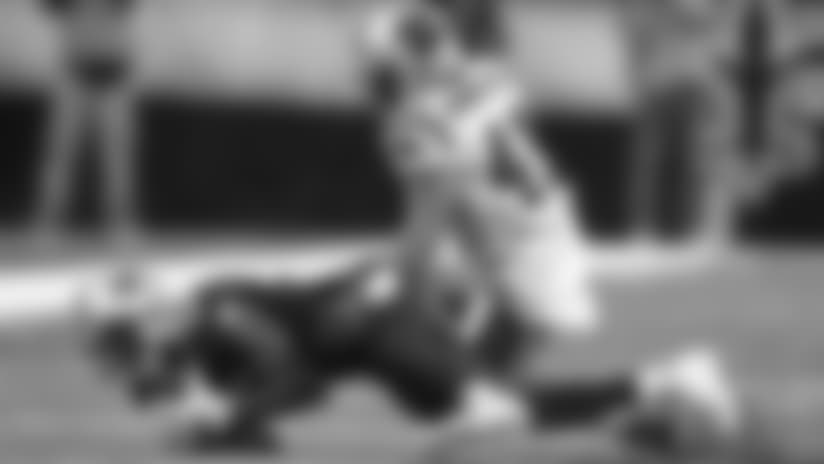 Brees' second-longest completion was a 46-yarder to wide receiver Michael Thomas midway through the fourth quarter. That set up the Saints' final touchdown which doubled as the game's deciding points.  
Thomas, who quietly set a single-season franchise record with 104 receptions in the regular season, has quickly turned into a Carolina killer. In his four regular season games against Carolina, the second-year former second-round pick totaled 22 receptions for 303 yards and three scores. Sunday he caught eight of his nine targets for a season-high 131 yards.  
"We knew what we had to do. It was on the receivers," Thomas said. "We rode on Mark (Ingram) and Alvin (Kamara)'s back (a lot this season). When the time came, we stepped up to the moment."
But no wideout was as clutch for the Saints as Thomas, who picked up first downs on six of his eight receptions, including one against cornerback Captain Munnerlyn late in the fourth quarter.  
"Drew made a hell of a throw. I'm all on him in inside leverage doing my job, forcing him to do something else, and he kind of threw a back shoulder on me," Munnerlyn said.  
"But (Thomas) did a great job using his body and running great routes. He wasn't doing anything that we haven't seen before when we've played these guys. He was just running great routes and Drew was making some good throws to him." 
---
The loss sends the Panthers into what will likely be the most tumultuous offseason in franchise history. The team is officially up for bidding, general manager Marty Hurney still has an interim title and Rivera may lose a defensive coordinator for the second straight winter. 
"I know that Steve (Wilks) is a hot commodity, deservedly so," Rivera said. "He has done a tremendous job wherever he's been, starting in Chicago and San Diego and down here with us. It's going to be a tough one. Him and Sean (McDermott) are two very good people who are very special to this organization. We helped build this team. 
"I don't want to talk as if Steve is gone, but I have a hunch it might be his time."
The Giants, Cardinals and Bears have already reached out to set up interviews with Wilks for their head coaching vacancies, a process he'll start that process as soon as Monday. 
"I can't be selfish and say I hope he stays. He's worked so hard and he's done so much for myself and for this team. I hope he does get a head coaching job," Coleman said. 
"Selfishly, obviously, you want him here in Carolina. But he deserves everything that he has coming towards him. He's going to be a great head coach. He's going to do some remarkable things with whatever team he goes to." 
---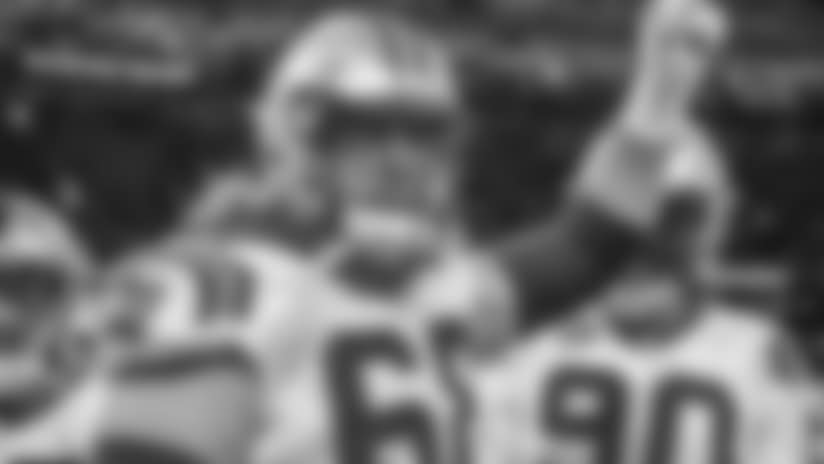 As with every spring, changes are coming personnel-wise. 
On offense, the biggest question is whether the Panthers want to spend what it will take to lock down left guard Andrew Norwell, who's in for a huge payday after turning in an All-Pro season. 
"I'm not even thinking about that right now," Norwell said when asked if he wants to stay in Carolina. "It's a tough loss for us. We battled, we fought every play like it was our last and it didn't come out the way we wanted it to. We let a lot of people down today." 
Defensively, the Panthers have to make a decision on 2013 first-round defensive tackle Star Lotulelei, whose contract is set to expire. And defensive end Julius Peppers has a decision to make. Set to turn 38 in 10 days, the future Hall of Famer showed he can still play with 11.0 sacks this year, his most since 2012. But will Peppers feel like playing a 17th NFL season? 
"I'm not sure right now," he said. "I just want to have some time to reflect, think about everything that's going on, spend some time with my kids, and see where my heart takes me.
"It was a great decision to come back on and play this year. I don't have any regrets at all. I am proud of these guys and I had a lot of fun this season."
View the top photos from the Panthers' Wild Card playoff loss to the Saints, by team photographer Melissa Melvin-Rodriguez.