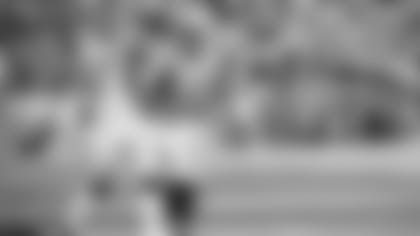 If there was ever a time to talk smack to Julio Jones, Kurt Coleman could have. And most casual observers probably figured that's what Coleman was doing when he got in Jones' ear after the superstar wideout inexplicably dropped a touchdown pass midway through Sunday's fourth quarter. 
But there's a reason why Cam Newton's nickname for Coleman is "Bishop." 
"He's a very spiritual guy," Jones said. "He said some spiritual things to me. That was it."
"'Glory to God,'" Coleman said. "I think sometimes we want to glorify Him in the good times. Sometimes you've got to glorify Him in the bad times."
According to FOX Sports, Jones came into Week 9 with just one drop in his first seven games. Last season, he had three drops. Not bad for a guy who caught 83 passes and averaged more than 100 receiving yards per game. 
Clearly, the Panthers caught a big break. It's not often that wide-open, All-World wideouts let touchdowns go through their hands. And it's not often an opponent is as sympathetic as Coleman was.
"He's a great wide receiver. He's going to catch a lot more than he drops," Coleman said before adding, "but I was happy he did it then."
---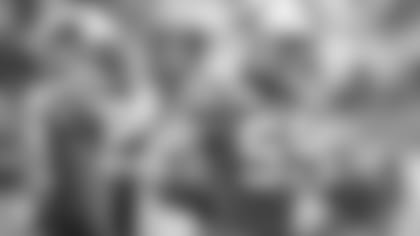 It was much ado about nothing, but the FOX broadcast wasn't going to pass on an opportunity to show linebacker Luke Kuechly with an apparent bloody nose. Or whatever it was that made for the prototypical FOOTBALL PLAYER!!! Slo-Mo late in the fourth quarter. 
"I think there was something near my nose. I don't know if it was a hand or a finger or something," said Kuechly, who had a team-high 11 tackles. 
While Kuechly assured he's "fine," he did have some nervous moments on the sideline. As the Panthers' offense was going three-and-out, the team's athletic trainers needed to work quickly to get him back on the field for the Falcons' final drive. 
"I just wanted to make sure they didn't make me go out of the game. Sometimes they do that," Kuechly said. "We just tried to get it all cleaned off so I can get back in there and they wouldn't tell me to come out."
That, folks, is a FOOTBALL PLAYER!!!
---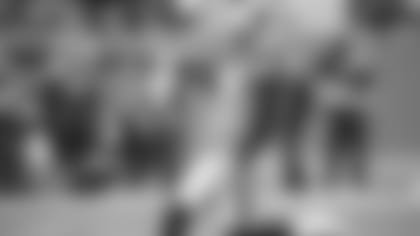 After the three-and-out, the Panthers were forced to punt from their 27-yard line with 2:32 left. So Atlanta quarterback Matt Ryan had the two-minute warning and one timeout to come back from a three-point deficit. 
That the Falcons' final drive never became all that dicey is in part a credit to the Panthers' punt team. 
"What really kicked off that drive for us – (Michael) Palardy hit a great punt," Kuechly said. "Those guys covered their butts off. I think Jared Norris was down there and I think Ben Jacobs made a tackle. I'm sure there were more guys down there, but that play right there, before we even got on the field, was huge." 
But as good as Palardy's 57-yard punt looked in the air, it wasn't exactly what he was going for. 
"It came off my foot as well as it could, and it just took off on me. I knew as soon as I hit it that it was going to go a lot further than I thought it was and what I was anticipating," said Palardy, who for the second straight game placed three punts inside the 10-yard line. "But when I hit it, I wasn't nervous because I knew that my coverage team had my back, and they were able to cover and do a great job." 
Kuechly was right. Norris was the first one on the scene when Palardy's punt was fielded by Andre Roberts, who picked up five yards before he was tackled at the Atlanta 21 by Jacobs and David Mayo. Four plays and negative-three yards later, Ryan's final pass to Taylor Gabriel fell incomplete. 
---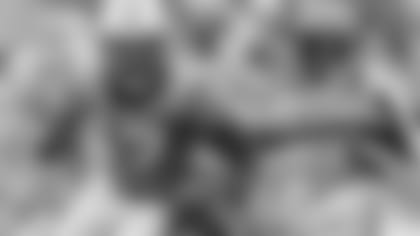 After the Panthers surprisingly shipped Kelvin Benjamin to Buffalo this week, they said they did it in part to put Devin Funchess in his more natural role at split end. They backed up that reasoning Sunday. 
Funchess accounted for more than half of Newton's 137 passing yards, finishing with a team-best 86 yards on five receptions. Funchess also paced the Panthers with seven targets, or one fewer than Newton threw to Curtis Samuel, Russell Shepard and Kaelin Clay, combined. 
"Just like I say in all the press conferences, we just go out there and try to make plays and get the 'W' on Sunday. It doesn't matter who has the ball," said Funchess, who then downplayed his mid-week downplaying of taking over the No. 1 receiving role. 
"I'm the same guy, I didn't downplay anything," he said. "I'm going out there just trying to make plays for the team."
Three of those plays included extra effort that left would-be tacklers behind. Of Funchess' 86 yards, 41 came after the catch. 
"That's what he can do, he can give you those yards after catch," Newton said. "He's very savvy, and he's just grown into that role and that's what you love to see."
---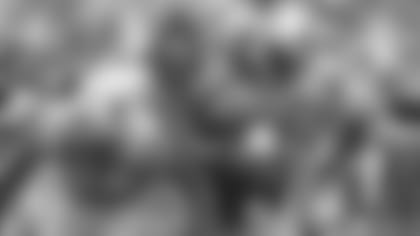 Try for a minute to forget what you've seen of Jonathan Stewart in 2017 and let me ask you this: 
If the Panthers rushed for more than 200 yards, you'd figure Stewart would account for about half of those, right? 
Before Sunday, Carolina had hit the 200-yard mark 20 times in franchise history. Stewart played in 14 of those games. 
Well, his disappointing season continued against the Falcons when he fumbled twice in a three-carry stretch in the first quarter, becoming the first Panther to lose multiple fumbles in a game since Lamar Smith in 2002.
"It's tough because you know he was running hard, downhill is what we want with Jonathan," head coach Ron Rivera said. "Unfortunately, that's part of it. We will go right back and hand it to Jonathan." 
After his fumbles, Stewart took seven more handoffs, finishing with 11 carries for just 21 yards. That left Newton and Christian McCaffrey to carry the load.
Of the Panthers' 201 rushing yards – their most since a 204-yard effort against the Eagles on Nov. 25, 2015, McCaffrey contributed a career high 66 yards. Newton totaled 94, including a 34-yarder that now stands as Carolina's longest run of the season. 
"I've been playing like this for a long time. I trust in my preparation, I trust in my body, I trust in the things I put in my body that I'm going to be 100 percent come game time." 
But Newton leading the Panthers in rushing for a fourth straight game isn't ideal. So don't expect the Panthers to give up on Stewart just yet.
"He is a big, physical guy, and he does a great job for us," Rivera said. "He helped set the tempo for us as a football team. We want Jonathan right."
---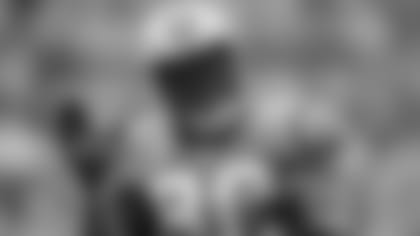 This past 24 days should be a reminder of how the NFL thrives off knee-jerk reactions – and why they're often so silly. 
On October 12, the Panthers followed up two road wins with a narrow loss to Philadelphia in a game between teams many considered to be at or near the top of the NFC. 
A week and a half later, Carolina scored just three points in a disheartening visit to Chicago. 
The Panthers bounced back seven days after that with a win at Tampa before making it two straight Sunday. 
"It's the ebb and flow of life, of this game," Coleman said. "I think Carolina in itself, we took a 15-1 season for granted. More likely than not, you're going to have more types of these seasons than that type of season. And I think these type of games, these tough, gut-it-out games where you're down 10; then you go up 10, then you've got to hold on with a crucial fourth down stop – those are the type of games that you really find out who you are as a team." 
And with 55 days left before the regular season finale in Atlanta, it's still way too early to predict how we'll remember the 2017 Panthers. 
"We want to just embrace the process, trust it and continue to work because nothing ever stays the same," defensive end Julius Peppers said. "Even now we're feeling pretty good about this, but we've still got work to do." 
View the top photos from Panthers vs. Falcons by team photographer Melissa Melvin-Rodriguez and second shooters Andrew Dye and Jamey Price.