Carolina's quarterback was likely bummed when Mike Shula, who coached Newton closely during his first seven seasons, was let go in January. But Newton is apparently looking forward to working with Shula's replacement. 
"I had an opportunity to talk to (Newton) after we had hired Norv (Turner)," head coach Ron Rivera recalled Thursday at the NFL Scouting Combine. "I knew he was going to go in and meet with Norv and say hello, and I asked him, 'How you doing?' 'Well Coach, I'm excited and nervous.' I said, 'What are you nervous about?' He said, 'Coach, think about what he's done for Troy Aikman and those types of guys.' So it was kind of cool to listen to the anticipation in his voice."
Because this is a dead period when coaches and players aren't allowed to talk football, Newton and Turner won't be able to dig into things until mid-April. And while there could be some growing pains at the start, Rivera hopes the learning curve will be minor. 
"I think the biggest thing that Cam has to understand going into this is Norv's not here to change him. Norv's here to help him," Rivera said. "That's one of the things I know Cam got from that meeting with Coach.
"It's going to be different because Norv does things differently. So it's going to be a challenge for him, but I know it's one he wants."
2.) Keeping Andrew Norwell is "going to be tough"
As is combine tradition, every team has meetings set up with agents of pending free agents. So it shouldn't be news that general manager Marty Hurney is set to chat with Drew Rosenhaus, who represents a number of Panthers, including left guard Andrew Norwell. 
Sure, the Panthers would love to keep their 2017 All-Pro. They're also realistic about what it will cost to keep him. 
"It's going to be tough," Rivera admitted. "It's something Marty's got to work through, look at the cap and make his decision based off that. We've talked extensively about what Andrew means to us, what he can mean to us and what would happen if we can keep him, what will happen if we can't keep him. Only time will tell." 
3.) Keeping Star Lotulelei is "going to be really interesting"
Between Norwell and Star Lotulelei, there's a better chance the Panthers could hang onto the latter. It all depends on what kind of market the defensive tackle finds. If it's soft, Lotulelei could land back in Carolina.  
"Hopefully. We'll see. It's going to be really interesting to see how things unfold," Rivera said. "You never really know what the other teams are thinking, what the player's thinking or what the agent's thinking." 
In 2016 first-round pick Vernon Butler, the Panthers have some insurance if Lotulelei leaves. But Butler isn't a true nose tackle like Lotulelei. 
"If you lose a guy, you've got to replace him. That's the one thing you've always got to keep in mind," Rivera said. "People go, 'Oh, we may lose him, but we'll be fine.' It's hard. It's hard to find the right kind of fit, and we know first and foremost that Star does fit us."
It won't be a surprise if former Panthers general manager Dave Gettleman has his eye on a few of the Panthers' pending free agents. Speculation has swirled for weeks about the Giants' interest in Norwell, and Dan Duggan of NJ.com reported Thursday that New York is "expected to pursue" kicker Graham Gano. That's if he hits the market. 
The Panthers could put their franchise tag on Gano, or they may work out a deal before Tuesday's 4 p.m. tag deadline. Either way, Hurney called Gano "a priority" last week, a sentiment Rivera echoed Thursday.  
"He's high up on the priority list. As far as the tag and all that good stuff," Rivera said, "that's something Marty's going to have to deal with and take care of."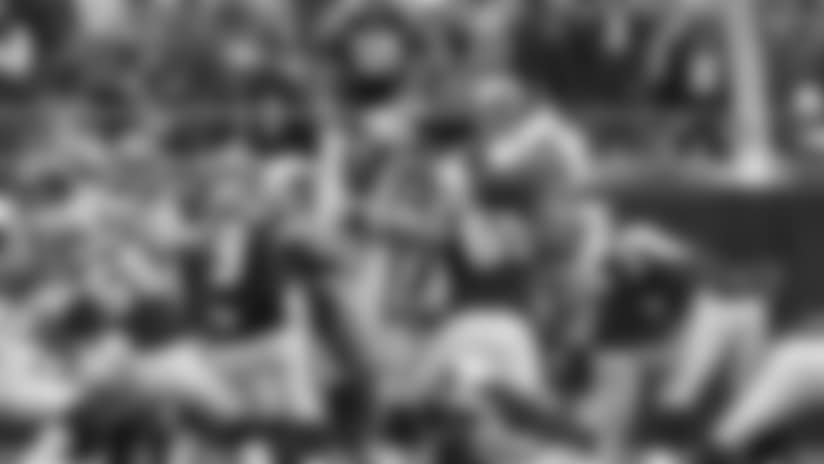 5.) Panthers will reach out to Julius Peppers "sooner rather than later"
Carolina's all-time leader in sacks is currently down in Miami mulling over whether to return for a 17th season. Rivera wouldn't say if Peppers has indicated he'd play for only the Panthers, but they should get a better sense of Peppers' plans relatively soon. 
"Julius had (shoulder) surgery and he's been rehabbing. I know Marty is going to reach out and have that conversation with Julius eventually," Rivera said. "It's going to be sooner rather than later."
6.) It could be time to "start looking for that next guy" at quarterback
To be clear, the Panthers aren't looking to replace Newton. But they're the only team that hasn't taken a quarterback over the past six drafts. With 34-year-old Derek Anderson a potential free agent, there's no guarantee he'll be Newton's backup for an eighth season. Plus, Hurney has been hoping to find a young arm the Panthers can groom. 
"Derek's been a big part of what we've done. He's been like having a coach in the meeting rooms and on the sideline. We'll see how things work out," Rivera said. "It also may be time where we've got to start looking for that next guy, too. Bring DA back, draft a young guy or sign a young guy and develop him as well? We have to start looking in that direction."
7.) "It would be kind of cool" to add a veteran wide receiver
Of the Panthers' wideouts under contract for 2018, only three have caught a pass in an NFL game: Devin Funchess, Curtis Samuel and Russell Shepard. That obviously doesn't leave much experience in the wide receiver room. 
"It would be kind of cool to find a guy with the background that Jerricho Cotchery had for us in 2015," Rivera said. "I think that helps the young guys. It is a very young room and it would be nice to have a guy that's got that kind of experience." 
So while the Panthers could add a wideout or two in the draft, they're also likely looking to add an older guy via trade or free agency. 
8.) Ownership change "absolutely" adds importance to next season
Even with the contract extension he received in January, Rivera understands everything can change in the next year or so. If new owners don't like what they see when they arrive, they could look to make changes. That's why the importance to win is heightened in 2018. 
"Absolutely it does," Rivera said when asked if a change in ownership could force an all-in attitude. "We have to understand we've got to go out and we've got to be able to show that we're very capable of what we do, that we can continue to have sustained success and we've got to be on top of our game. So it does add a little bit of pressure, but that's the nature of the game. 
"We've been under pressure before, and we've had to prove it, and we've had to come out and produce, and that really is where we are."