KAPOLEI, Hawaii – Friday was Photo Day at the Pro Bowl, with players and coaches rolling out of bed and rolling over to their makeshift locker room at the JW Marriott Ihilani Resort and Spa to get dressed in their Sunday best.
Well before the official photographer scaled his ladder and made sure everyone was perfectly placed for the team photo, Panthers quarterback Cam Newton had already had his photo snapped countless times.
In Newton's world, every day is Photo Day.
"I'm not sure - I don't even want to guess," Newton said when asked to estimate how many times he's had his picture taken. "We're all the way out here in Hawaii, and people recognize who you are. That goes to show how impactful being in the NFL really is."
The camera loves Cam, and – most of the time - he loves it back. But as Newton sits on the risers where this year's Pro Bowl photos were taken and ponders the power of a picture, his mind focuses on mental images of a life filled with and fulfilled by football.
"You learn from each and every picture that you take," Newton said. "Some of them are good. Some of them are bad. Either way, you've got to move forward."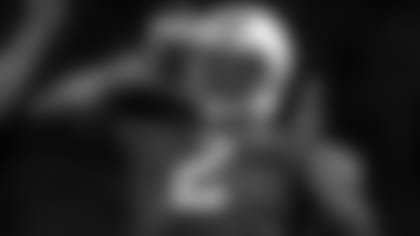 But first let's look back, back to a time when only Newton's family had any reason to take photos of him. Growing up in the Atlanta area, Newton saw life through the lens of his father, Cecil, who just happened to love football.
"I decided to play when I was probably seven years old," Newton said. "My biggest idol, still to this day, is my father. When he told me that he played football, I wanted to wear his number.
"I just wanted to be good at something, and that's what my father has always challenged me to do - be good at something, whether it's a fireman, a teacher, a lawyer, a doctor, whatever. The path I chose was football."
Newton wore No. 31 for a year or so as a kid – the same number his father wore – but soon picked a more fitting number for a quarterback. He switched to No. 2 and wore it throughout his ascension of the amateur ranks. After the Panthers made him the No. 1 overall pick in the 2011 NFL Draft, he switched to No. 1.
"My connection with No. 2 was that I'm the second son," Newton explained. "My older brother (former NFL center Cecil Newton Jr.) is a big guy so he couldn't wear No. 1, but I wore No. 2 in high school and college.
"My younger brother (Caylin) now wears No. 3, and he's playing in high school. At this point, I'll take No. 1 and I'm sticking to it."
Newton was like just about every other kid in his youth, dreaming of someday playing sports on the highest level. But he's one of the few to have the picture in his mind become reality, and that's something he doesn't take for granted.
"Where I'm from, all you can do is dream," Newton said. "And when it comes to fruition and you're living the life that you actually dreamed of, it really puts everything in place.
"I know you can't play football your whole life, but while I do have the opportunity, I'm going to make the most of it."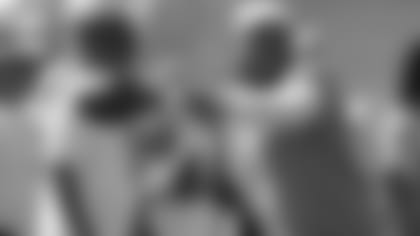 Perhaps the only thing Newton loves more than playing football is winning on the football field. Countless images of Newton after losses his first two seasons with the Panthers made that abundantly obvious, as do the countless expressions of joy captured this past season.
"This was our rebirth year," Newton said. "Playing on Sundays began to become fun again, not only for the players but for the fans as well.
"We felt it in the attitude of the stadium. BOA was rocking every Sunday. We want to take that and build on it. Having those people around made everything even more special."
Flashes went off around Bank of America Stadium when Newton led the Panthers to a comeback victory over the New England Patriots on Monday Night Football. Shutters fluttered when he did the same to knock off the New Orleans Saints and wrap up the Panthers' first NFC South title and playoff berth since 2008.
"In close games, the moment can never be too big for you," Newton said. "There are a lot of guys that stepped up this year and made plays when we needed them to.
"You have to be able to perform in those situations. Every big-time player hopes to be recognized as somebody who steps up and rises to the occasion when the game is on the line."
That was Newton in 2013, yet he finds himself beginning 2014 in paradise but in purgatory at the same time. The 12-4 season was as sweet as one of Hawaii's perfectly ripened pineapples, but the playoff loss to the San Francisco 49ers left a bitter taste and left Newton to play in the Pro Bowl rather than the Super Bowl.
Still, with all the growth shown by the Panthers as a team and by Newton as a quarterback following a 1-3 start, Newton can picture big things to come.
"With the predictions before the year, we didn't let that hinder us from making the most of the season," he said. "Of course, the ultimate goal is to make it to the Super Bowl. We fell short of that, but we'll be back, and we'll be better prepared for the moment."