CHARLOTTE – Standing in an otherwise empty Panthers locker room discussing the first week of offseason workouts, safety Mike Adams caught cornerback James Bradberry out of the corner of his eye entering the room.
Adams didn't break stride.
"You see guys competing already. Like today we were running, and I beat JB twice," Adams said, timing his statement so that the bravado began just as Bradberry walked past.
"That's a lie," Bradberry calmly retorted. "I won every rep."
"You see guys competing already," Adams said. "I still get that itch."
Plenty of NFL veterans still have the itch at age 37, but not many have the body to back up their heart. Adams knows few peers in that regard, and this offseason he outlasted a couple of his younger peers in Carolina's defensive backs room.
With fellow safety Kurt Coleman having been released and cornerback Daryl Worley having been traded, Adams and Bradberry are the lone returning starters in the secondary.
"I've been around a long time and I've seen a lot. Nothing really surprises me anymore," Adams said. "Whether it's the business side wanting to make a move or somebody wants to retire or whatever it is, it's always something."
Production played a role in this case. Carolina ranked 18th in pass defense last season, yielding the 11th-most touchdown passes (25) while tying for the sixth-fewest interceptions (10).
Adams, in his first season with the Panthers, accounted for four of the secondary's 10 takeaways.
"It definitely could have been better. Myself, I could have been better," Adams said. "But watching it now in the classroom now and learning from it, I know I am going to be better.
"This defense wasn't an easy defense to learn, so I think me in my second year and us as a group learning together and getting this head start, we'll flourish in it."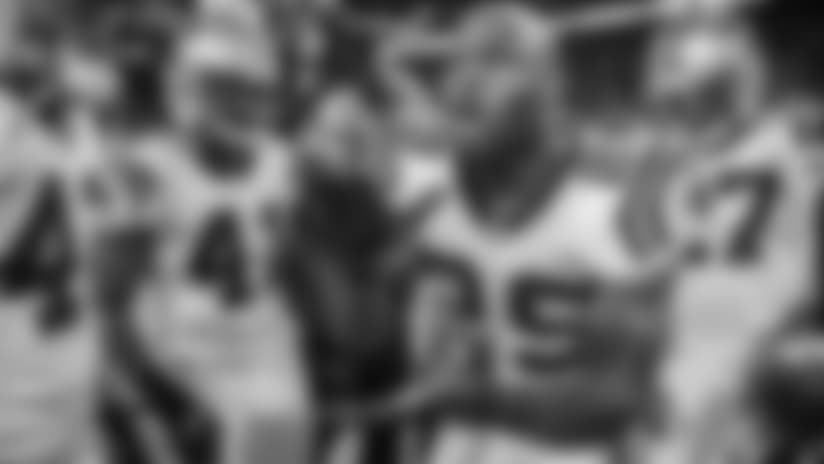 The classroom still has some empty seats that are expected to be filled during this week's NFL Draft, but there are a couple of new classmates already. Based on the current roster, free agent addition Ross Cockrell is slated to compete for a starting corner spot opposite Bradberry, and veteran addition Da'Norris Searcy (last with the Titans) is penciled in to join Adams at safety.
"I know Searcy. I've watched all the safeties since I've been playing the game, plus I played against him a couple of times when I was in Indy. He's a good player," Adams said. "I'm looking forward to playing with him. In the classroom you can tell he's a smart guy; he picks up on things quick. Obviously we haven't really done anything outside yet, but from what I've seen he's committed. It's going to be a good thing."
Getting the secondary to perform like it did when "Thieves Ave." took the NFL by storm in 2015 and took the ball away at a ridiculous rate isn't just about increasing the takeaway numbers, but it's a start. Carolina's interception total went down seven between 2015 and 2016 – from a league-high 24 down to 17 – then plummeted another seven last season down to 10.
Adams, incidentally, is tied with Coleman for the fifth-most interceptions in the league since 2014. Mix in Adams' seven fumble recoveries over that time, and his 21 total takeaways are the third most in the NFL over the past four seasons (Marcus Peters leads the way with 24).
"That helps you stay in the league – going for the ball, creating turnovers," Adams said. "Individually, it's an innate thing, but collectively as a team, running to the ball can be taught. Effort can be taught. When the ball is in the air, just treat it like they're throwing the ball to you. Always rip at the ball, gang tackle – stuff like that.
"It's definitely going to be a priority. We're going to make that a priority as a defense, as a whole."
That's not the only area where Adams is aiming to be a leader. With Coleman now in New Orleans and Adams acclimated in Carolina, guys will be looking more to him in 2018.
"I always consider myself a leader, but coming here and being new I didn't take a back seat but I did let things play out," Adams said. "I definitely made my presence felt, but I came into 'their' secondary. Now I've got to step my game up and take a definite leadership role and grab the bull by the horns."
View photos of the players working in the weight room as part of the 2018 offseason program.