CARROLLTON, Ga. -- On a warm, sunny morning in late June, Alex Armah stepped back on the field on the campus of West Georgia at University Stadium.
Aside from the peaceful whirring of cicadas in the distance and the low hum of a power generator from a nearby building, the moment was absent of sounds or distractions. The campus was business as usual for a college in the middle of summer. Quiet, mostly empty and hot.
However, this moment was a nice bookend for a local kid with a dream who lived just 90 miles away on the other side of Atlanta. It was a quiet moment just like this five years ago when Armah stepped on this field for the first time and made a silent promise that he was going to work as hard as he could to fulfill the opportunity that West Georgia gave him to play college football.
Five years later, he was drafted as a fullback for the Carolina Panthers.
"West Georgia gave me a home, and I'm really thankful for that," says Armah. "It gave me a foundation. West Georgia will always be there for me, and I'll always represent it and all the people there proudly."
Armah's fascinating journey from getting zero Division I scholarship offers out of high school to NFL draft pick is like an onion; there are plenty of layers. And in Armah's case, each layer is more intriguing than the last.
Armah was one of just six Division II players selected in the 2017 draft, and one of just nine non-Division I players drafted in the last two seasons.
He was only the second fullback drafted this year, a position that is becoming more and more scarce in NFL offenses.
Armah would have been the first NFL draft pick out of West Georgia, if not for his close friend and defensive end counterpart, Dylan Donahue, who was selected just 11 picks ahead of Armah by the New York Jets.
During his time at West Georgia, Armah became the first player in the history of the Gulf South conference to earn All-Conference honors on both offense and defense in his senior year. He was recruited to play linebacker, moved to defensive end, became an All-Conference tight end and then was drafted as a fullback, a position he hadn't played since his days at Dacula High School.
After a successful high school career, Armah only received Division I interest as a preferred walk-on at Georgia Tech and Mississippi State. Knowing the long-term financial benefits of earning a college degree on a scholarship, Armah opted to go the Division II route. After his initial visit to West Georgia, all doubts were erased.
"You could just feel how real everything was," Armah said. "The athletic director, Daryl Dickey, was the head coach at the time. He was bought into the program and sold me into how the program would be evolving. When I asked the players how they felt about the program, I was really impressed by their answers and how straight forward they were. It felt like family immediately."
Armah came to West Georgia as a linebacker, but with a linebacking corps already established, he was asked to redshirt his freshman year. Rather than see it as a setback, Armah took it as an opportunity.
"I definitely came in to school with a bit of a chip on my shoulder. I wanted to prove immediately that I could be successful. And then they told me that they wanted me to redshirt that first year. While it was tough at first, I quickly saw it as an opportunity to grow and get better. I had more of an opportunity to focus on my studies. I got out more and explored the college and tried to integrate myself into college life outside of the football team. And ultimately, I was able to train and get bigger and faster and stronger. That was so important."
By the time Armah was ready to play the next fall, he had to deal with yet another piece of adversity. The school brought in a whole new coaching staff, and Armah was asked to move to defensive end.
"We made (Alex) a defensive end and he did great with it from the jump," Aldridge said. "It really wasn't difficult at all. He's a team-first guy, and embraced everything we asked him to do."
Armah thrived at the defensive end position and so did the West Georgia Wolves. The team made the Division II national semifinals in 2014 and 2015. He finished with 188 tackles and 15.5 sacks in his career.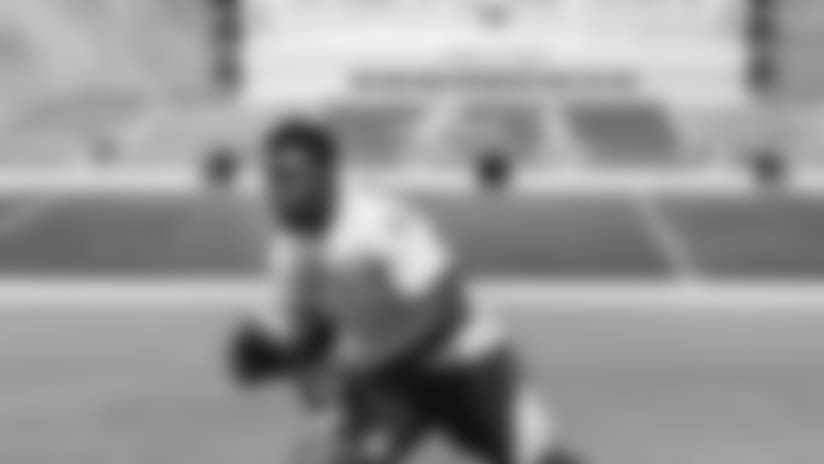 In the months leading up to his junior year, Armah joked with his coaches that they should use him in a two-point conversion formation called "swing the gate." He had carried the ball in high school and had pretty good hands. Armah would line up off to one side with blockers in front of him, and if the defense didn't adjust accordingly, he would receive a pass with a chance to score. After practicing the play all summer, Armah got his chance.
"It was the first game of the season and the first touchdown comes. They call 'swing the gate' for the conversion. The defense lines up in the right formation where it's going to come to me. I'm ready. The ball was snapped and the quarterback slung it to me. I caught it and all I see is a gaping hole and I dove into the endzone."
Armah's first collegiate two-point conversion was followed up with his first collegiate touchdown. On the very next series.
"I'm on kickoff coverage, so I stayed on the field for that. And then I'm on the field at defensive end, and we make a stop. And the coaches told me to stay out there and play tight end. I'm sitting there and manhandling defensive ends, just throwing them down. Then I just slipped out, and the quarterback found me, and I ran in for the touchdown. It was all in a matter of minutes."
That first half sequence was a harbinger for things to come. The next season, the coaching staff used Armah on offense and defense full-time, playing defensive end and then flipping to the other side of the line to play tight end.
The feat took tremendous versatility, athleticism and knowledge of multiple playbooks.
"Nobody does that anymore. It would be hard to find anybody who played as many snaps as he did," Aldridge said. "He had done so well in school that he didn't have many classes his last year. So he would come meet with me over lunch to watch defensive film, and then meet with the offense later in the afternoon before practice. All of the players and coaches gave him a hard time in practice because he knew all of the plays and coverages for both sides."
"At first, I was kind of winded," Armah said about practicing on both sides of the ball. "I hadn't done that since high school. But I just embraced it and loved it. The hardest part was playing through a high ankle sprain midway through the year. They cut down some of my reps, but I played through it."
At the end of the academic year, the UWG athletic department bestowed its highest honor on Armah, the Wolf Award. Given to student-athletes that embody hard work, excellence, sportsmanship, and a positive influence in the campus community, the award represents Armah's impact at West Georgia.
"The Wolf Award pretty much honors the male and female student-athletes that did it all," sports information director Mitch Gray said. "The voting committee was unanimous on Alex. He gave so much to this community and left here with a degree. That really means something. Guys like Alex make programs and school communities successful. He put blood, sweat and tear equity into it. He is a special person."
"I think people had an assumption that athletes, especially football players, were stuck up and just hung out on their own," Armah said. "I wanted to change that impression. I wanted to have friends and be involved with things outside of the team. That was something I motivated my teammates to do, too. That's just my personality. I want to get to know people and develop meaningful friendships with them."
There is a Bible verse that Armah thinks about often. It's Matthew 23:12…"For those who exalt themselves will be humbled, and those who humble themselves will be exalted."
"That's something that really sits with me. I think it's really important to remember. It's been the way I've gone about my life in sports. I've always tried be a humble guy and work hard, and let things fall where they do. When I got here, I heard another rookie, Austin Duke, say it. And we really bonded over that. It's important that we're all working together, and have that mindset."
Armah has already accomplished more than anyone might have expected five years ago when he set off for college. However, hearing his name called on Draft Day and seeing that Panthers jersey with his name on the back is far from an "I Made It" moment. For him, it's just another step.
"Yeah it's definitely another step. The way I've been taught and learning, this is a business. I'm nowhere near making it or have made it in my eyes. Someone on the outside looking in might say I made it. No, not at all. It's a huge milestone and a huge accomplishment in my life, but this is only a starting point on the next level."