NEW ORLEANS – A "team victory" is a phrase commonly used in the NFL when each phase contributes to a win.
Sunday in New Orleans, the Panthers left the Superdome with what can be described a "team defeat."
"The three phases of football just didn't come together today," quarterback Cam Newton said.
The Panthers got off to a terrific start offensively, scoring a touchdown on their opening possession for the first time this season. The impressive 10-play, 75-yard drive ended with a 2-yard touchdown rush by Jonathan Stewart to tie the game 7-7.
But from that point through the end of the third quarter, Carolina accumulated just 80 net yards and three first downs on eight possessions. Included in that span was a 21-yard touchdown pass to running back Christian McCaffrey that came four plays after a Saints' fumble in the second quarter set Carolina up at the New Orleans 45-yard line.
"They did a pretty good job putting a net over us," wide receiver Russell Shepard said. "They were dropping the backers, the safeties were playing high, they were pressing us at the line to slow us down and allowing the safeties to play over the top of us. They did a good a job as far as being able to take away certain things that we wanted to do."
Head coach Ron Rivera was particularly upset with the self-inflicted wounds, like the 15-yard facemask penalty on left tackle Matt Kalil that wiped away a first-down scramble by quarterback Cam Newton on third-and-4 early in the second quarter.
"Holding calls, facemask calls – you can't do that against a good football team," Rivera said.
The execution wasn't where it needed to be, and wide receiver Devin Funchess owned a mistake that cost Carolina an opportunity to cut into a 14-point deficit early in the fourth quarter.
On fourth-and-6 from the New Orleans 12-yard line, Funchess caught a pass against the sideline and cornerback Ken Crawley stopped him a yard short of the line to gain.
"That's on me," Funchess said.
Missed tackles and missed assignments make for a long day defensively, and that problem plagued the Panthers, who gave up 400 total yards.
It started with rookie running back Alvin Kamara's 2-yard touchdown run on fourth-and-2 on the Saints' opening drive. Linebacker Shaq Thompson was in solid position to make the stop, but he led with his shoulder instead of wrapping up. As a result, Kamara – who has quickly proven to be a tough guy to bring down – stayed upright through contact and charged into the end zone.
Running back Mark Ingram's 72-yard run – the longest allowed by Carolina all year – set up his easy 3-yard score in the second quarter, and Kamara broke a few more tackles on his way to a 20-yard touchdown in the third quarter.
"We felt like we didn't give ourselves a chance today – I'm speaking for the defense," said defensive end Julius Peppers, whose unsportsmanlike conduct penalty wiped away a third-down stop and ultimately led to a Drew Brees' touchdown pass. "We didn't play well at all. We didn't play fundamentally sound, we hurt ourselves with some mistakes, self-inflicted penalties. Very uncharacteristic. You do those types of things, you can't win games like that."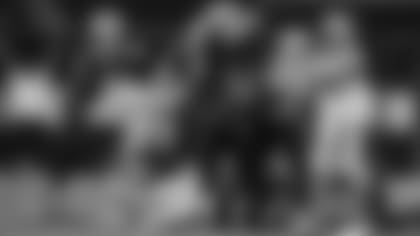 Punter Michael Palardy inexplicably lost control of the ball as he went to hit a punt early in the second quarter, which allowed the Saints to take over at the Panthers' 31-yard line. New Orleans took advantage, reaching the end zone six plays later.
It wasn't the only big mistake on special teams.
Punt returner Kaelin Clay – last week's hero against the Jets – fumbled away any realistic chance for a Carolina comeback.
With just over nine minutes left in the game and the Panthers trailing by 14, the defense forced a three-and-out and New Orleans had to punt from its own 5-yard line. But Clay gave it right back when he was hit from behind and fumbled during the return.
"Last week it was big for us," Rivera said of his special teams. "This week it wasn't."
View the top photos from Panthers vs. Saints by team photographer Melissa Melvin-Rodriguez.