CHARLOTTE – There's no way he actually caught that. Right?
That's what was going through tight end Greg Olsen's head after wide receiver Damiere Byrd battled two defenders and came down with a bobbling reception in the back of the end zone midway through the third quarter against the Packers.
The officials ruled that Byrd was out of bounds, and Olsen agreed with that assessment.
"I saw him bobble it and land square on his back, and live it seemed like he was out of bounds," Olsen explained.
Even Byrd figured he was out.
"After looking at the first replay, I was being realistic, and I didn't think I was going to be in," Byrd said.
While head coach Ron Rivera debated whether or not to toss the challenge flag and risk losing a timeout, Olsen voiced his opinion on the matter.
"Side story, in the huddle I told him, 'Greg, you're being obnoxious right now,'" Newton said. "(Greg is saying) 'No, no. He did not catch it. Don't waste a timeout. Coach, no!' I said, 'Greg, whose team are you on right now?'
"I saw the red (challenge) flag. That's when (Olsen) goes berserk."
But Olsen's mood began to change as more replays were shown while the officials took a closer look.
"I was 100 percent wrong. I'm fessing up," Olsen said. "I was 150 percent wrong, and I'm glad I was wrong."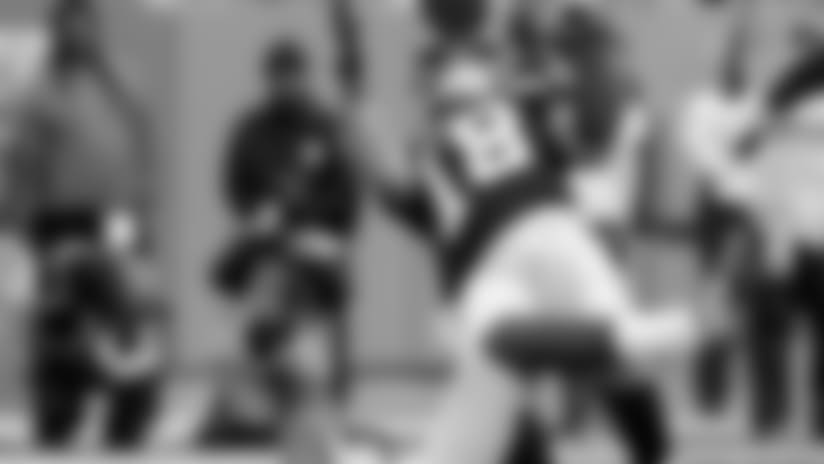 After review, the officials determined that Byrd came down inbounds with possession of the ball. Allow referee Craig Wrolstad to explain.
"His rear end hit inbounds," Wrolstad said after the game. "Just a small part of his rear end needs to hit inbounds for it to be considered inbounds.
"The left side of his rear end hit inbounds."
That's right – Byrd's first career touchdown came thanks to the size of his posterior.
"I guess it pays to have little cheeks," Newton joked.
Added cornerback Daryl Worley: "At first, I didn't believe it. But we kept saying the whole time on the bench, 'Left cheek! Left cheek! Left cheek!'
It sure was. Byrd called it the best catch he's ever made at any level.
"Cam trusted me," Byrd said. "He threw the ball up in the air, and I was able to go make a play. It's a catch you're used to seeing Funch, or back when Kelvin was here, them two making catches like that. I'm sure nobody expected that from me."
That's a safe assumption. Seeing a 5-foot-9 receiver go up and somehow reel that ball in against two defenders made it all the more impressive.
And while that touchdown catch got all the attention, it was Byrd's second touchdown that proved to be the game-winner.
Early in the fourth quarter, Byrd ran a crisp slant against cornerback Josh Hawkins and created plenty of separation for Newton to deliver a clean strike for the 13-yard score that made it 31-17.
"We got exactly what we wanted," Byrd said. "We had our run game going and that play-action got all the linebackers up. The safety was on the other side of the field, and it was wide open."
Last week, it was a career-high five catches in a huge win over the Vikings. This week, it was the first two-touchdown day – college or pros – against Green Bay.
Damiere Byrd can't be overlooked anymore. No ifs, ands or butts about it.
"He killed it in the preseason, and it's great to see him come back from injury and contribute," tight end Ed Dickson said. "He's going to be a huge part of what we do going forward."