SPARTANBURG, S.C. – At times during Derek Anderson's snaps under center in Thursday's preseason opener at the Baltimore Ravens, he could claim as much NFL experience as all the other players in the huddle combined.
Yet, some of them have a better chance – knock on wood – of playing meaningful snaps for the Panthers this season.
Welcome to the world of the veteran backup quarterback, particularly one who backs up the league's reigning MVP.
"I really enjoyed being out there Thursday. Guys that haven't been in games before, I tried to keep them loose and get them the ball so they can make plays," Anderson said. "I've really embraced that role of helping our younger guys grow on the field."
If things go according to plan this season, Anderson probably played more snaps in the preseason opener than he'll play the entire regular season. This is Cam Newton's team, and when Newton is healthy, Anderson's gameday role is to provide support from the sideline.
But his role leading up to gameday is more significant than most people stop to think about, and Anderson also plays a significant role in the winning ways the Panthers have been enjoying in recent years.
Anderson certainly is enjoying it.
"There's a lot of things that people don't see, a lot of things that I have to do. It's not physically demanding, but there's a lot of mental preparation that goes into it every week," Anderson said. "I'm not old, but I'm getting there. I want to win football games. I want to have a chance to win a Super Bowl.
"If it's not me playing, it's fine. It's not the end of the world. I'll be ready to go if I'm called upon. But ultimately it's about winning football games and less about me winning football games."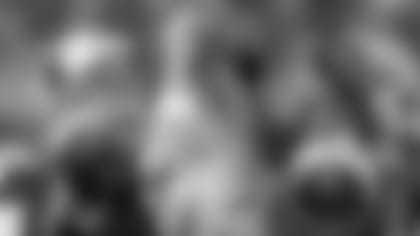 Anderson won in one of the most difficult places to win back in 2007, going 10-6 as the Cleveland Browns' starting quarterback and going to the Pro Bowl but not the playoffs after coming up short on tiebreakers. The four seasons before 2007 and the six after it, the Browns lost at least 10 games each year before eeking out a 7-9 mark in 2014.
Anderson, a rookie in 2005, originally signed with the Panthers prior to the 2010 season. He has re-signed four times, including a two-year extension prior to last season that runs through 2017.
"I was on so many bad teams and frustrating situations. Why would I go somewhere where a team has been struggling?" Anderson said. "Why would I put myself in that situation when I can be in a situation with these guys – a good team, great staff? It doesn't make a lot of sense.
"There were some talks with some other teams, but I told my guys, 'Let's make sure we get something done here.' It's the best locker room I've ever been in, the best group of guys I've ever been around as far as coming in day in and day out and working. We've got a lot of good guys that really enjoy working, and that's not always the case."
The group genuinely enjoys working together and playing together, and Anderson is usually right in the middle of it. Upon the Panthers' return to Wofford College for the final four days of training camp, Anderson set the stage for where the team's annual P-I-G tournament (an abbreviated form of H-O-R-S-E) stands entering the homestretch.
"Currently all three quarterbacks are still in it. I've got a big Elite Eight matchup after walkthrough," Anderson said. "Benji (Kelvin Benjamin) and I got flexed to Monday night; it's going to be a big one.
"I took (long snapper) J.J. (Jansen) down in the Sweet 16 – I was a 12 seed, he was the four seed. It was kind of a big deal."
Most of Anderson's attention will remain on another big deal – continuing to get the backups vying for roster spots prepared before he turns his full attention to getting Newton prepared for regular season games.
"It's a lot of fun for me," Anderson said. "I try to keep it loose in the huddle for those guys because I understand, I've been there. It's stressful for guys who have never been in that situation, who have never had that opportunity. And for the guys I went through the whole spring with, you've seen them grow and you've also seen them go through days where their coaches are on them all day.
"It's a little bit of a reprieve to get on the field to play."
View the top photos by team photographer Melissa Melvin-Rodriguez from Carolina's game against Baltimore.