CHARLOTTE – Not many people get transferred for work to the city where they already live, but Andy Lee – the Panthers' newly acquired punter – has done exactly that.
Monday, Lee was practicing in Cleveland as a member of the Browns, preparing for their final preseason game against the Chicago Bears on Thursday night. Shortly after, he was informed of his new assignment.
"I came in from practice yesterday," Lee said, "and they told me to go up and talk to (Browns general manager) Sashi (Brown). I had no clue what it was about."
Lee had been traded from the Browns, a team he joined just last season, to the Panthers. The Westminster, S.C., native and his family has lived in Charlotte the past three-and-a-half years.
"I was happy there," Lee said of Cleveland, "and from everybody I've talked to there, they were happy with me there. ...But honestly, being here is the biggest blessing from God I've ever had, because I'm with my family again, I'm with my wife, I'm with my kids, and it's just awesome to be with them and not have to be apart."
He joins a Panthers team that, as general manager Dave Gettleman puts it, had a hole to fill in special teams.
"People talking about checking boxes?" Gettleman asked. "Well, that's a huge box to check. He's an outstanding holder as well as a great punter, and it was just something we felt we needed to do. I feel like it's a real strong move."
A strong move it was. Lee is a three-time Pro Bowler (2007, '09 and '11) who currently ranks sixth all-time in gross punting average at 46.2 yards. He's also ninth best in NFL history at placing punts inside the opponent's 20-yard line, with 325 to his credit. He showcased some of that skill during his first practice in Charlotte, pinning three of five punts deep into the corner of the field with no chance of return.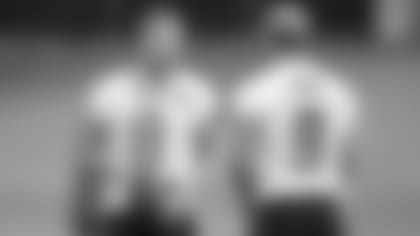 Head coach Ron Rivera was quick to recognize the three-time Pro Bowler's talents after Tuesday's practice.
"Andy kicked the ball well," Rivera said. "He's got a big, strong leg and we like the directional stuff that he does. We feel pretty good about that. We're hoping that we've got a guy that can come in and consistently put the ball on the sidelines."
That's right up Lee's alley.
"I definitely feel comfortable doing that," he said. "I've been doing it for a while. You put an opposing offense inside the 20, the chances of them scoring goes way down. It's kind of the circle of life, you put them down at the 10, you force them to go three-and-out, they punt on a long field... it gives our offense better field position."
Lee has played a prominent role on winning teams throughout his career. He was a member of the San Francisco teams that won the NFC West back-to-back in 2011 and 2012 and played in Super Bowl XLVII.
"I have some experience playing in those types of games," Lee said. "It's just awesome to be on a team that has the talent to be there and has the aspirations of being back there."
As you'd expect, his family is overjoyed to have him playing in their hometown. In fact, the first thing Lee's 6-year-old son asked upon hearing the news was whether his dad could get him an autographed Cam Newton football.
"They're definitely, definitely excited," Lee said. "It's the atmosphere around here. They definitely got the bug last year, and now we can all have the bug, so I think it's an awesome thing."
View photos of three-time Pro Bowl punter Andy Lee during his 12-year NFL career.