The top two teams in the NFC South standings beat the bottom two teams in the first Sunday that featured two division matchups, but that still didn't bring much clarity to the race.
"The NFC South has gone back to where it was a couple of years ago where it's going to be up for grabs until probably Week 16 or 17," NFL Network analyst Steve Wyche said. "At this point the Saints are playing well, but there's still a lot of football to play."
Wyche appeared on this week's Panthers Podcast (available above and on iTunes). In addition to a lengthy discussion on Cam Newton the running quarterback, Wyche offered his take on the NFC South race.
"Carolina is going to be there," Wyche said of the 6-3 Panthers. "They still have to figure out offensively what they are. The identity is just not there. They are relying so much on Cam, and that's going to bite them sometimes if teams can slow down Cam."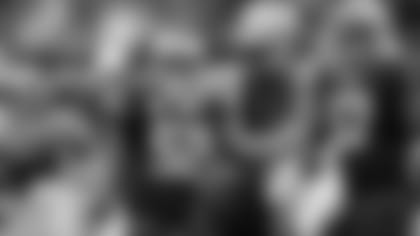 SAINTS: New Orleans won its sixth consecutive game, rolling past Tampa Bay to improve to 6-2 and maintain its half-game lead over the Panthers.
"The Saints are playing fantastic football," Wyche said. "Somewhat similar to the Super Bowl era (2009 season), except during that time they'd get up in the first half throwing the football and then they'd run in the second half to run clock to keep their defense off the field. Now they're running the ball more in the first half and they're playing more toe-to-toe football.
"Instead of beating teams by 20 points, they're beating them by three or seven by playing more physical football. That defense is really good. Right now they're the most complete team in the division, but they're still beatable."
FALCONS: The Falcons fell to 4-4 with their loss to the Panthers. This time last year, the Falcons were 5-3 before going 6-2 the second half of the season and then dominating the NFC playoffs on their way to the Super Bowl.
"Atlanta, Lord knows what's going on with them?" Wyche said. "They need to sit on the couch and have a conversation with a therapist. They're schizophrenic. They have no identity on either side of the ball, but with the talent, at any given minute they can go on a four-game winning streak."
BUCCANEERS: Hyped as a breakout team in the preseason, Tampa Bay once was 2-1 but dropped its fifth straight against the Saints. To make matters worse, quarterback Jameis Winston has been shut down until at least Week 12 with a shoulder injury, and wide receiver Mike Evans has been suspended for one game for his involvement in a skirmish against the Saints.
"Tampa Bay, we can go ahead and shovel dirt on their season," Wyche said. "They're a hot mess. Now they're shutting Jameis down for at least two weeks. They've got larger problems than any of the other teams in the division."
View the top photos from Panthers vs. Falcons by team photographer Melissa Melvin-Rodriguez and second shooters Andrew Dye and Jamey Price.