Ron Rivera is well aware that his Panthers, despite their strong play of late, are still looking up at the Saints in the NFC South standings.
He doesn't necessarily look at it as a bad thing.
"When you look at the parallels, it's kind of exciting," Rivera said. "And Atlanta flashed very well the other night, and Tampa stepped up and played well.
"We have to keep pace obviously, and the only way you do that is focusing on the game you're playing and then see what happens after that."
Everyone in the NFC South won in Week 10, and as the stretch run of the season approaches, it's not out of the realm of possibility that the division snags both NFC wild card spots. That last happened in 2007 when the NFC East had three teams qualify.
The Saints (7-2) and Panthers (7-3) would be in the playoffs if the season ended today, and the Falcons (6-4) trail Carolina and Seattle by just one game.
SAINTS: New Orleans reeled off a seventh consecutive victory, and this one matched the first win in the streak (Week 3 at Carolina) in terms of impressiveness. Facing a Bills team that was unbeaten at home, the Saints steamed to a 47-10 triumph that prompted Buffalo head coach Sean McDermott to bench veteran quarterback Tyrod Taylor in favor of rookie Nathan Peterman for Week 11.
Simply put, the Saints are rolling. They rushed for 298 yards and piled up six rushing touchdowns, and a defense that was dead-last in the league by a good margin through two weeks now ranks fifth in scoring defense and eighth in total defense.
This Sunday, New Orleans returns home to face a Washington team that's dangerous but inconsistent, winning at Seattle two weeks ago before getting gashed at home against Minnesota this past week.
FALCONS: Atlanta bounced back from its loss at Carolina with its most impressive performance of the season – and really only its second truly impressive performance of the season. Looking like a Super Bowl-caliber team just as they did back in Week 2 against the Packers, the Falcons flashed away from home in a 27-7 demolition in Dallas.
The Cowboys had been rolling but got rolled by a Falcons pass rush that racked up six sacks. Actually, Adrian Clayborn racked up six sacks by himself (he had two sacks entering the game) while his teammates added two more as the Cowboys clearly missed injured left tackle Tyron Smith even more than suspended running back Ezekiel Elliott. Eventually, the Cowboys turned to former Panthers tackle Byron Bell.
The Falcons flourished with a Panthers/now Saints-like formula built around defense and running the ball, despite losing running back Devonta Freeman early to a concussion.
So are the Falcons back? Perhaps that answer will come on Monday Night Football against a Seahawks team struggling to get consistent offensive line play but winning in spite of it. If Atlanta wins, the Falcons would take over the NFC's last playoff spot. They're in a strong position in terms of tiebreakers, having a 3-0 mark against the conference's other 5-4 teams.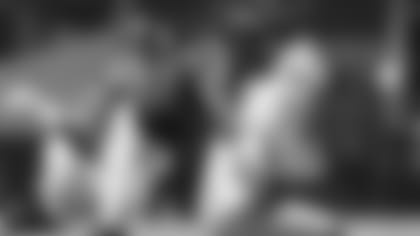 BUCCANEERS: Tampa stopped the bleeding with a 15-10 home victory over a Jets team that will serve as the Panthers' next opponent after their bye. The Buccaneers had dropped five straight but gutted out a win with quarterback Jameis Winston out with a shoulder injury and wide receiver Mike Evans serving a one-game suspension.
The Buccaneers, now 3-6, would be on their bye this week but will instead visit the Dolphins in a game that was supposed to be played Week 1 but was moved to Week 11 because of Hurricane Irma. Both of those Florida teams – unlike the Jaguars – could use a break, literally and figuratively.
View the top photos from Panthers vs. Dolphins by team photographer Melissa Melvin-Rodriguez and second shooter Andrew Dye.