CHARLOTTE – Fozzy Whittaker did well with 100 rushing yards against the San Francisco 49ers in place of injured running back Jonathan Stewart, but Cameron Artis-Payne, likely will serve as Carolina's "feature back" Sunday against the Minnesota Vikings.
And he sounds more than ready for the chance to shine.
"Oh, my confidence is through the roof," said Artis-Payne, who was inactive for the Panthers' first two games. "We're just going to see what happens."
During his rookie year, Artis-Payne played in seven games and racked up 183 rushing yards (4.1 yards per carry), converting 10 first downs and scoring once.
That backs up a first-team All-SEC selection during his senior season at Auburn in which he ran for 1,608 yards (5.3 yards per carry), the third-highest season total in school history, and 13 touchdowns.
"All he's ever needed was the opportunity," head coach Ron Rivera said. "We didn't have Stew at the end of the season, so he got his opportunity and performed really well and did some really good things. And then this preseason, I thought he had a really good preseason."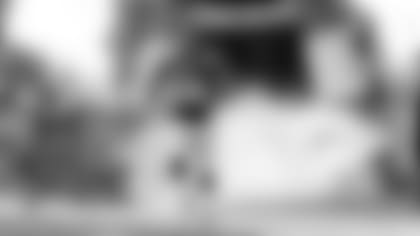 The coaching staff has always expressed confidence in Artis-Payne, and Whittaker is excited for his teammate to have an extended opportunity.
"He's been great," Whittaker said. "I can't wait to see him finally be active in his first game this year, and I know he's going to take every opportunity to take advantage of it, the same way that I did. He's just as hungry."
When Artis-Payne graduated from Harrisburg (Pa.) High School, he had zero offers to play collegiately. After two years at Allan Hancock College – the same community college in Santa Maria, Calif., where John Madden began his coaching career – that included first-team All-American recognitions, he finally earned a spot on Auburn's roster. The position: backup running back, forcing him to wait another year for his turn at the starting position, and leaving only one year to avoid what happened after high school.
One could expect a player that has been waiting for his turn on a daily basis to be timid when finally handed the ball for the first time this season. Artis-Payne isn't that player.
He graduated from Auburn with a degree in philosophy, and that education pays off on the gridiron more often than one might expect.
"Philosophy, a lot of times, is well thought-out quotes," Artis-Payne said. "But through that, I learned a lot of patience. I've just been looking at, through history, all the great scholars that ever came up with any quote that you kind of know, a lot of times patience is a key to that stuff."
Of those quotes, he doesn't have a favorite. And with this coaching staff, he certainly has his options to choose from.
"I'm overloaded!" he exclaimed. "We've got a million quotes in the room now. In special teams, Coach (Thomas McGaughey) gives us about three quotes a day. Head Coach (Rivera) gives us about two. Skip (Jim Skipper), he gives us about three. I can't keep up anymore. I've been trying to write them down, but they flip the screens too quick for me."
But, all those teachings, be them inside the classroom or on the football field, has given him a broader perspective than many second-year players in the NFL.
"There's always another step in this journey, no matter whether you're in Year Two or Year 10," Artis-Payne said. "You're always learning something different. It's just another step."
View photos from the Panthers' week of practice leading up to their game against Minnesota.