CHARLOTTE – Jovially joking around with his fellow running backs before the first meeting of the offseason workout program began Monday, Cameron Artis-Payne had the look of a player who can't wait for the start of the season.
Then again, the waiting game is one Artis-Payne knows well.
The start of the nine-week offseason program is the first tangible sign that things are beginning to take shape for the 2018 season, but the reality is that the regular season opener remains nearly five months away. When it finally does get here, Artis-Payne could have his best chance to date to show that he's arrived as an NFL running back.
"I feel great about the opportunity," Artis-Payne said. "I feel like I'm prepared and I can make some big things happen to continue the tradition of productive, high-level running backs that the Panthers have had over time. I'm looking forward to it."
The running backs were their usual smiley selves Monday morning, picking up where they left off last season almost as if nothing had changed. But something substantial has changed: Jonathan Stewart, the man in the middle of running back row in the locker room and the man who became Carolina's all-time leading rusher last season, is now a New York Giant.
Stewart struggled at times while weaving his way to the franchise record in 2017, finishing the year with 3.4-yard-per-carry mark, the lowest of his 10-year career. The Panthers released him February 28, and two weeks later the Giants signed him.
Stewart's midseason struggles led to some calls for Artis-Payne to get an extended look alongside rookie Christian McCaffrey. But by and large, through a minus-4-yard rushing game against the Eagles and two lost fumbles against the Falcons, the Panthers stuck with Stewart.
But Artis-Payne, who had looked like a candidate for more carries his first two years in the league as well, understood.
"Last year was a learning experience just as far as understanding how things play out sometimes in this league," Artis-Payne said. "Yes I had a great preseason, but at the end of the day you had a guy that had earned the right to go out the way he wants to go out.
"Me and Stew were close, so we had an understanding. We talked and all of those type of things, so it was nothing for me really to wait my turn."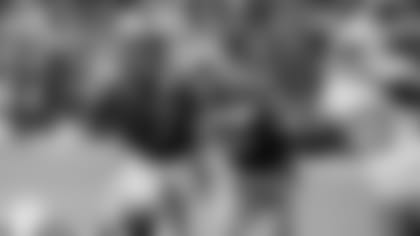 Artis-Payne's preseason performance – NFL bests in both yards (180) and rushing touchdowns (three) – still was significant because if nothing else it assured that he remained a Panther, causing Carolina to find room on the 53-man roster in a crowded backfield. But then he went back to waiting, something he has plenty of experience with.
In high school he waited behind a guy named LeSean McCoy before transferring to another Pennsylvania high school for his senior season. He excelled at Harrisburg High School, rushing for nearly 2,000 yards and more than 30 touchdowns as a senior in 2007, but grades kept him from getting the scholarship offers he hoped for in either football or basketball.
A year of prep school didn't pique recruiters' interest, and Artis-Payne was out of the game for nearly two years. Still he was waiting for a break, one that came when a former coach told him of a junior college across the country in need of a running back. Artis-Payne piled up 3,412 yards and 43 rushing touchdowns over two seasons at Allan Hancock College in Santa Maria, Calif., earning him a shot at Auburn. After getting limited chances behind Tre Mason in 2013, Artis-Payne paced the Southeastern Conference with 1,608 rushing yards in 2014 and the Panthers drafted the then-24-year-old months later.
He's been back to the waiting game with the Panthers, carrying the ball just 99 times through his first three seasons. With Stewart gone the Panthers are now in need of a bruising back to pair with McCaffrey, and while the draft in less than two weeks could change things, Artis-Payne is ready to answer the call.
"I've just been training, getting ready for this happening, and trying to raise my daughter – and not getting any sleep," said Artis-Payne, who has spent most of the last three months around Charlotte with his six-month-old daughter. "I'm excited for it. I think I came in in great shape, dropped some weight, dropped some body fat, things of that nature. I'm 212 and dropped body fat; I'm feeling good about it. End of last year I was probably 217.
"I'm looking forward to getting on the field."
For now, Artis-Payne was talking about getting on the practice field. But, of course, it's all in anticipation of getting on the field of play more now that Stewart has a new address.
"There's definitely an adjustment with Stew not being here. Stew was our leader," Artis-Payne said. "There's going to be an adjustment period, but all in all it's still the same chemistry with a lot of the same guys back. We're just going to continue to carry the torch."
View photos of offense and defense as they start 2018 the strength and conditioning program.