Can you give us early bold predictions on offense and defense? - @TGCPanthersfan on Twitter
OK, so the idea of going bold in my world would be going with medium heat on chicken wings, but since it is so early and these will be long forgotten before the season starts, I'll spice it up a bit:
Jonathan Stewart will threaten the 1,000-yard club again.
The Panthers' decision to draft running back Christian McCaffrey in the first round is good news for the offense, but don't assume it to be bad news for Stewart's stat line. A month before the draft, the Panthers moved to sign Stewart to a contract extension through the 2018 season, at which time he showed enthusiasm over the possibility of the Panthers adding running back talent via the draft (LINK).
Stewart knows from his "Double Trouble" days that two backs can thrive in the same offense, especially one built like the Panthers that has ranked in the top half of the league in rushing for 10 seasons running. Stewart missed three games each of the past three seasons and was on pace to total 3,227 yards had he played in every game. He has a better chance of staying healthy with McCaffrey in the mix.
The defense will return to top-10 form.
With rookies starting at cornerback and linebacker Luke Kuechly missing six games last season, the Panthers saw their streak of four consecutive years with a top-10 defense end as Carolina came in 21st in yards allowed. The corners got better as the season proceeded and added Captain Munnerlyn to the mix, and Kuechly is back.
Finishing in the top 10 won't be easy in the explosive NFC South, but I think the Panthers can again pace the division in defense.
Safety and tight end will be just fine.
Many hoped the Panthers would add some depth at safety and tight end during the draft, but they didn't and then they passed on adding anyone after the draft and even parted ways with safety Tre Boston. That shows the team feels good about the veteran combination of Kurt Coleman and newly acquired Mike Adams at safety and believes a couple of youngsters already on the roster could be ready to step up. And while another option at tight end would be nice, it's hard to argue with again entrusting that positon to Greg Olsen.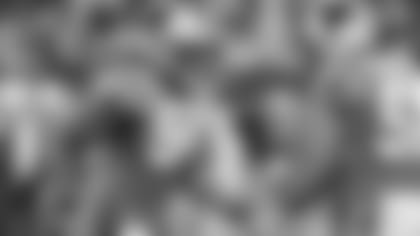 Do you expect Shaq Thompson to take more snaps this upcoming season? – Ollie in London
Common sense suggests that could be the case, and so does Steve Wilks.
"We've got to create more packages for him," Wilks said.
The Panthers' new defensive coordinator recently sat down with our very own Bill Voth to discuss a variety of topics, and finding more ways to use the team's talented third-year linebacker was at the top of the list. It won't be easy, of course, with Luke Kuechly and Thomas Davis still leading the way and with the preponderance of nickel packages that typically call for just two linebackers, but Wilks said his hopes of keeping Davis fresh for the long haul should equate to Thompson being on the field more often.
Thompson is a dynamic playmaker just coming into his own. With a few more snaps, his impact could grow right along with his personal growth as a player.
We have the potential to be 3-0 heading into Week 4 at New England. Could this be the 2017 version of Seattle in 2015? – @JHawk_50 on Twitter
The first three games aren't cakewalks but the Panthers do have a shot of starting 3-0, opening at a 49ers team coming off a 2-14 campaign and then drawing back-to-back home games against a pair of teams in Buffalo and New Orleans that went 7-9 last year. Next up is a trip to Foxboro to face the reigning Super Bowl champions.
Back in 2015, a Carolina team coming off a losing year (albeit a playoff year at 7-8-1) started 4-0 against competition some questioned before visiting a recent nemesis in the Seahawks. The dramatic victory that day signaled that it could indeed be a special year, and sure enough it was with a 15-1 record and Super Bowl appearance.
The Seahawks had won 24 of their previous 26 home games before that 2015 showdown; the Patriots will enter the 2017 season having won 29 of their previous 33 home games. It's just one game, win or lose, but it's only natural to believe that a win in New England could again be the start of something special.
View photos of several Panthers posing for the camera in uniform.