Philly Brown has shown he can be an asset in the return game but has also had a couple of muffs. Do you think the reward outweighs the risk in his case? – Josh in Rochester, N.Y.
Brown, an undrafted rookie from Ohio State, scored his first NFL touchdown with a rather unique 79-yard punt return against the Bears on Sunday, when he picked up a loose ball after being hit early while trying to field the punt.
"I turned and was kind of just barking at the ref, telling him how I felt, and I looked down and the ball was right there," Brown explained. "Nobody was trying to recover it, so I just picked it up and ran. Jason Williams made a heck of a block, and a couple of other dudes had some good crackbacks, but most of their players were just kind of standing there. It was kind of weird."
Later in the game, Brown nearly gave it back, fumbling a punt at the Carolina 15-yard line that cornerback Antoine Cason recovered for the Panthers.
It has been a mixed bag so far for Brown, who also fumbled a punt that was scooped up for a touchdown by Pittsburgh in Week 3. Still, it's clear how head coach Ron Rivera feels about Brown's value.
"It's not all on him," Rivera said. "We've got to be able to sustain blocks. It's something we work on every day. We should just be better at it in my opinion.
"With his quick burst and his dynamic ability to pop through a hole, we just have to give him a chance."
Brown remains a work in progress, and with Cason – who has two punt returns in the last three-plus seasons – as his backup, Brown will continue to get work. He'll only get better with ball security, and he's already good at making cover men miss. There have been just 36 punt returns of 20-plus yards in the NFL through five weeks, including four touchdowns. Brown can claim both a touchdown and a 20-plus-yard return that didn't go the distance.
While watching the recent games on TV, it appears to me that Cam tends to concentrate on Kelvin Benjamin as the primary receiver. Is Cam going through all of his progressions for pass receivers, or is he neglecting to see all of the field? Thanks – John in Castle Hayne, N.C.
By definition, a team's No. 1 receiver is going to be its most targeted receiver, and Benjamin is playing like a No. 1 receiver as a rookie. In Newton's four starts, he leads the team with 39 targets, but Newton isn't looking just Benjamin's way. Tight end Greg Olsen has 29 targets in Newton's starts, and wide receiver Jason Avant has 20. Jerricho Cotchery has 15 despite missing a game, and Brown has 14.
Newton targeted Benjamin 11 times against the Bears. Although they connected just three times, Benjamin drew a crucial pass interference penalty and drew the attention of the defense toward him and away from others. As I wrote yesterday, Newton is spreading the ball around better than ever. Perhaps it feels like Benjamin is filling up your TV screen because of the big man's striking stature.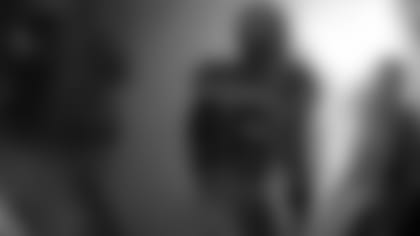 Will the team ever let Brandon Williams get some playing time given how he's made plays in preseason games? – Brandon in Florence, S.C.
Williams may well be on the verge of getting some chances to shine in the regular season after doing just that in the preseason, but it's a tough position for a breakthrough. Olsen ranks third in the NFL in both receptions (27) and receiving yards (326) among tight ends and is tied for third with four touchdowns, while backup Ed Dickson has started twice when the Panthers opened with two tight ends and made his first two catches of the season against Chicago. Williams was targeted twice against the Bears and should be active most games going forward after the Panthers placed Richie Brockel to injured reserve with an ankle injury.
Do the Panthers need to worry about drafting a franchise running back anytime soon? – Sam in Champlin, Minn.
The notion of building a team around a running back isn't a very popular one these days, when the preponderance of passing games have teams instead searching for a franchise quarterback to lead them. The Panthers certainly understand and appreciate the value that running backs bring, especially last week with their three-headed monster of DeAngelo Williams, Jonathan Stewart and Mike Tolbert all hobbled.
While the Panthers missed those weapons, they outrushed Matt Forte and the Chicago Bears with undrafted rookie Darrin Reaves and recently signed Chris Ogbonnaya.
The tide could always turn back to building around a running back, but that's not where things now stand. In 2013, no running back was selected in the first round of the NFL Draft for the first time since 1963. It happened again in 2014.