Will Cam's injury change draft plans? Are the Panthers more likely to target a complete running back who can catch, a second tight end for blocking or a late-round quarterback? – Lee in Wilkesboro, N.C.
Those are all things the Panthers might consider in next month's NFL Draft. They wouldn't be considering them, however, as any sort of knee-jerk reaction to the news that quarterback Cam Newton will have arthroscopic surgery on his throwing shoulder.
First and most importantly, Newton is projected to be ready for training camp, and in the meantime he'll be able to prepare for the season through mental reps and meetings – an underappreciated part of offseason training. If the Panthers draft a running back, it will be to add punch to an offense looking to improve. If they draft a tight end, they'd try to target a complete one who can block and catch. If they draft a quarterback, it would be with Derek Anderson's "veteran status" (this will be his 13th season) more in mind than Newton's rehab.
Newton's injury doesn't create a draft-day need per se, leaving Carolina's focus for the draft being on the need to get better as a team. General manager Dave Gettleman has accomplished his goal via free agency of setting the Panthers up to draft the best prospects regardless of position. I absolutely could see Carolina picking some of the positions you mentioned, but not because Newton is set for surgery.
I think the Panthers should draft a defensive end in the first round and a running back in the second. The running back class seems deep, but only four defensive ends stand out to me. What do you think? – Dallon in Salt Lake City
"The safeties, the corners, the running backs and defensive ends – it's a pretty heavy group," Gettleman said. "At those four positions, there's a lot to pick from."
There's a lot of draft-eligible talent at running back and defensive end, but I believe the nature of the positions tends to make it easier to find running backs versus defensive ends later in the draft that can contribute on a high level. On the other hand, the amount of elite-level talent (worthy of the first couple of rounds) is arguably deeper at defensive end, with it possible that twice as many defensive ends go in the first two rounds as running backs.
Of course as it pertains specifically to your question, the only thing that matters as things are currently constructed is who will be available come the eighth overall pick and the 40th overall pick. What if Leonard Fournette and Solomon Thomas aren't selected in the top seven? What if Christian McCaffrey and Taco Charlton are still available early in the second round?
Those hypotheticals only touch on two positions of course, so they're only the beginning of countless scenarios the Panthers will try to anticipate as the draft draws nearer. It's also one of the reasons we love the draft.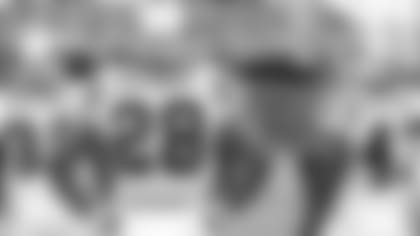 Hey Bryan, with all the talk about running backs in this draft, are Cameron Artis-Payne and Fozzy Whittaker getting overlooked? Do you think they will play a bigger role going forward, or are they looking to move towards someone else as the starter once Stewart retires? – Mitch in Greensboro, N.C.
Good question, partially because it's tough to answer. I do think Stewart is being overlooked a bit by outsiders. The team has entrusted him with the lion's share of carries the past two seasons. He's delivered and is ready to do the same if asked again.
I don't think the team is overlooking the importance of Whittaker, who re-signed with Carolina through the 2018 season after posting career highs in rushing yards and receiving yards and receptions. Whittaker is more of a change-of-pace back, a role somewhat set apart from what Stewart and potentially Artis-Payne or a 2017 draft choice could be asked to do. The last time we saw Artis-Payne was in Week 5 of last season, when he rushed for 85 yards and two touchdowns in place of an injured Stewart.
The Panthers have been comfortable with Stewart toting the load, but with the expectation that the offense wants to move closer to its power running roots, it could provide an opportunity for someone to share the load. It's just too early to say who or how much.
View photos of Panthers running back Jonathan Stewart during his football career.