How great was that Super Bowl? Is there anything better than seeing Atlanta lose? But seriously, I hear we may get a third-round compensatory pick this year. What are those picks, and how is it determined who gets them? – Crystal in Fletcher, N.C.
I can't fully flesh out the compensatory pick formula – "You've got to go to MIT and be a graduate in astrophysics to figure that out," general manager Dave Gettleman once said – but still I have good news.
Most everyone believes the Panthers will be awarded a third-round compensatory pick.
Each March, the NFL doles out 32 picks that are added to the end of rounds 3-7 as compensation for teams' net losses in free agency the previous year. Cornerback Josh Norman was one of the top free agents around the league last year, almost surely adding up to a third-round choice for Carolina in this year's draft.
The Panthers have been awarded 16 compensatory picks in franchise history, most recently turning two fifth-rounders in 2015 into linebacker David Mayo and running back Cameron Artis-Payne. Previous picks that made a notable impact are few and far between, with offensive lineman Geoff Hangartner (2005) and punter Brad Nortman (2012) arguably the most productive picks of the past. That could partially be because the Panthers have earned a compensatory pick in the first four rounds just once. In 2011, as compensation for defensive end Julius Peppers, the Panthers received a third-round pick that they used on defensive tackle Sione Fua.
As for the first part of your question, I'll remain mostly silent, other than stating the obvious about Super Bowl LI: seeing the Panthers prevail would have been sweeter.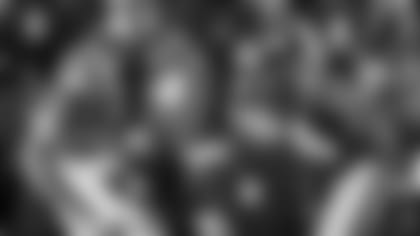 Is KB staying with the Panthers? – Stacey in Dallas, N.C.
There are no guarantees in this world, but yes, wide receiver Kelvin Benjamin should be a Panther for the foreseeable future. This question does provide the opportunity talk a little bit about player contracts and pending free agency. Since a new Collective Bargaining Agreement was signed in 2011, first-round draft picks like Benjamin have signed four-year contracts, and Benjamin will be in the fourth and final year of his in 2017. In addition, teams hold a fifth-year option on all first-round draft picks, an option most recently exercised by the Panthers on 2013 first-round pick Star Lotulelei. That's why Lotulelei isn't on Carolina's list of potential free agents while fellow defensive tackle Kawann Short – a second-round pick in 2013 – is. The fifth-year option only applies to first-rounders.
By the way, this isn't the first time I've gotten a question from Dallas, N.C. I've also gotten questions from Denver, N.C., but am still waiting to hear from Washington, Jacksonville and Cleveland. I also recently discovered that there's a Minneapolis in North Carolina (population 429), a few miles west of Grandfather Mountain. Who knew?
How can I receive Panthers News Updates via email? – Kandy in Gastonia, N.C.
I've got your connection right here. Just sign up via this link, and each day you'll receive an email with convenient links to all the latest news and information at Panthers.com. Even I'm a subscriber – it's just that dang handy.