Can the Panthers expect Daryl Worley and James Bradberry to be the answer at corner in the future? – Jolene in Hickory, N.C.
When I profiled the pair's promising progress during the Panthers' protracted trip out west, cornerback Leonard Johnson predicted that Worley and Bradberry are going to be very special players. The significance of "very special" is obvious. But also important was the inclusion of the words "are going to be."
"There's a development process that has to take place, and these guys are still going through it," defensive coordinator Sean McDermott said. "These guys are young; they're not finished products. The goal is to be better than yesterday.
"We've been on the path we envisioned the whole way because there are always going to be growing pains. It's how you handle those times that determines how far you go."
The ability of Bradberry and Worley to grow was hampered early in the season by injuries, and they couldn't get back to truly growing together until they finally were able to be in the starting lineup at the same time in Week 9. While different combinations of starters at cornerback yielded 16 passing touchdowns over the first seven games, the Bradberry-Worley combination has allowed eight passing touchdowns in its six starts together.
"Those guys have produced and performed very well. I think we're seeing it each week, and they're at a point you would hope they would be," head coach Ron Rivera said. "Going forward, these are guys that have the ability to be here for a while and be productive for us."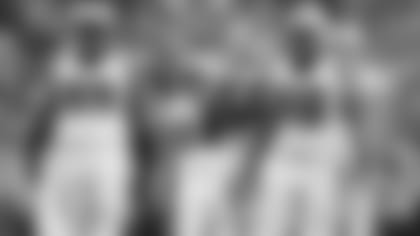 I think the biggest disappointment for me this year has been the pass rush, besides Star and Short. Does the Vernon Butler injury make it more likely Short is franchised? What of Kony Ealy? Who do you see as long term fits? – Brian in Washington, N.C.
I'm sure it snuck up on a lot of people, but check this out: The Panthers now pace the NFL with 39 sacks this season.
It feels a lot like last offseason, when some folks were calling for Carolina to upgrade at defensive end, even coming off a season in which the Panthers finished sixth in the league with 44 sacks. Carolina chose to stand pat, and a slow start to the season in terms of pass rush elicited an I-told-you-so response. But now, the Panthers have more sacks than anyone.
Are there questions to be answered and potential moves to be made in the offseason? Absolutely. The rookie contract of defensive tackle Kawann Short, coming off a two-sack game, is set to expire this offseason. At defensive end, Kony Ealy hasn't yet achieved the consistent production he and the coaches crave, while bookend veteran Charles Johnson is finishing up a productive year on a one-year contract.
There's always a need to evaluate and evolve, but with one more sack this season, the Panthers will put up a fourth consecutive season with at least 40. Only three other teams (the Broncos, Vikings and possibly the Packers) appear on pace to be able to say the same.
Not that I'm feeling optimistic, but what is the exact scenario it would take to make the playoffs? – Zach via Twitter
It's fitting that your handle is @KeepPounding95 because it is going to take a Herculean effort – and frankly a lot of help – for the Panthers to reach the playoffs for a fourth consecutive season. Carolina is taking it one game at a time, so I will do the same and look at just Week 15, when the Panthers' fate unfortunately could already be sealed before they play Washington on Monday Night Football.
Looking at Sunday's early slate, the Panthers' wild card hopes will end if either the Vikings (hosting the Colts) or the Packers (visiting the Bears) are victorious. In the late afternoon games, the Falcons could officially end Carolina's hopes of winning the NFC South with a victory at home over the 49ers. If the Falcons lose, the Buccaneers could end Carolina's division hopes on Sunday Night Football against the Cowboys. So, if either the Vikings or Packers win early Sunday and then either the Falcons or Buccaneers win late Sunday, the Panthers will not be returning to the playoffs. Or, if just the Falcons and Buccaneers win, Carolina is eliminated.
Making it to Monday night with playoff dreams intact won't be easy, and then making it home from Washington with hope alive for Week 16 won't be easy. But for now, hope is alive.
View the top photos from Panthers vs. Chargers by team photographer Melissa Melvin-Rodriguez.