With Roman Harper and Thomas DeCoud in the defensive backfield, will just their presence alone cause teams to think twice before they throw deep balls because of the experience? – Gregory in Kannapolis, N.C.
Safeties Harper and DeCoud and cornerback Antoine Cason at cornerback, a trio of veterans the Panthers signed in the offseason, entered 2014 with a combined 35 interceptions and 22 forced fumbles. Through two games, they've teamed up to record two of each, and DeCoud created a third interception with blanket coverage and a tip against Calvin Johnson in Sunday's victory over the Detroit Lions.
"When we looked at Thomas DeCoud, one of the things we talked about was getting him back to the form in 2012 when he had six interceptions," head coach Ron Rivera said. "Cason knows our philosophy from when we were in San Diego that we want to be a takeaway team, and then there's the aggressive nature to how Roman Harper plays."
The Panthers did well for themselves by forcing 30 turnovers last season, tied for sixth in the NFL, and by turning the ball over just 16 times in 16 games – third fewest in the league. But they've outdone themselves through two games, leading the league with six takeaways and in turnover margin. Carolina is yet to turn the ball over.
Are we possibly down to one healthy running back? Any word on the condition of Mike Tolbert and Fozzy Whittaker? - Bryan in Raleigh
Head coach Ron Rivera provided a mostly positive update Monday on the two running backs injured during Sunday's win as well as starter DeAngelo Williams, who missed the game with a thigh injury. To shore up their depth at the position, the Panthers signed rookie Lache Seastrunk to the practice squad Tuesday after the Jacksonville Jaguars signed wide receiver Tavarres King off their practice squad. Seastrunk, selected in the sixth round of the 2014 NFL Draft by the Washington Redskins, joins running back Darrin Reaves on the practice squad. Seastrunk recorded consecutive 1,000-yard seasons at Baylor, leading the Big 12 with 1,177 yards last season.
I honestly think that if the team we have right now can play to the best of their abilities every game, we have a shot at the Super Bowl because the only defense that can compete with ours is the Seahawks. They won it last year, so can you see us making the Super Bowl this year? – Michael in Garner, N.C.
The Panthers have won 13 of their last 14 regular season games, the best record in the NFL during that stretch. They're one of just seven unbeaten teams in the NFL and one of just three in the NFC. They're already two games ahead of consensus favorite NFC South favorite New Orleans.
That being said, it is very early. Last season, when the Panthers were 4-3 and the Saints were 6-1, I wrote that the division title was still a realistic possibility. Given that, it's only fair to say that the Saints (and everyone else in the NFC South for that matter) are still in the running.
But, as a recent NFL-sponsored ad campaign proclaims, why not us?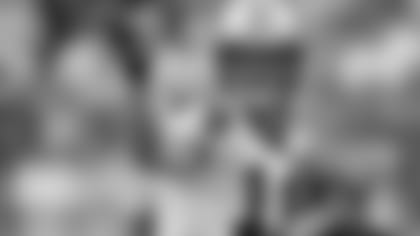 Why has Brenton Bersin's jersey number switched from 2 to 11? Is there a No. 11 jersey for sale? – Joe in Liberty, N.C.
Bersin had to switch because the NFL doesn't allow wide receivers to wear single-digit numbers during the regular season. He wore No. 2 on the practice squad last season, but he isn't very particular about numbers. Bersin wore 10 at Wofford, and had previously donned 5 and 87 with the Panthers.
Just be careful with the spelling of the name on the order form because all sales of customized jerseys are final.
If we miss the live feed of Panther Talk, can it be watched at a later date? I can never seem to find it. – Vicki in Morehead City, N.C.
Panther Talk airs live from Bank of America Stadium every Monday during the season at 8 p.m. on Panthers.com. In years past, you were out of luck if you didn't catch it live, but now Time Warner Cable subscribers throughout the Carolinas get a second chance.
Time Warner SportsChannel (323) will air the show a second time most Monday nights as well as multiple times the next day. This week, the show was scheduled to re-air five times, including Tuesday night at 7 and 9.