What sparked the defensive line? - Garland in Homestead, Fla.
If that question could be easily answered, the Panthers would have implemented the change long before Week 8, but it's better late than never. After recording 12 sacks through six games, the Panthers have 12 sacks in two games following the bye and now rank fourth in the NFL with 24.
One thing that happened was simply the bye week itself. The break allowed time for the players to lick their wounds – physical and mental – and allowed coaches more time to look inward rather than toward the next opponent.
They redefined the rotation and fine-tuned roles, including the insertion of run stopper Wes Horton into the starting lineup to help make opponents one-dimensional and the decision to bring Kony Ealy off the bench in passing situations. Increasing Horton's role decreased the other three defensive ends' snap counts, a development that no doubt played a role in Mario Addison's two-sack effort Sunday.
The offense's chance to self-scout during the bye helped the defense as well, with offensive coordinator Mike Shula tweaking the game plan in a way that has led to faster starts. Early leads are always good for the pass rush.
But as much as anything, it's about the defensive line finding inspiration in a combination of ways. An impassioned message delivered by Charles Johnson helped, as did the chance right after the bye to face Carson Palmer again after dominating him in last year's NFC title game. But as much as anything, the defensive line - like the rest of the team - realized how truly against the wall it was coming out of the bye, a set of circumstances to which this group of players always seems to respond.
Cam Newton's accuracy seems to be inconsistent. Is this a misconception? If not, what needs to be done to help Cam make passes with better accuracy more consistently? – Joe in Cary, N.C.
That's not a misconception, but if there is a misconception, it's that a low completion percentage is a big hindrance to Newton's production. The reality is, Newton with his style of play does more with less in terms of completions than any quarterback in the league. Derek Anderson completed 64.3 percent of his passes in his one start the season – a higher mark than Newton has recorded to date – yet the Panthers scored just 14 points in that game. Only one primary starter has a lower completion percentage than Newton so far in 2015, yet the Panthers rank ninth in the league in scoring at 25.5 points per game. That number matters more than completion percentage.
In his first five NFL seasons, Newton ranked among the bottom half of starting quarterbacks in completion percentage, but he ranked in the top half of the league in quarterback rating every season. The most striking example was last season, when Newton ranked 27th among primary starters in completion percentage but ranked eighth in quarterback rating. He was named the league's Most Valuable Player.
So far this year, Newton ranks just 26th in rating, but there's plenty of football still to play. He had 11 touchdown passes versus six interceptions through seven games last season, not much different than the nine touchdown passes and six interceptions he now has at the same juncture. Last year, Newton finished with 35 touchdowns against 10 interceptions.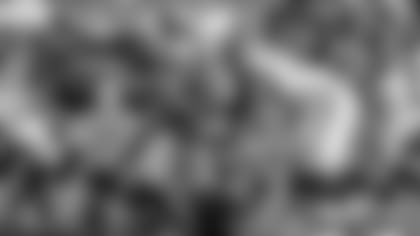 How lucky are the Panthers to have someone like A.J. Klein? He was really solid filling in for Shaq against the Rams. - Veronica in Waterloo, Iowa
Klein made one of the least discussed big plays Sunday when, late in the first half in a 7-0 game, he combined with fellow linebacker Luke Kuechly to throw Todd Gurley for a loss on fourth-and-1 from the Panthers' 38-yard line.
A fifth-round draft pick out of Iowa State in 2013 (he had no business still being on the board then), Klein has now started at least one game in each of his three-plus seasons and could reprise that role in place of Shaq Thompson this week. Klein started two games at weakside linebacker in place of injured Chase Blackburn as a rookie; he was the starter on the strong side in 2014 whenever the Panthers opened in their base defense; and he started games in place of Kuechly in the middle and Thompson on the strong side last season. He's always been a factor on special teams, and he's only missed three career games.
That type of versatility and reliability is invaluable in the NFL.
View the top photos of the Panthers' win against the Rams by team photographer Melissa Melvin-Rodriguez.