I don't feel we got any better with this draft. The issues we had still look like issues – offensive tackle and defensive back still really worry me. If they were going to stay at No. 8, why not take one of the highly rated defensive backs? If not, why not trade back and take one of the offensive tackles? – Wayne in Jacksonville, Fla.
I can understand having some level of concern about tackle and DB, but I can't see saying the Panthers didn't get better via the draft – including at those very positions. Carolina took rock-solid offensive tackle Taylor Moton with the final pick of the second round and could have gotten a steal (see below) with the selection of cornerback Corn Elder in the fifth round. The tackle position isn't set in stone, with Michael Oher trying to bounce back from a concussion, but the addition of Moton via the draft and Matt Kalil via free agency certainly qualifies as addressing the spot. Elder should provide immediate depth at corner. The Panthers didn't draft a safety, but they did add a good one in free agency (Mike Adams) and felt good about the group to waive contributor Tre Boston.
Rather than take a DB at No. 8 or trade back for a tackle, the Panthers took dynamic playmakers with their first two picks in the form of Christian McCaffrey and Curtis Samuel. Both can play about every offensive position but tackle, but as players that Newton can get the ball to quickly, their presence will help the offensive line get the job done.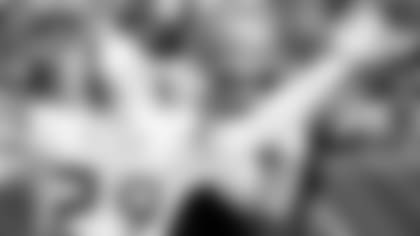 Do you think Corn Elder was Carolina's biggest steal of the draft? I think this kid is a future Hall of Famer! – Taurus in Rochester, N.Y.
Sounds like the Corn Elder fan club starts here, with Taurus at the head of the line. Maybe you can rent out a section at Bank of America Stadium next season and call it the "Corn Row."
In all seriousness though, I understand your excitement. Elder reminds me of Captain Munnerlyn, the bulldog of a nickel corner that Elder is expected to back up. Both have long dealt with questions about whether they're big enough to compete, but both continue to defy the odds and bring a physical edge to their game. Both also have a knack for being around the football: In the case of Elder, who racked up 23 passes defensed over his final two seasons at Miami – pacing the ACC in that category last season. He also recorded six career sacks.
"I'm going to give everything I've got," Elder said moments after being selected in the fifth round. "I'm a physical player. I love to tackle, and that's what I'm going to bring to the city. I'm going to bring that passion and everything to the field and go all out for my team."
Hall of Famer? That might be a bit premature. But a fun player to watch that could turn some heads early and develop into a fan favorite? I'll take that in the fifth round every time.
Dave Gettleman started his post-draft press conference with, "We didn't reach for anyone." Is he forgetting his sixth-round pick Alex Armah? Why draft a fullback project when the first true fullback drafted was still on the board in Sam Rogers. – Michael in Gastonia, N.C.
I'll admit that I had never heard of Alex Armah before his name was called during the later stages of the draft, but I didn't know anything about Sam Rogers, either. Rogers may have been listed by some analysts as the top fullback in the draft class (he went 16 picks after Armah), but that doesn't mean Carolina reached at fullback. Nor does the selection of an unfamiliar name mean Gettleman reached.
The Panthers knew all about Armah and had a grade on him that called for the pick, and they had a read on his potential. Gettleman admitted that projecting a guy as a fullback who hadn't played there since high school is a bit of a leap of faith, but Gettleman has long said later-round picks often are about identifying guys that have a "certain something" that gives them a shot at making it, and the Panthers see those qualities in Armah.
As for the idea that a prospect not showing up on draft analysts' boards mean he's a reach, keep in mind that we never really know the whole story. Few observers saw cornerback James Bradberry as a second-round pick last year, but Gettleman got calls after the pick from other teams that confirmed that Bradberry wouldn't have lasted much longer. And so far, that's panned out pretty good.
The draft is over, and we signed a few undrafted free agents. One or two usually make the 53. Who do you see has the most potential to make it this year? I personally think it's the LB from Clemson. #KeepPounding – Tony in Pilot Mountain, N.C.
Can't resist a Strickland-esque aside here. I'm sure Tony knows all too well that his town is immortalized as Mayberry neighbor "Mount Pilot" on 'The Andy Griffith Show.' If you've never heard this, check out a clever comedy bit that Griffith did about football back in the 1950s. Listening back to that for the first time in years, Clemson linebacker Ben Boulware crossed my mind. Griffith describes the physical nature of football from a bygone era, yet it's right in Boulware's wheelhouse. He wasn't drafted because he doesn't have those magical "measurables" scouts covet, but on film you see a measure of toughness and football IQ that does make him an intriguing player.
The Panthers lost linebacker A.J. Klein in free agency, but it's clearly still a position deep in talent for Carolina. Same goes for wide receiver, where the Panthers added another interesting undrafted prospect in Fred Ross from Mississippi State.
Undrafted guys always face an uphill battle, but it's a fair fight. The Panthers don't hesitate to put the best 53 on the roster, regardless of how they ended up on the 90-man roster in the first place.
View photos of the five college free agents Carolina added following the 2017 NFL Draft.