Do you think the Panthers could benefit from a loss in the sense that it could relieve some of the pressure and cut down on the outside noise? – Eric in Asheville, N.C.
The Panthers can benefit from their first loss of the season following a 14-0 start, but more so on an internal level than an external one.
"I really don't think we got caught up in the outside noise just because of who we are. We just kept going," head coach Ron Rivera said Tuesday. "More than anything else, give credit to Atlanta for playing a good football game."
Rivera did admit that answering questions about the possibility of a 16-0 season may have somewhat impacted his team's ability to continually embrace a one-game-at-a time mentality, but even at 16-0 that would have had no impact come the postseason. Rivera contrasted how his team handled the pursuit of perfection to what former Patriots linebacker/current ESPN analysts Tedy Bruschi said about being a part of the lone 16-0 team in league history back in 2007.
"Tedy said it felt like a playoff game every time they played because of the 16-0 thing. I didn't have that feeling with our guys. I didn't see that pressure on them," Rivera said. "We were just playing to win. That's why we took it so hard."
The outside pressure will dissipate now, but the internal pressure will amp up. Nothing truly gets a team's attention like a loss. Expect a momentum-building effort in Sunday's regular season finale to propel the Panthers into postseason play.
Do you think with this week's loss that the pressure is somewhat off and the team can get back to fundamental football? – Chris in Hartville, N.C.
Defensive coordinator Sean McDermott certainly backs your thought. In his weekly gathering with the media Monday, he used the term "fundamentals" about 10 times.
"We've got to get back to fundamental football and what's gotten us here. We have a chance to go 15-1," McDermott said. "The sky isn't falling - it's not if we get back to fundamentals."
Though the defense yielded just 20 points in Sunday's loss, the unit did endure some uncharacteristic play, from trouble stopping third downs to some missed tackles and assignments. On the other hand, the offense was held under 20 points for the first time all season.
As stated in the previous question, a loss like this tends to refocus things. I wouldn't go so far as to say the loss was a good thing, but some good certainly should come from it.
I keep hearing that the Cardinals have a tiebreaker over the Panthers if they have the same record but have never heard what the tiebreaker is. Can you clarify? Thanks! – Joel in Elon, N.C.
The battle for the No. 1 seed in the NFC playoffs has been down to just the Panthers and Cardinals for quite a while now, especially with Carolina holding the tiebreaker over the Packers based on their head-to-head meeting. We've also known for a while that the Cardinals would hold the tiebreaker over the Panthers.
The first tiebreaker is head-to-head, which doesn't apply since the teams didn't face each other. The second tiebreaker is conference record, and since the Panthers played nothing but NFC opponents from Week 12 on, you could deduce even a few weeks ago that Arizona would have the better record against NFC opponents if the Cardinals won out and caught Carolina for best overall record. If both teams finish 14-2, Carolina would be 10-2 in the conference while Arizona would be 11-1.
Please tell me that Jonathan Stewart will be back this week. – Lisa in Jamestown, N.C.
Can't tell you that, but I can tell you he had an encouraging work day Tuesday and that Rivera said earlier in the week that the fact that the No. 1 seed hangs in the balance increases his desire to get Stewart back out there. Then again, Rivera also has said that Stewart is the type of player that doesn't need much time to get back into playing shape after an injury.
If Stewart is healthy enough to return from a two-game absence caused by a foot injury, he's more likely to see action for the 14-1 Panthers than he probably would have for the 15-0 Panthers.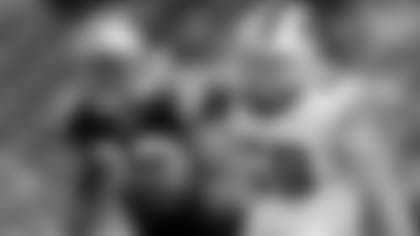 When are we going to get to see Brandon Wegher on the field? – Mike in Morganton, N.C.
If Stewart can't play Sunday, it's a near certainty that Wegher will be active for the first time this season because Fozzy Whittaker (ankle) isn't expected to play. Even if Stewart does play, there's a chance Wegher will be active. Obviously, his chances of actually touching the ball increase if Stewart doesn't play.
Wegher was quite a story in the preseason, when the undrafted rookie simply kept making plays to earn a spot on the roster. Fans are understandably curious to see how his game translates to the regular season, but keep in mind that the Panthers' second-ranked rushing attack didn't even have enough carries to go around for drafted rookie Cameron Artis-Payne until Stewart's injury.
---
View the top photos by photographer Kent Smith from Carolina's game against Atlanta.