Do you think the Panthers would be better off letting Derek Anderson start right now? It looks like Cam is in a lot of pain out there. It hurt just watching him limp around in the Steelers game. – Jason in Greenville, S.C.
Running the ball is about the only thing Cam Newton isn't doing efficiently through his first two starts, and that's not something Anderson brings to the table.
"He was 24-for-35 for 250 yards, one touchdown and a quarterback rating of 98.5. You tell me that's what he's going to average throughout the year, and I'll take it every week," head coach Ron Rivera said of Newton's performance in the loss to the Steelers. "You're going to win football games with that, but we didn't. That's disappointing.
"So what were the factors? Three sacks, and we lost two fumbles. Both fumbles resulted in points for them. Touchdowns. Fourteen points. You can't have that."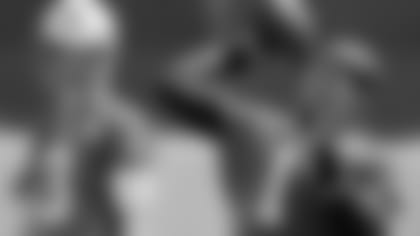 Among NFL quarterbacks with at least two starts, Newton has the sixth-best passer rating at 99.- better than Drew Brees, Aaron Rodgers and Tom Brady. He's completed exactly two-thirds of his passes – the exact same percentage as Peyton Manning – and he's one of five quarterbacks with two or more starts yet to throw an interception.
Coming off offseason ankle surgery and a preseason rib injury, Newton hasn't been effective as a runner and hasn't run as often in an attempt to protect him from further injury, but he has improved as a passer. If sitting Newton would clearly improve his ability to run in the near future, perhaps the Panthers would consider such a move - especially given how well Anderson has played - but Rivera said Newton realistically will have to deal with soreness throughout the season. Regardless of Newton's current health, the Panthers are working to figure out a balance that includes using him in the running game while limiting the hits he takes.
How do you plan to address the offensive line problems? – Corey in Greenville, S.C.
The offensive line wasn't considered a problem when it protected Anderson and opened up running lanes in the season opener. It wasn't considered a problem when it held up against a relentless Detroit Lions defensive front. So now, after a disappointing showing against the Steelers in Week 3, it's a problem?
"We didn't do a good job running the ball, and I think that hurt us," center Ryan Kalil said. "We've got to be more consistent protecting Cam. I don't think we did a good job of that, and it showed. You can't have guys hitting your quarterback, having free shots.
"We've got to go back to work and get better."
Yes, the offensive line struggled against the Steelers, but that doesn't wipe out what the group did the first two weeks.
Will the next eight games make or break us? A tough stretch ahead. – Brian in Gibsonville, N.C.
Any eight-game stretch within a 16-game schedule will obviously go a long ways toward determining a team's fate. The Panthers' next eight opponents, beginning Sunday at Baltimore and ending with a home game against Atlanta before the bye week, currently sport a combined record of 16-8. So they're 2-1 on average, but guess what? The Panthers are 2-1 as well.
Remember last season, when the Panthers were 1-3 and had three "winnable games" followed by a seemingly brutal stretch against Atlanta, San Francisco and New England? Carolina won all six games.
I don't mean to suggest that this isn't a challenging stretch, but are there any gimme games in the NFL these days? The only way any team can reach the NFL playoffs is by beating good teams.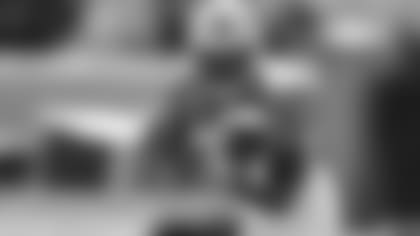 Hey Bryan! What may be the Panthers' plan with a guy like Stephen Hill? Will we see him on the active roster anytime soon? – Mark in Raleigh, N.C.
Hill, a 2012 second-round pick signed to the practice squad on Sept. 3, continues to benefit from practice reps and continues to benefit the Panthers defense by helping the unit prepare for upcoming opponents.
As for the possibility of Hill joining the active roster soon, my feeling is that something would have to change for that to happen. The Panthers dipped into the practice squad pool and signed Darrin Reaves to address injury concerns at running back, and it might well take an injury for Hill to get a look. The five receivers on the roster are getting the job done, thank you very much, led by rookie Kelvin Benjamin, who ranks ninth among receivers with 253 yards and 14th with 16 catches. While just four receivers caught passes for Carolina all of last season, fifth receiver Brenton Bersin has two catches, and Jerricho Cotchery, Jason Avant and Philly Brown all have at least seven. Last year, fourth receiver Domenik Hixon totaled seven catches for the entire season.