Twelve weeks into the season, how would you grade the Panthers' offseason acquisitions? Who do you think has had the biggest impact on the season so far? Thanks for your awesome work. It has really been a pleasure following your work and the Panthers all the way from Denmark. – Casper in Copenhagen
The five true "offseason" acquisitions on the roster are all making a positive impact, but if I had to name an MVP for each side of the ball among that group, I'd go with left tackle Michael Oher and safety Kurt Coleman.
Ted Ginn, Jr. has been awesome while pacing Carolina's wide receivers in receptions, yards and receiving touchdowns. But Oher's impact has been about not letting opposing pass rushers post big numbers, and to that goal he has flourished. As important as anything, both of those guys made seamless transitions into the locker room – Ginn was here in 2013 and Oher was reunited with longtime Ravens offensive line coach John Matsko.
On defense, the Panthers added three pieces to their secondary in the offseason. Cornerback Charles Tillman has brought a valuable veteran presence and his invaluable "Peanut Punch," while fellow corner Teddy Williams has done yeoman's work on special teams (where Ginn has solidified the return game). Coleman, however, takes the cake. He's always had a nose for the ball – he paced the Chiefs with three interceptions last season despite starting just three games – but that quality has been in overdrive of late. He's tied for second in the NFL in interceptions with five and is Carolina's leading tackler among its defensive backs.
Rookies could be considered offseason acquisitions, and second-round draft pick Devin Funchess has really come on of late while first-round Shaq Thompson has made an impact at linebacker all season. As for in-season acquisitions, defensive ends Jared Allen and Ryan Delaire have shored up the rotation, and Fernando Velasco has strengthened the depth on the interior of the offensive line. We should soon see if cornerback Cortland Finnegan can make a strong secondary stronger.
Often success is achieved by teams who buck trends. Do you think the Panthers are potentially redefining how the NFL can be played, and does that have something to do with their success this year? For example, playing a run-based offense, not needing at No. 1 wideout and featuring linebackers who play like defensive backs. – Mark in Melbourne, Australia
The Panthers are a unique team in today's NFL, but in some ways they're finding success with a formula as old as the game itself. Even with the trend toward opening up offenses in recent seasons, teams that can run the ball and stop the run at an elite level are almost always contenders. Carolina is doing both, and it's doing so with an old-school physicality not nearly as common as it once was.
The way they're running the ball, with their quarterback playing a pivotal role, is rare in NFL history, and that has helped them absorb the loss of top wide receiver Kelvin Benjamin. The defense is doing some unique things with its linebackers and defensive backs to slow down pass-first offenses with athletic tight ends. But again, it starts up front with stopping the run. Carolina is tied for second in the NFL with just 88.7 rushing yards allowed per game and has gained the fourth-most rushing yards at 138.9 per game.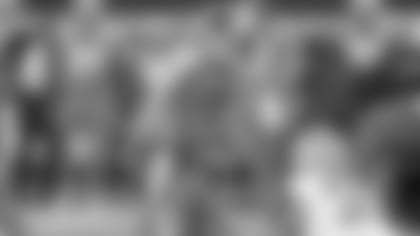 The offense so far has been very productive, no doubt. But does our run game rely on Cam's running ability a bit too much? Do we trust he can carry the load and stay healthy? Or is this just a stupid question and Cam is built to be this kind of player? – Matt in Toronto
Head coach Ron Rivera readily admits he holds his breath every time his quarterback takes off, but Newton isn't running enough to cause hyperventilating. No one ever wants to see their quarterback hit, but it's inevitable even for ones that don't run, and I honestly feel like Newton is built to take it like no other quarterback. He sustained more hits than any quarterback over his first four seasons, yet his first truly significant injury didn't come until his rib injury last preseason. And this season, he's taken just 40 hits on pass attempts, the fourth-lowest number in the league.
It's always a concern and is always going to be a concern. But it doesn't match the concern opposing defenses have when Newton takes off.
What are the NFL playoff and Super Bowl dates in 2016? – Mike in Charlotte
After questions from Denmark, Australia and Canada, let's wrap it up with a local one. The Panthers can clinch the NFC South and a home playoff game with either a victory Sunday at New Orleans or a loss by the Falcons at Tampa Bay. The Panthers also are in really good shape to earn one of the NFC's two byes.
The top two teams in each conference will sit out Wild Card Weekend on Jan. 9-10, 2016, and will first be in action January 16 or 17. The conference championship games are Sunday, January 24, and Super Bowl 50 kicks off Sunday, February 7 at 6:30 p.m.
---
View the top photos by team photographer Melissa Melvin-Rodriguez from Carolina's game against Dallas.