Is this considered the offseason for the team? And if so, what do they do during this time? When do workouts and practice begin again? - Ashley in Greenville, S.C.
This is the offseason, and in official terms it will be the offseason until training camp begins in late July. In practical terms, however, players have less than two months remaining to truly enjoy some downtime, and it certainly isn't a quiet period for Panthers coaches and scouts.
At this point on the calendar, players are doing their own thing. Quarterback Cam Newton is again taking classes as he closes in on graduating from Auburn. Linebacker Thomas Davis is keeping busy around Charlotte, picking up awards for his off-the-field work. Whether they're near or far, players are staying in shape because they'll return to work before you know it.
The Panthers can begin a nine-week offseason workout program as early as April 20. The program is voluntary – save for a mandatory minicamp in June – but by and large the entire roster participates in the majority of the program.
Soon-to-be NFL rookies are preparing for the NFL Draft, now less than two months away, and it certainly doesn't resemble the offseason for the employees charged with figuring out what rookies will become Panthers. Pro days at college campuses around the country began in earnest this week, and private workouts and facility visits (each team is allowed to bring in 30 draft prospects) are just beginning.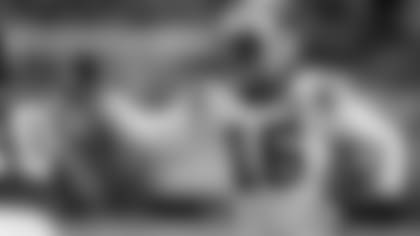 Were the undrafted rookies signed to one-year contracts? – Fred in Hamptonville, N.C.
Per the Collective Bargaining Agreement, undrafted players sign three-year contracts. That means that Carolina's impressive crop of undrafted rookie last season – including wide receiver Philly Brown, guard Andrew Norwell and linebacker Adarius Glanton – already are under contract through the 2016 season.
Is it possible we go after Andre Johnson or any proven receiver to compliment Kelvin Benjamin? How soon will we make moves in free agency? – Kedrick in High Point, N.C.
For the record, Johnson is not a consideration at this point because he's still under contract with the Houston Texans. If they were to release him, Johnson would immediately be able to sign with any team and wouldn't have to wait until free agency starts Tuesday. That's already the situation for former Panthers wide receiver Ted Ginn, who was released by the Arizona Cardinals last week.
Ginn and potentially Johnson only add to an already intriguing list of wide receivers who could become free agents Tuesday – names like Randall Cobb, Torrey Smith, Jeremy Maclin, Michael Crabtree, Cecil Shorts, Eddie Royal and Hakeem Nicks. The Panthers are in better shape at receiver than they were this time last year, but they'll surely look at any and all options to make the position group the best it can be.
As for how soon moves will be made, teams can talk to the agents of potential free agents beginning Saturday, and players can start signing Tuesday at 4 p.m. Last year, other than bringing back a couple of their own guys, the Panthers didn't sign a free agent until inking wide receiver Jerricho Cotchery on the 10th day of free agency. The year before, they signed cornerback Drayton Florence on the second day of free agency. Both years, Carolina was still signing players into April.
I'd suggest you stay logged on to Panthers.com throughout for the official word on any roster moves.