How is little T.J. doing after his surgery? We are definitely keeping the Olsen family in our prayers. – Chuck in Charleston, S.C.
Tight end Greg Olsen returned to the team Monday, one week after his 22-month-old son underwent his third and final scheduled surgery to combat a rare condition called hypoplastic left heart syndrome.
Olsen said the surgery went well, and the family hopes T.J. can soon return home from the intensive care unit at Levine Children's Hospital.
"He's a tough little guy. He's really responded well to all three surgeries," Olsen said. "The doctors are really happy with how everything went. We knew from the beginning that it would be a tough recovery with his age and what they have to do when they're in here. We're very fortunate and blessed that he has responded how he has.
"We've just got to hope to keep him on this track, and if we do then we should be in good shape."
Olsen was also happy to return to his football family, calling it "awkward" to watch the Panthers' preseason finale at Pittsburgh last Thursday on television.
"My priority was my family last week, but I also couldn't wait to get back with the guys," Olsen said. "The team was very understanding about me stepping away for a week. It's made life a lot easier, and it's not something I take for granted.
"I haven't felt a ton of pressure to be two places at once. I've been able to handle the priority of my family first, but I also understand this is a priority to me, too. It's important for me to be here."
How will our offense perform against the Buccaneers with Cam's timing not fully there with the receivers and with the injury concerns? – Jon-Michael in Sanford, N.C.
Olsen could play a prominent role in helping Newton settle in, but beyond the obvious challenge that the Tampa Bay defense poses for any opposing offense, I'm not that concerned. Sure, Newton could have benefitted from more reps rather than more time in the training room with a rib injury on top of offseason ankle surgery. But one thing that's always been the case with Newton is that when the lights come on and his competitive juices get flowing, he's a handful for opposing defenses regardless of the circumstances. If Newton can perform like he did in his NFL debut three years ago coming off a severely shortened offseason and an uninspiring preseason, don't you think he can handle this situation?
I look at the offensive line as being a key to the offense. Will the offensive line be able to create running lanes and pass protect better this year than last year? – Anthony in Alexandria, Va.
The Panthers ranked 11th in the NFL with 126.6 rushing yards per game in 2013, and their 43 sacks allowed were in the middle of the pack, tied for 17th. The Super Bowl champion Seattle Seahawks surrendered 44 sacks.
Newton's nimbleness contributed to those respectable numbers, but he'd also be the first to admit that some of those sacks were on him for not getting rid of the ball quickly enough. Carolina's offensive line doesn't get the credit it is due, but it also isn't perfect. The run blocking improve from its preseason level, and it will. Like the way Newton can turn it on come the regular season, it's harder to be fully committed to physical run blocking in the preseason than in the regular season.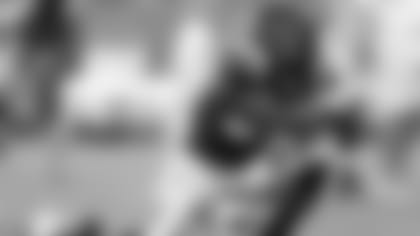 DeAngelo Williams seems to be our most consistent back throughout his career. Do you think that he will see more touches this year, or is the backfield just too crowded? – Andrew in Murfreesboro, N.C.
Williams' 4.8 yards per carry is tied for 11th in NFL history among running backs, with only Jamaal Charles and Adrian Peterson averaging more among current players. Bookend Jonathan Stewart is tied for 24th all-time for fifth among current backs with a 4.6-yard career average. When healthy, both are fully capable of carrying the load, and when you mix in fullback Mike Tolbert, the backfield is loaded.
If you're asking this question from a fantasy football perspective, your guess is as good as mine. The trio makes each other and the Panthers better but sometimes leaves fantasy players bitter. I've seen the three drafted in every conceivable order in fantasy drafts this year.
As for the second part of your question, there's really no such thing as too much of a good thing when it comes to running backs. Attrition is unfortunately a reality in an NFL backfield, and only through attrition is any one of Carolina's backs likely to ascend to elite status from a fantasy perspective.
Did the Panthers sign Stephen Hill? – Kareem in Charlotte
As a matter of fact, yes. The former New York Jets wide receiver was signed to the Panthers' practice squad Tuesday, one day after he worked out for the team. A second-round draft choice in 2012 from Georgia Tech, Hill caught 45 passes for 594 yards and four touchdowns in 23 games with the Jets.
If not for rules changes last month, Hill would have already exhausted his practice squad eligibility. In addition to expanding the squad from eight to 10 players, the NFL also now allows practice squads to include two players with no more than two accrued seasons of free agency credit. To make room for Hill, the Panthers had to terminate linebacker D.J. Smith, one of their two exemptions. Safety Robert Lester is the other exemption.
My question to you Bryan is can the Panthers please bring home a Lombardi Trophy this year? I really feel this is our year. Nothing would please this sailor overseas more than a Super Bowl victory. #KeepPounding – Dylan in Tucson, Ariz.
We're all in the same boat with that hope – pun intended. The Panthers thank you for your service.