What is the NFL's reasoning on why an entire 53-man roster isn't available for games? Never made much sense to me. – Randy in Goose Creek, S.C.
Ninety minutes before their season opener in Denver, the Panthers had to declare seven players inactive per NFL rules. The decisions involved weren't easy, with everyone but safety Dean Marlowe healthy enough to play. Running back Cameron Artis-Payne and wide receivers Brenton Bersin and Damiere Byrd – all of whom demonstrated their ability to contribute throughout the preseason – were among those declared inactive.
So why are teams allowed to have just 46 of their 53 players active for games? In short, it's a move aimed at maintaining competitive balance. Both teams were pretty healthy for the season opener, but as the attrition natural to the game of football takes full effect, just about every team will have players too injured to play in a given week but not so injured that they should be put on injured reserve.
So, let's say one team has six injured players, while their opponent has just one. With the inactives system, both teams would have 46 healthy players in action, as opposed to one team having five more healthy players than the opposition. That type of discrepancy could make a significant difference in the game's outcome, and that's what the league wants to avoid.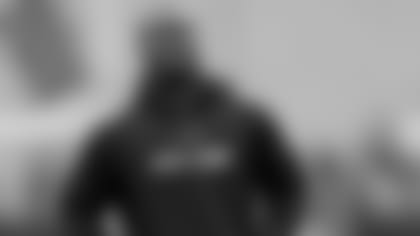 I feel like our special teams is lagging behind. Do you feel our special teams are being neglected in some ways by coaching staff? They don't seem to be giving our offense any positive yardage in return game, and I don't feel there is enough emphasis coming from the coaching staff. – Scott in Henning, S.C.
How important do the Panthers feel like special teams are? Well, Artis-Payne and Bersin were inactive while quarterback Joe Webb, safety Colin Jones, cornerback Teddy Williams and linebackers David Mayo and Jeremy Cash were active. All five of those players were in on at least two-thirds of special teams plays, while they combined to play zero snaps on offense or defense.
From a commitment standpoint, the Panthers clearly value special teams. From a consistency of performance standpoint, it continues to be a work in progress. Obviously, Graham Gano's 50-yard field goal miss that could have won the game reigns supreme. But Gano also made two field goals and recorded touchbacks on all five kickoffs, including one when backed up to the 20-yard line because of a penalty. Punter Andy Lee had an amazing debut, booming a franchise-record punt of 76 yards (which was fielded in the air) and also setting a team record with a gross average of 63 yards.
It was a quiet night in terms of returns. Ted Ginn, Jr., totaled just 12 yards on two punt returns, and Ginn was limited to 9 yards on his one kickoff return after he felt compelled to field a kick tipped by Webb at the 2. The Broncos recorded a 15-yard punt return.
The special teams units, like the offense and defense, are aiming to improve in Week 2, but rest assured the units are getting special attention.
Run defense was a big issue in the preseason and continued to be against Denver. Should there be concern? – JC via Twitter
You had better believe defensive coordinator Sean McDermott was none too pleased to see his run defense yield 148 yards to the Broncos – the sixth-most yards yielded in Week 1.
"We've got to do a better job," McDermott said. "We pride ourselves on good, sound fundamental defense, and I thought we could've done a better job in those areas."
But being disappointed and being concerned are two different things, and the Panthers still have a front seven that rivals any in the league. In the first road game three years ago, Carolina allowed Buffalo 149 rushing yards, but the Panthers finished the season second in the league against the run. Last year, they were fourth.
McDermott said it's common for fundamental mistakes to be made early in the season. In the preseason, the Panthers were one of eight teams to yield less than 90 rushing yards a game on average. Look for them to return to that form sooner rather than later, though 49ers running back Carlos Hyde may be one of the most underrated backs in the league.
Was last year success on offense due to Cam Newton not targeting one wide receiver over others? – C in Durham, N.C.
Offensive coordinator Mike Shula fielded that question after Newton targeted Kelvin Benjamin 12 times, Greg Olsen nine times and the rest of his receivers a total of 10 times in the opener.
"I think it's a totally different feel than it was two years ago – Kelvin's rookie year – where you felt like it was kind of Greg and Kelvin. That feeling is gone," Shula said. "If you're asking me, 'Do I think he's forcing it to Greg and Kelvin, or are we?' I would say no."
While Olsen should be a pretty consistent target, don't be surprised if, say, Devin Funchess leads the receivers in targets against the 49ers. Benjamin was a security blanket of sorts for Newton in 2014, but now Newton feels secure throwing the ball wherever he has the best matchup. In the opener, that just happened to be in the direction of Benjamin more often than not.