Do you think the remaining schedule gives the Panthers a chance at the playoffs if they pull things together? – Trevor in Salt Lake City
The key to this even being worth a discussion, of course, is the Panthers first pulling things together.
"You never know. If we take care of business, do our job and play hard, you never know," head coach Ron Rivera said. "Why not? We've still got 10 games to go."
No team is going to throw in the towel just six games into the season, particularly a team that just two years ago overcame a six-game losing streak to make the playoffs. The Panthers have a recent history of digging out of early holes, and yes, there is still reason for hope.
Last season, the Falcons started 5-0 but finished 8-8. This season, they started 4-1 but have now lost back-to-back heartbreakers to stand at 4-3, still good enough for the lead in the NFC South. Things might seem bleak with the Panthers at 1-5, but if Carolina were to win on Atlanta's bye week and beat the Falcons in Charlotte later this season, the teams would be separated by one game with eight other games to be accounted for.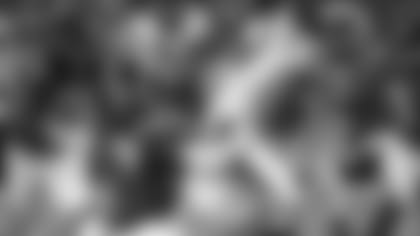 The way the NFL schedule works, the Panthers and Falcons have very similar schedules, both facing the entire NFC West and AFC West in addition to six division games. Their only "uncommon" opponents are Minnesota (who already beat Carolina) and Washington for the Panthers versus Green Bay and Philadelphia for the Falcons. Atlanta hosts the Packers this week, never an easy out.
Again, though, none of this matters if the Panthers don't start playing better, starting this week against a Cardinals team also scrambling to get back in the playoffs a year after Carolina and Arizona met for the NFC Championship.
I've noticed some new-looking Panthers license plates around town. What's the story, and how can I get one? David in Concord, N.C.
Funny you should ask because I recently ordered my own, as Panthers fans throughout the state now can. This summer, the North Carolina Division of Motor Vehicles began offering a new Panthers plate featuring the "Keep Pounding" logo. When my renewal month came up (though technically you can do it any time), I chose to turn in my standard plates and pay the extra $30, a third of which went to the Keep Pounding Fund of the Carolinas Healthcare Foundation and a third of which went to Carolina Panthers Charities.
Then I paid another $30 to personalize it, which those who know me well would have predicted (correctly) would be a painstaking process. The personalization is limited to four characters. After considering "HUNK" and "STUD", I finally settled on this: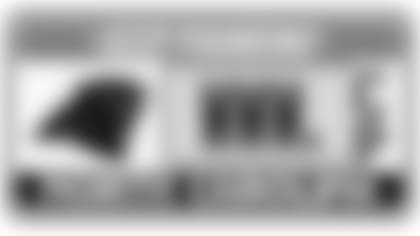 In the process, I found a few still available that you are welcome to try and grab. A simple "W!" got some serious consideration, as did "ALLN" and "OHMY". A good amount of your favorite players' names are available, among them Star, KK, Shaq and Oher. Some football terms (PUNT, PASS, KICK, PLAY) also were available. If nothing else, it was fun to peruse the possibilities.
Hey, Bryan. I love our color rush uniforms so much! I think they'd look even better with black socks instead of blue. Do you think we could see black socks? – Kaleb in Greensboro, N.C.
As you probably know, the color rush uniforms became a Thursday Night Football feature last season, and the Panthers will break theirs out again Nov. 17 when the Saints come to town. It technically would be possible to consider black socks, but by and large the partnership between the teams, the NFL and Nike has strived to feature one dominant color from head to toe.
To that end, the Panthers will feature the same blue-heavy look they did last year on Thanksgiving against the Cowboys.
Panthers will wear all blue uniforms for first time in franchise history when they take on the Dallas Cowboys on Thanksgiving.