Looking at the 2015 opponents, which games would you like to see in primetime? – Dillon in Forest City, N.C.
Based strictly on the Panthers this past regular season, I'd say none. But after going 0-3 in primetime and losing each game by at least 18 points, Carolina won when it mattered most, opening the playoffs with a primetime victory over the Arizona Cardinals.
The Panthers had one game in each of the NFL's primary primetime slots last season, and coming off a second consecutive NFC South title, the same thing could well happen again. Based on the list of opponents, here's a fun stab at a possible primetime lineup.
Week 2, let's welcome the Indianapolis Colts to Bank of America Stadium for Thursday Night Football. The matchup pits quarterback Cam Newton - the No. 1 overall pick in the 2011 NFL Draft – against Andrew Luck, the No. 1 pick in 2012. Newton has led the Panthers to the playoffs two consecutive years; Luck has done the same three consecutive years.
Flash forward to Week 8, when the Panthers visit the Dallas Cowboys for Monday Night Football. Carolina's first Monday Night Football victory came at Dallas in 1997 and also stands as the franchise's lone road victory against the Cowboys. The Panthers' only previous game at AT&T Stadium, also known as "Jerry World," was also on Monday Night Football in 2009.
Then, in Week 15, the Panthers host the Green Bay Packers on Sunday Night Football. The last time the teams met at Bank of America Stadium in 2011, it marked Newton's first home game. He put on a show in a narrow loss to the then-reigning Super Bowl champions.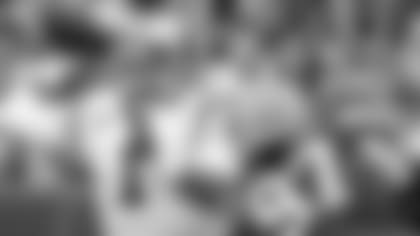 Do you think Cam Newton will or can be an Aaron Rodgers or Tom Brady, Peyton Manning type of quarterback, or is this as far as he can go? – Bob in Reidsville, N.C.
I certainly don't think Newton, four years into his career, has hit his ceiling. Rodgers didn't even start until his fourth year, while Brady took over as starter his second season and produced similar numbers to Newton in years two through four.
Newton is a different quarterback than those players, having just become the first player in NFL history to pass for 3,000 yards and rush for 500 yards in four different seasons. His legs play a bigger role for him than in their cases, but his arm plays a bigger role with each passing year as he continues to hone his skills.
I'm not ready to write Newton's name in the same sentence as the trio of sure-fire Hall of Famers you mentioned in your question, but I'm also not ready to write off the possibility.
How do you feel about David Foucault, and do you think he'll have a place on 2015 roster? – Pierre in Montreal
The Panthers knew the 6-8, 305-pounder from the University of Montreal would be a project, but they also believed enough in his potential to keep him on the roster throughout 2014 as opposed to exposing him to other teams on the practice squad. Foucault got some snaps in four of the Panthers' first eight games, then injuries forced him into the starting lineup at left tackle Week 9 versus New Orleans. He struggled at times in that game, and with others getting healthy and emerging, Foucault didn't play the rest of the season.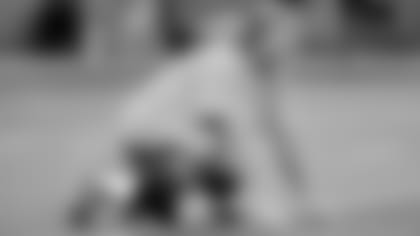 Foucault's future is up in the air, but the fact that the Panthers never tried to move him to the practice squad after it became obvious he was best served by watching and learning indicates a continued level of belief in his potential. Foucault is an eager student of the game, and I suspect he'll do everything in his power this offseason to put himself in positon to compete for a roster spot in 2015.
As an aside, and perhaps as a Canadian you already know this, three former Panthers played in the Grey Cup this past season as members of the Hamilton Tiger-Cats, suffering a narrow loss to the Calgary Stampeders. Defensive end Linden Gaydosh – like Foucault a native of Canada – was in his first year with the Tiger-Cats. Kicker Justin Medlock, who came to Carolina from Hamilton in 2012, returned to the Tiger-Cats in 2014. Defensive end Eric Norwood, a South Carolina product who played two years for the Panthers (2011-12), ranked second in the CFL in 2014 with 13 sacks.