What's the Panthers' record on Monday Night Football? – Michael in Lexington, N.C.
The Panthers have struggled in prime time this season and are on a three-game losing streak dating to last season, but it's been a different story specifically on Monday Night Football. Here's hoping that's a good omen for Monday night's game at the Philadelphia Eagles.
Even though Carolina is just 13-19 all-time in prime time games – defined as regular season games that start after 7 p.m. – the record includes a 7-4 mark on Monday Night Football. The Panthers have lost five of their eight primetime games this decade, but they're 2-0 on Mondays.
In their last Monday Night Football road game, the Panthers beat the Eagles 30-22 in 2012. The Panthers' are an impressive 3-3 all-time in Monday Night Football road games, accounting for all but two of their prime time road victories all time (they're 2-12 in road games on other nights).
In case you are wondering, the Panthers are 5-9 in Sunday primetime games, 1-4 on Thursdays and 0-2 on Saturdays.
I'm a Panthers fan whose friend challenged me at Madden with his favorite team, the Philadelphia Eagles. The Panthers won 28-13. I live in England and it's unlikely I'll travel to a Panthers game, so what are the chances of you guys coming to London next year?  – Dan in Southampton, England
Speaking of good omens, I'd love to see your Madden outcome repeat itself come Monday. As for the prospects of the Panthers playing in London next year, it seems more likely than in past seasons but could go either way.
First of all, the NFL is playing more games than ever before in London, with a record three regular season games there this year, culminating with Sunday's matchup between the Dallas Cowboys and Jacksonville Jaguars. The league played one game in London each year from 2007-2012 before expanding to two in 2013.
The league also seems to like the idea of sending different teams to London. The Cowboys-Jaguars game will be the 11th in the series, and the Cowboys will become the 17th NFL team to play in England. That's more than half the league.
Finally and most notably, the Jaguars have agreed to play a home game in London each season from 2013-16, and the Panthers are scheduled to play at Jacksonville next season. A division game has never been played overseas, so that means Jacksonville would most likely host either Carolina, Buffalo, Miami or Atlanta in London. Atlanta just played in London this season, and Miami has played twice.
UPDATE: The NFL on Thursday unveiled the three London matchups for 2015. The Jaguars will host the Bills in London in Week 7; the Dolphins will host the Jets in the first division matchup overseas in Week 4; and the Chiefs will host the Lions in Week 8.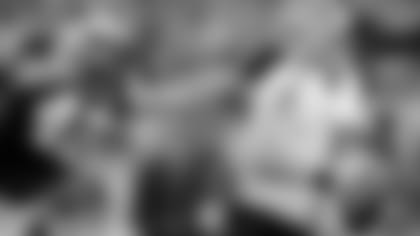 I'm pretty impressed with Colin Jones, a young player who has only seen field time on special teams until recently. He recorded a sack and fair number of tackles in our last game. – Jeff in Matthews, N.C.
The Panthers traded for Jones, a sixth-round draft choice by the San Francisco 49ers in 2011, prior to the 2012 season opener. He came to Carolina with a reputation as a special teams stalwart and hasn't disappointed, but he's also played well in his limited opportunities on defense.
He's played well in preseasons past, and when a rash of injuries decimated the secondary last season at Buffalo, Jones stepped in and actually had what would have been a game-clinching interception that was wiped out by a penalty. The last two weeks, he's played extensively at nickel corner the last two weeks and made a signature play against the Saints when he got up off the ground for a sack.
"When you watch the play where (Colin) got up after the blitz after being cut-blocked – that's who we are," said defensive coordinator Sean McDermott, who also referenced defensive tackle Dwan Edwards' interception in the same game. "You give yourself a chance when you do things like that."