Bryan, I know in the NFL a team may carry a third quarterback but not often. It was only the first preseason game, but do you believe Joe Webb made a case to stay on? – Richard in Fayetteville, N.C.
Webb took advantage of extended action Friday against the Buffalo Bills, completing 16-of-28 passes for 180 yards in addition to leading the Panthers with 30 rushing yards on four attempts. He entered the game fourth on the initial depth chart behind Cam Newton, Derek Anderson and Matt Blanchard - a member of Carolina's practice squad last year who enjoyed a strong training camp but struggled at times in the preseason opener.
The Panthers are intrigued by Webb, and head coach Ron Rivera has said the team will consider keeping three quarterbacks when the roster is cut to 53 players on August 30. Roster spots are hard to come by, but carrying a third quarterback isn't as rare as you think.
When the 2013 season came to a close, 21 of 32 NFL teams had three quarterbacks, though just one NFC South team – the New Orleans Saints – had three. The Panthers carried three quarterbacks each of my first three seasons with the team before keeping just two last year.
Who is the player not getting much recognition that will make a huge impact come game day? – Edward in Kannapolis, N.C.
My candidate plays a position that draws attention most often when something goes wrong: kicker.
Graham Gano was a big-time weapon for the Panthers in his first full season with the team in 2013. He nailed 24-of-27 field goals and was especially reliable from long range, making all six of his attempts from 50 or more yards. His most important kick was just inside 50 yards, a 48-yarder in the fourth quarter to help the Panthers edge the San Francisco 49ers on the road. And after he hit a field goal or extra point (he made all 42 attempts), Gano allowed the Panthers to control field position by recording touchbacks on 77.8 percent of his kicks – the highest percentage in the NFL since 1994.
Gano rested his back in the preseason opener, and his absence was felt. He should be back in action Sunday against the Kansas City Chiefs, hoping to kick off a season that rivals the career year he enjoyed in 2013.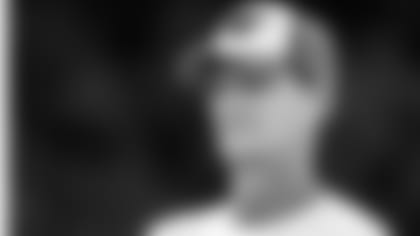 What is John Ramsdell overseeing and what influence will he have on the offense? – Ian in Corning, N.Y.
The Panthers added Ramsdell, a veteran of 18 NFL seasons, to the coaching staff this offseason as a senior offensive assistant. He's an extra set of eyes on the offensive side of the ball – eyes that have borne witness to some seriously successful seasons for NFL quarterbacks through the years.
He was the St. Louis Rams quarterbacks coach when Kurt Warner won MVP in 1999 and 2001, and his seven seasons as quarterbacks coach in San Diego coincided with Philip Rivers first seven seasons as a starter. Ramsdell also has experience coaching tight ends and wide receivers, so he should be a useful resource for the offensive staff.
I have a serious, hard hitting question for David Foucault and Linden Gaydosh. Do they prefer Tim Horton's or Krispy Kreme doughnuts? Go Panthers! – Panther Greg in Tega Cay, S.C.
Now that's my kind of question – as my three visits to Krispy Kreme during training camp will attest. On one of them, I enjoyed some sweet tunes in addition to the sweet treats.
// <
by Carolina Panthers.


Speaking of sweet, Foucault offered up an appetizing answer to your question. For those unaware of Tim Horton's, it is the go-to doughnut shop in Foucault's native Canada (for those unaware of Krispy Kreme, shame on you).
"I think Krispy Kreme is better because I like sugar," Foucault said. "Tim Horton's is probably less fat, but Krispy Kreme is better. We have a few Krispy Kremes in Montreal."
Gaydosh, who hails from a small town in northwest Canada called Peace River, sided with Tim Horton's but not because of the doughnuts. He's never tried them but does like Tim Horton's coffee. He has never been to Krispy Kreme.
By the way, there's no truth to the rumor that I am solely responsible for the 8.5-percent jump in Krispy Kreme stock on Monday.