With the obvious problems with the defensive line and in the secondary, why are we picking up tight ends? Considering Greg Olsen has more yards and receptions than most of the top receivers in the league, I would say that is a position we are very strong in. – Carter in Winston-Salem, N.C.
You certainly are correct about the season being enjoyed by Olsen, who actually ranks second in the NFL in receiving yards regardless of position. Tight end Ed Dickson scored a touchdown last week as well. The decision to add tight ends Scott Simonson and Chris Manhertz to the roster isn't an indictment of Olsen or Dickson.
The additions came at the expense of a defensive lineman (Lavar Edwards) and a cornerback (Lou Young), so in a backwards sort of way, it shows that the Panthers have confidence in those positions when everyone is healthy. The team didn't bring in outside help at those spots because they don't feel there are any street free agents that can help, and because help is on the way internally. The bye week should allow corners James Bradberry, Robert McClain and Daryl Worley as well as defensive tackles Vernon Butler and Paul Soliai to heal up.
The Panthers really like Simonson, who had played in 14 of 16 possible games – primarily on special teams – since being signed off Carolina's practice squad this time last year. They're intrigued by Manhertz, a former college basketball player. Plus, they liked how the running game worked against the Saints when Chris Scott served as an extra offensive lineman. Why not use a tight end there who might be able to leak out for a big pass play?
Signing two tight ends is a "tough sell" when the defense is struggling. But the personnel department isn't interested in making moves that are popular; the sole focus is making moves that give the team the best chance to win now and in the future.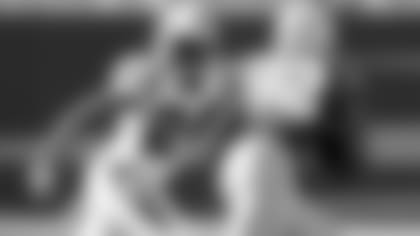 What is the plan for our struggling secondary? – El via Twitter
Get healthy. Get better. Get some help from the defensive front.
That, in a nutshell, is how the Panthers plan to shore up their secondary. The defense struggled to stop the top two offenses in the league on the road (Falcons and Saints), but they contained the passing game of their other four opponents to date. A healthy secondary, combined with a defensive line that figures out how to impact games like it did last year, is a winning formula for this defense.
The Panthers are hoping James Bradberry, Robert McClain and Daryl Worley will be back from injuries when the Cardinals visit after the bye week, and Leonaord Johnson could be ready to make his season debut.
Of course, regardless of who is on the field, Carolina's defensive backs have to play better than they have.
"They're trying to get better, and they're working extremely hard," defensive coordinator Sean McDermott said. "This is a process. You've got to see it through and go through with it. Guys have to learn from situational football. They have to learn from minute-to-minute experiences, and we have to continue to grow."
When will we start looking for a new kicker? Rodney in Raeford, N.C.
Fans' frustrations haven't stopped short of the kicking situation, but there are bigger fish to fry, so to speak. Graham Gano, who missed a 50-yard field goal – hardly a chip shot – that would have beaten Denver in the season opener, missed an extra point that would have tied the Saints midway through the fourth quarter last Sunday. The Panthers made it a moot point when they converted a two-point conversion on their next touchdown, just like Saints kicker Will Lutz made his way-short 53-yard field goal moot when he lined a 52-yarder just over the crossbar for the game-winner. I'm pretty sure Lutz wasn't taken to task for his 53-yard miss after the win.
"Honestly, I think I'm having a pretty good year," Gano said. "Of course there are a couple I'd like to have back."
Gano's missed PAT was one of five missed around the league in Week 6 action. Victims of the 33-yard kick included Patriots kicker Stephen Gostkowski, the one player to score more points than Gano last season. Just six weeks into the season, exactly half of the league's starting kickers have missed at least one extra point.